I'm currently sitting in a pub just down from Edinburgh Castle, in a break between the morning and afternoon sessions. Just across the table from me is Doug Burns, and behind is Thomas Presslie and Carel-Jan Engel, who are working on the Miracle musical for tonight's gala dinner. We've slipped out for a cheeky one before the afternoon's presentations, and to update the blogs on yesterday's events.
The event started off with a reception in Edinburgh Castle and a tour around the Whisky Heritage Centre - and there lies my dilemma for the rest of the week: it's a whisky-centered event, I'm going on the extra Whisky Adventure after the main event, up to the Minmore Hotel and a number of distilleries north of Edinburgh, and I can't stand whisky - I'm a bit like Doug Burns and his fish fingers, beans and sausages - I tend to go for exotic lagers, bitters and so on, not spirits and especially smokey old whisky. For this week though, my objective is to try and "get in" to whisky, understand the difference between blends and single malts, and as a gentle introduction to all of this Thomas has just bought me a Whisky Mac, which is sitting beside me as I type.
Anyway, the evening started off with an introduction by Thomas....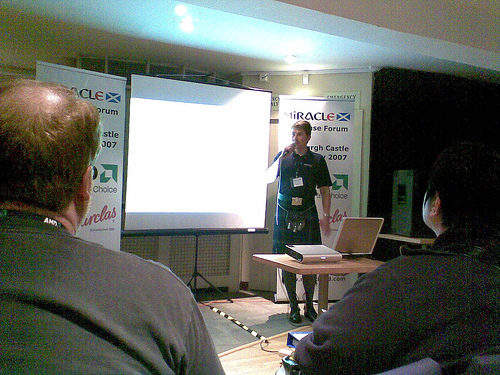 ... a keynote from Jonathan, about Ironing and Oracle....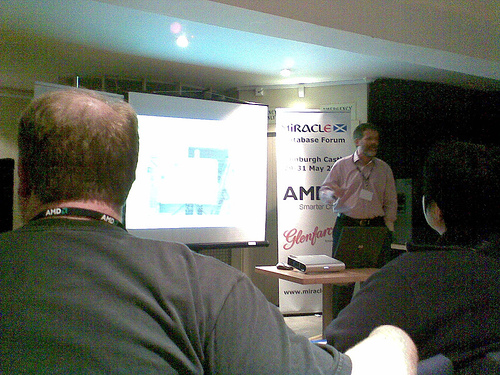 and another keynote from Graham Wood, comparing Oracle features (such as row-level locking and writers not blocking readers, as Mogens is demonstrating below) to Whisky.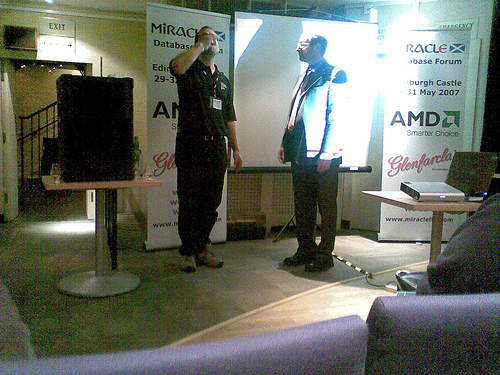 After the keynotes, there was a Whisky-tasting session, a sponsor talk from IBM at 10.45pm with distinct sniggering from Doug and Lisa on the second row, and then a free bar on from 11.15pm. In the end, Peter Scott and I left just afterwards - apart from not being a Whisky drinker, I'm a total lightweight as well - and got back to the Travelodge about 11.30pm, to turn in for the night.
Today, things started off with Doug Burns on DTrace, so far the best talk of the conference....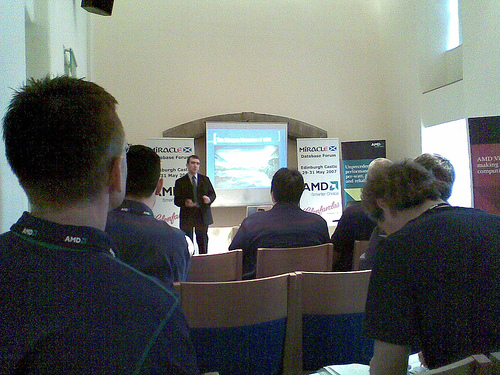 For now though, I'm in the official pub just down from the conference venue, updating the blog and planning to get back for Kurt's talk on DUDE and data recovery. For now, that's it, but hopefully I'll get a chance to update the blog in a break tomorrow.