I gave a BI keynote (pdf copy of slides) at a couple of events last week (the Business Intelligence, Warehousing and Analytics Summit in Reston, VA and the OUG Scotland Conference & Exhibition, Glasgow), and as it's been picked up on the Eye on Oracle blog site, I thought that it's worth giving a bit of background to the five Oracle BI trends I highlighted in the talk. I also went through a bit of a potted history of Discoverer, OWB and Oracle BI Suite Enterprise Edition, I'll leave that for the moment but keep an eye on the blog for a posting on this.
Anyway, as a bit of background the last couple of years have seen an unprecedented amount of new products, BI acquisitions and new announcements from Oracle, including the announcement of Siebel Analytics being the go-forward strategy for Oracle's BI platform, the acquisition of Hyperion, the release of Oracle Database 11g, the inclusion of Oracle BI in Fusion Middleware and the move towards standards and hot-pluggability. Although it's been two years of near constant change, in my opinion this is only just the start and what we'll be seeing over the next eighteen to twenty-four months will significantly change and impact the world of Oracle BI developers and customers.
Starting with the most probable and going through to more longer-term, "visionary" things, here's five key Oracle BI & data warehousing trends to look out for over the next couple of years:
1: Convergence and Interoperability
Over the late-10g timeframe and the whole 11g timeframe, Oracle's Standard Edition and Enterprise Edition tools will increasingly interoperate. Already, BI Publisher can use Discoverer worksheets as a data source, and Answers reports can be embedded in an Oracle Portal page. Going into the 11g timeframe, Discoverer reports will be able to be scheduled using Delivers, with Delivers alerts being able to be based off of Discoverer worksheets as well as Answers requests.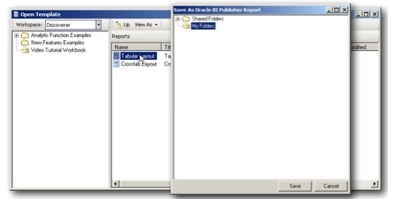 OWB11gR2 is scheduled to include functionality to enable you to create and load the Oracle BI EE metadata layer, and Oracle BI EE will support Essbase as both a data source and data target. The 11g release the Oracle Database moves OLAP metadata directly into the database data dictionary, whilst Oracle OLAP analytic workspaces will quality for query rewrite and are refreshable using standard materialized view refresh functions. Later on, you can imagine Discoverer worksheets being embedded directly within Oracle BI EE dashboards, and Oracle OLAP analytic workspaces being created, updated, inserted into and managed using standard SQL DDL and DML functions.
2: Developer Adoption of Hyperion FPM Applications and Platform
If like me, you initially thought that the Hyperion acquisition wouldn't mean much to you, recent announcements by Oracle (listen to this podcast by Joe Thomas, Oracle Snr. Director of BI Applications) indicate that in time, the Hyperion tools and Oracle's BI tools will share a common infrastructure and technology foundation. Release 10.1.3.3.1 of Oracle BI EE will support Essbase and possibly Hyperion SmartView as OBIEE clients, with Essbase also becoming a supported datasource through it's XML/A interface.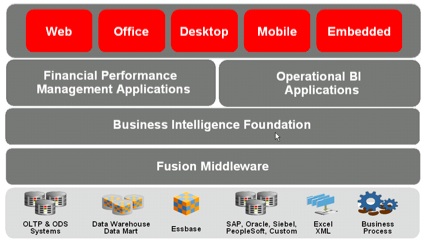 In time, the OBIEE metadata layer will contain metrics, KPIs and other Essbase and Oracle OLAP calculations, with Oracle's eventual vision being an integrated business intelligence platform that supports both financial and operational business intelligence, As this vision starts to take hold, it will be increasingly easy for developers to extend their Oracle BI knowledge to such areas as planning, budgeting and financial consolidation, with a common technology platform, metadata layer and reporting UI providing a common, consistent user experience for developers and customers.
3: OLAP Resumes Central Role in Oracle BI Platform
This is one that's dear to my heart. The past few years have seen a bit of a de-emphasis on OLAP within Oracle business intelligence, with a lack of viable OLAP query and reporting tools (Oracle Discoverer for OLAP frankly not being up to the job) and an emphasis instead on relational reporting - BI Publisher, Discoverer relational and Oracle Answers.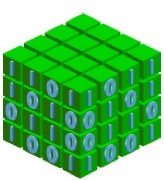 Now though, the tide is likely to change with a revolutionary release of Oracle OLAP and the bringing into the fold of Hyperion Essbase. Oracle OLAP is being positioned as a "data warehouse supercharger" with Oracle aiming for a high percentage of it's data warehousing customers to install Oracle OLAP and transparently speed up their relational data warehouse queries. For those customers looking for a standalone OLAP server, and for mutli-dimensional query tools and an Excel interface that supports XML/A and MDX, Essbase will be positioned as both a standalone solution, as part of the Hyperion FPM stack and as a way of adding analytics, KPIs and multi-dimensional calculations to the Oracle BI Suite Enterprise Edition stack. For certain types of calculation and analysis, multi-dimensional OLAP technology will always be faster than relational, and now that Oracle have got all of their ducks in a line when it comes to OLAP, expect to see greater and greater emphasis on this option within Oracle's BI foundation layer.
4: BI Becomes Pervasive and Embedded
Looking further into the future, demand for BI will only increase but not neccessarily in the form of reports, crosstabs, standalone systems and graphs. For the moment, BI is still a minority interest within organizations and whilst 5% of the company might be trained up on Discoverer and have the time and inclination to learn a tool most people have a job to do and cannot afford the context switch that's needed to go from their normal applications to a BI tool. For the vast majority within an organization, if you can take the value, analytics and smarts within your BI system and embed it directly within their business processes and business applications, you can "bring BI to them" and deliver it within the context of their day to day work.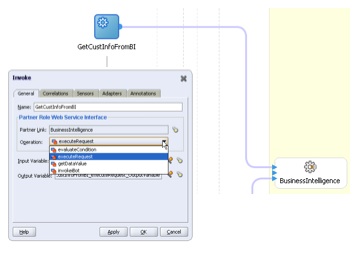 What this means in practice is integration of Oracle BI with the wider world of Oracle Fusion Middleware, having Oracle BI EE talk to your applications via Web Services, having Oracle BI EE reports, metrics and conditions accessed from BPEL business processes, and embedding Answers and Discoverer reports and graphs directly in applications using technologies such as JSR-168. This is an area of BI that's only just starting out, but has the potential to broaden the audience for BI from the analysts and planners to everyone within the organization.
5: Decisions Become Automated
Lastly, and going into the future, you can see Oracle BI, and in particular tools like Real-Time Decisions and Oracle Data Mining, being used to automate the actual decision-making process.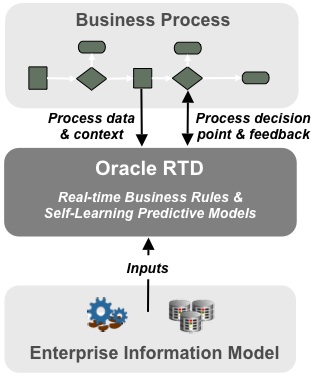 At the end of the day, BI is generally used to help you make a more informed decision, and if you can use techniques such as predictive modelling, automated generation of models, positive feedback loops and statistical analysis to make faster, more accurate and more profitable decisions, you can see a future where many more mundane business decisions are taken using business intelligence and data mining tools, leaving us to make more strategic choices and setting performance goals based on broad business strategies.
Anyway, that's just a few thoughts on some trends that will probably impact on the world of Oracle BI developers and customers, over the next couple of years., If you've got any thoughts on this, add a comment to the posting, otherwise in the next day or so I'll put a posting together on the other part of the keynote, a potted history of some of Oracle's BI tools.