Oracle Open World 2008, Day 5 : Exadata Storage Server, and Ask the Oracle ACE Directors
Today was the final day at Open World, with a number of sessions on the new Exadata Storage Server and the Oracle Database Machine data warehouse appliance, together with the Oracle ACE Directors' Birds of a Feather Panel Session kindly organized by Lewis Cunningham. In the end we had six ACE Directors on the stage in this photo, with Lewis arriving just after.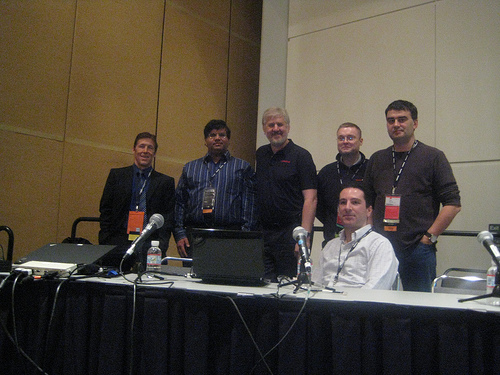 Left to right, we've got Bradley Brown from TUSC, Arup Nanda, Hans Forbrich, Tim Hall, Eddie Awad and myself. The questions from the audience we mostly around the database although Lewis kindly threw one in on OBIEE optimization; I also planted one on the panel's reaction to the Exadata news yesterday and we had an interesting one on the panel's least favourite feature in 11g - my vote wasn't a feature as such, more an observation that most of the good stuff was only available as database options, and the decision to use these is usually made well before I turn up I'm usually unable to make use of them.

There were two sessions on the Exadata Storage Server and the Oracle Database Machine during the day, renamed from the more generic titles that I picked up on earlier in the month. The details on the two products have been more than adequately covered on other blogs (Kevin Closson's postings (1,2,3), and the ones by Curt Monash (1,2,3,4), plus Pete's earlier posting here, set out the features and industry commentary pretty well), but some key points and takeaways that I picked up on from today's sessions included:
The storage array hardware that the Exadata Storage Server uses is commodity HP DL185G5 kit, but with additional software from Oracle for the predicate-pushing feature
The fact that each storage server ships with 1GB of network bandwidth means that your disks and network I/O capabilities will always be balanced
The database server using the Exadata Storage Servers can be either single node or RAC, must run Oracle Enterprise Linux and Oracle 11g 11.1.0.7
The predicate pushing feature is implemented using a new feature in 11.1.0.7 called smart scan, where the database engine, when it can, will take the SQL coming from the application, extract a simplified version of it and send it to the storage server CELLSRV process, which then returns just the rows and columns containing the results set. If this can't happen then normal database blocks are returned instead, this is why it's positioned as suitable for both OLTP and DW
The volume manager is ASM, this is a key part of the software stack
Each Exadata server is called a Cell, and is a self-contained server which contains 14 (?) separate disks and the server hardware that implements smart scan. The server is programmable by Oracle but not by the client. The software can/will be updated for each release of Oracle, you can choose not to update it however this will be like setting the compatibility of the database to an earlier release, it'll work but not make use of potential new features.
The Oracle Database Machine contains 8 Oracle servers and 14 Exadata Storage Servers in a rack. Database servers are HP DL360G5, again commodity hardware.
So, very interesting stuff albeit not something I'll probably get my hands on for a while. So, that's it for Open World for this year, I'm off to Corporate HQ tomorrow then back to the UK the day after. I'll try and wrap everything up with a summary post tomorrow, for now though it's a chance for an early night for once before getting up early tomorrow.