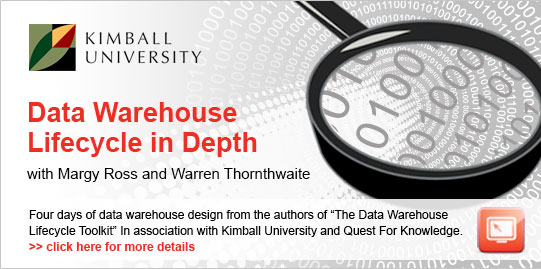 The data warehouse continues to be one of the most organizationally complex and technically interesting projects in Information Technology. Rittman Mead are proud to announce this unique data warehousing training opportunity, in collaboration with Kimball University and Quest For Knowledge.

Learn from Margy Ross and Warren Thornthwaite, co-authors with Ralph Kimball of the popular The Data Warehouse Lifecycle Toolkit, 2nd Edition as they show you all the practical details involved in planning, designing, developing, deploying, and growing data warehouses. Important topics include:
The Business Dimensional Lifecycle approach to data warehouse project planning and management
Techniques for gathering requirements more effectively and efficiently
Advanced dimensional modeling techniques to capture the most complex business rules
A framework for creating your technical architecture
And much more!
This 4-day Kimball University course is packed with specific techniques, guidance and advice from the initial project planning all the way through to the final rollout and maintenance.
REGISTER for Data Warehouse Lifecycle in Depth before 16 March 2009 and save over €250. Registration details together with more information on the event are available in this brochure, which needs to be faxed back to the organizers to book your place. Note that this is not the BI Forum that we're also organizing, this is a separate event run in association with Kimball University and Quest For Knowledge.
Don't miss this opportunity to learn from the best in business!