Blink and you may have missed it, but the 11g release of Discoverer is now available for download as part of Oracle Fusion Middleware 11g. Now back in the old days, a major new release of Discoverer such as this would have been big news, but of course now most people's attention is focused on Oracle BI Enterprise Edition Plus, which by most estimates is probably due our later next year, but there are some major changes that come with this new release of Discoverer which are worth taking a look at.
The most obvious change in the 11g Discoverer release is the move away from Oracle Application Server, and OC4J, to start using Oracle Weblogic Server which is now the standard within Oracle Fusion Middleware. Weblogic performs much the same function as Oracle Application Server in that it's a J2EE application server, so in that regard things aren't much different when it comes to the end-user elements of Discoverer - Discoverer is now just running in a different J2EE container than it did before. From the application server administration perspective though things are a fair bit different, and the installation itself differs significantly from the 9iAS/10gR1/10gR2 versions.
Whilst there are potentially a lot of Fusion Middleware 11g components you can download, to get a bare-bones Discoverer 11g system up and running you need to download:
Oracle Weblogic Server 11gR1 (earlier versions might be supported, I'm not sure)
Repository Creation Utility
Portal, Forms, Reports and Discoverer
All of these components are available for Windows, Linux and Unix. Unlike previous releases of Oracle Application Server, you need to install the application server first, like this: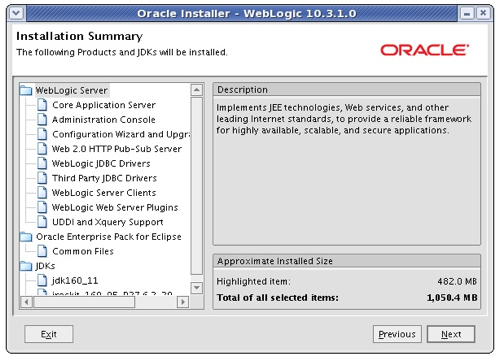 In addition, you'll need an Oracle 11gR1 database to hold the repository metadata used by the Portal, Forms, Reports and Discoverer components, which needs to be patched up to 11.1.0.7 before you can run the Repository Creation Utility.

Running the Repository Creation Utility gives you the option to create repository schemas for the various components within the wider Fusion Middleware 11g stack, but for now I'm just going to create a schema for the Discoverer application metadata.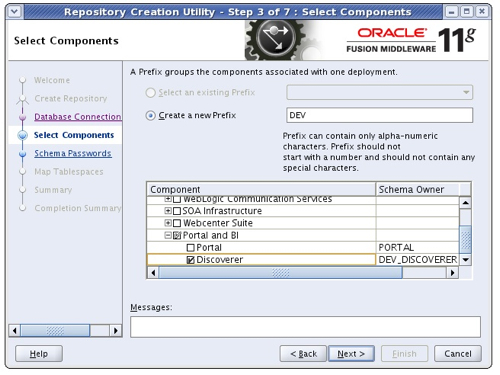 If you've ever installed Oracle Application Server's previous repository into a standalone database, rather than use the packaged database that comes with the Application Server installer, this is a very similar process. What Oracle have done here is decouple the application server itself, the repository creation and the database it goes into, into separate parts. Presumably at some point in the future you'll be able to store Fusion Middleware's repositories into databases other than Oracle, but for now you're restricted to an 11.1.0.7 version of the Oracle Database (though Discoverer itself can still report against 9i, 10g and 11g Oracle databases).

Once you've installed Weblogic and created the repository schemas, you can start the Portal, Reports, Forms and Discover installer (see what great company we keep). This lets you install all or just a selection of these components, like this: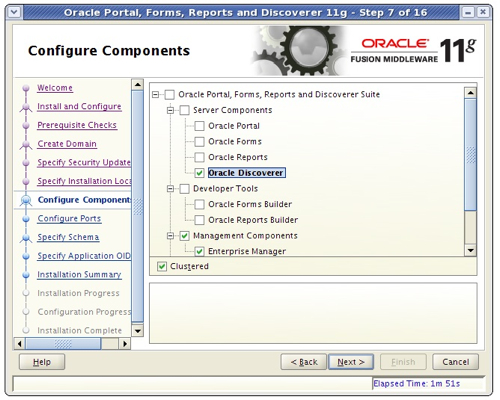 If you want to install Portal as well, you need to use the 10.1.3.4 Oracle Identity Management installer to create an OID installation, then you need to set up Single Sign-On using either the 10g SSO disks or the 11g ones. So there's a bit of legacy stuff in this release, you need to keep your OAS 10g disks available as you seem to need them at various points. For now though, I skipped the Portal install and was therefore able to skip all the steps around OID and SSO.

Once the install takes place, you then go through the post-install configuration steps. Now on Linux x86 this went fine, but on Windows Server 2003 the configuration failed at the OHS creation step, according to the logs it couldn't restart opmnctl and after a lot of fiddling, I still couldn't fix it. After switching to Linux though it worked fine, with all of the configuration steps completing as normal.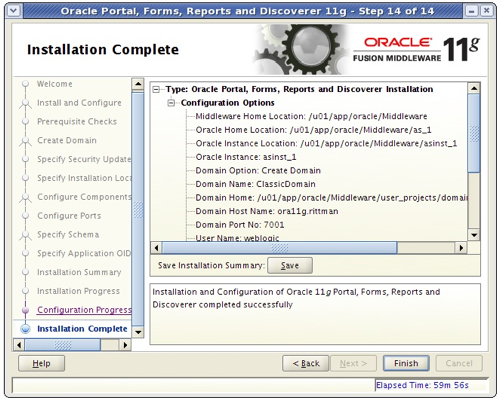 One other thing I noticed, from running Fusion Middleware 11g on both a Windows Server 2003 VMWare virtual machine, and an Oracle Linux 5 virtual machine (each with 2GB of RAM on a 4GB laptop), was that memory consumption on the Linux VM was much less - on the Windows VM, the fan was constantly on when Weblogic was running, whilst on Linux it's just ticking away in the background with little memory usage. This corresponds with other work I've done with OBIEE and EPM Suite running on Weblogic, on a Windows VM the system is constantly swapping whilst on Linux, it runs really nicely. Something to bear in mind if you're putting a demo system together.

Now once you've got everything setup, actually running Discoverer is a bit of a dissapointment as it's exactly the same as in the 10.1.2.x release. There are one or two minor changes around navigation in Discoverer Viewer, but 99% of the application is exactly the same as in the 10g release.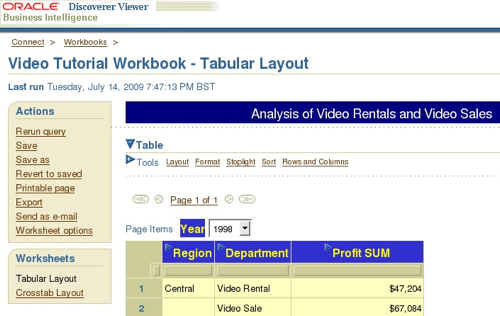 One thing I did notice though was that, if you've not got Discoverer set up with OID and SSO, you get quite a scary looking error message when bringing up the Discoverer login page telling you that it can't retrieve the list of connections. You can safely ignore this but it does make you wonder at the start as to whether the install has gone OK or not.

Now where there are some significant changes is in the application server control web page, which in the past was provided by Oracle Application Server Control but is now provided by Fusion Middleware Control.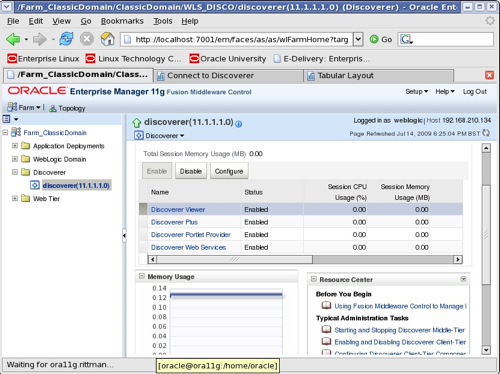 You can see from the screenshot above that the Discoverer application pages are completely different to the 10g release of the product, Discoverer here has an entry in the Weblogic Server domain listing and you can see the new, formally supported and properly documented Web Services interface in the application list that will presumably in future be used to integrate Discoverer worksheets into Oracle BI EE Dashboards and Delivers.

There are also new pages for administering the application server itself, with most of the Oracle Application Server elements having an equivalent in this new product, but still it'll take you a few hours to get used to the new layout and how things work in Weblogic.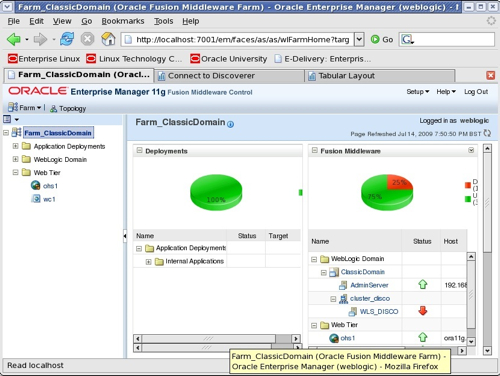 One final thing to bear in mind is that, if you running Discoverer 11g on Linux or Unix, you'll also need to download the BI Tools 10.1.2 CD from OTN as you still use these old versions to create and administer the End User Layer for Discoverer 11g (shows how much it's changed in this new release). If you install the Windows version of Portal, Forms, Reports and Discoverer it installs a single copy of Discoverer Administrator and Discoverer Desktop along with the application server files, but if you install the Unix versions you'll need to download the tools CD separately. And "opmnctl" is still there and available with a command-line interface, so you can still bring up, down and view the status of the various application server components from the command line.