Beginning Day 2 at Open World
As Mark pointed out this morning, the weather in San Francisco is terrible. Having endured the recent flooding conditions in the Atlanta area, I can't help but feel like I brought the rain with me. However, I'm inside a huge conference center, with tents between all the physical buildings, so I should stay dry. Though the Rittman Mead Mints have been successful, maybe we should have invested in Rittman Mead umbrellas instead.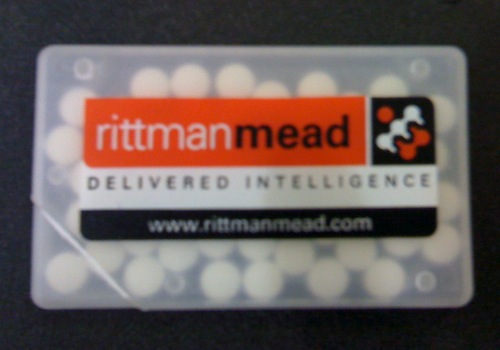 It's an exciting time for the company, as this is the first Open World with the US branch established and operating. Joe Leva and I are here along with a few other guys you may have heard of: Mark Rittman, Jon Mead and Venkatakrishnan Janakiraman. As we all travel so much, and hail from such disparate locations, we don't often get to be in the same place at the same time, so it should be good fun to see the guys from across the pond (and across the world in Venkat's case).
Another first for us at Open World: Rittman Mead is exhibiting this year, so come by and see us at Booth 124, Moscone South. Because I'm spending so much time at the booth, speaking to attendees about their BI and data warehousing needs, I haven't had much time to see many technical sessions, though I did get a chance to see Mark and Venkat's presentation yesterday... a "Deep Dive" into OBIEE and Essbase integration. There were a lot of good questions from the audience, especially those that stayed behind to speak to us, and it does appear that there are customers out there trying to make this work. It's also evident that there is a real desire for people to get their hands on OBIEE 11g.
Joe and I will be at the booth all day... and after the Oracle Press event that will last most of the morning, Jon and Mark should be by in the afternoon. So if you have any Oracle product questions, general BI questions, or just want to come by and meet the team, we'd be glad to see you.