Monday started off well with a keynote from Safra Catz and Charles Phillips. I was actually surprised to see a demo of various products in the keynote but all the demos were very good. One key thing that i could notice was the fact that BI EE is being positioned as a flagship reporting tool across all Oracle product suites like Oracle retail etc. And in fact even in the exhibitors booth there were quite a few companies demoing Oracle BI EE. While i was at our RMA exhibitor's booth, I managed to take a screenshot of the architecture used for the World record holding BI EE instance (was used for bechmarking performance)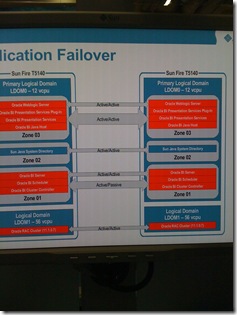 Then i attended a couple of sessions, one by Mark and Ajmad on BI Management best practices and the other by Oracle PM on Oracle BI new features. Both the sessions went very well and of course were well attended. After these sessions was mine and Mark's session on BI EE and Essbase integration. I was initially nervous as this was my first open world session. But i thought the session in general was received pretty well and there were quite a few questions in the end as well. Mark has more details here. After that i went up to Johny Foley's for the BI meetup with Mark, Stewart and Jon. Quite a few people turned up and it was actually very nice meeting everyone and speaking about their BI experiences in general. I ended the day with a big pint of diet coke!!!
Today is more of a damp squib (personally) as i am completely drenched in the rain (storm predicted for the next 2 days). I managed to just reach the OOW Publisher's session, all wet and there were keynotes by senior VP's from Oracle. After that, right now i am at Paul Rodwick's session on Oracle BI Roadmap Presentation. Looks like 7.9.6.1 version of BI Apps was released yesterday. One can download the software from here. Apart from that the major highlight from a BI perspective was the demo on BI EE 11g. It was interesting to notice the way they have planned the BI Administration in general. After that i have a couple of sessions lined up. Should be an interesting day ahead.