I'm now back in my hotel room, having escaped from the Focus Pubs at the end of Day 1 of the UKOUG Technology and E-Business Suite Conference in Birmingham. It's been a long day, with an 8am meeting on the stand in the exhibition, a stint in the speaker ready room prepping my demonstrations, and then delivery of two sessions this afternoon on OBIEE, Essbase and Oracle Warehouse Builder 11gR2.
This year we've brought most of the consulting team along to the conference, as a way of getting to see people who are often working away on-site, and so that everyone can get to meet the great delegates, speakers and partners at the conference. Here's the team at the start of the day, having just set up the demo and waiting for the opening of the exhibition.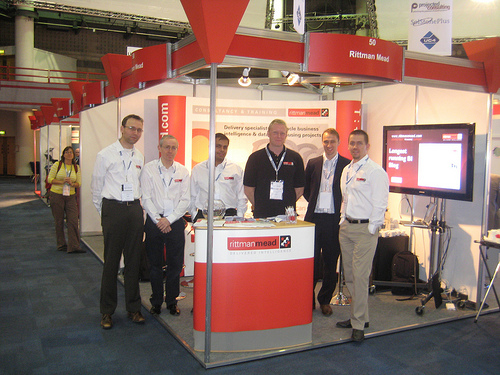 And here's things at the end of the day, during the Exhibition Hall Drinks Reception. We had our famous Rittman Mead beer available again, and it was great to catch up with people such as Paul Vallee, Connor McDonald, Jonathan Lewis, Lisa Dobson and everyone else who stopped by.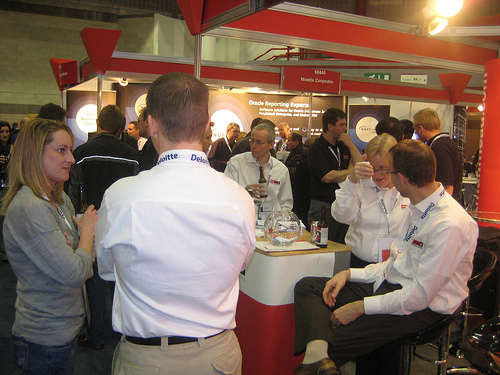 The two sessions we ran today were on Essbase and OBIEE Integration, and on the new 11gR2 release of OWB. The Essbase and OBIEE session went well; we had Venkat doing the demos, myself doing the positioning, and then a great questions and answer session at the end where we discussed attendees experiences with the integration and gave some feedback on what worked for us. The slides are available here if you're interested.
The second session was particularly well attended and was on the 11gR2 version of OWB. Now if you've been following our blog, we've posted a series of articles on this new release, and we're particularly excited by the new code template (ODI) features in this release, especially as the integration between the ODI and OWB technologies seems to have been done so well. We were lucky enough to be joined by Craig Stewart, our Oracle ODI representative in EMEA and someone we know well from his attendance at various user group events and indeed our own BI Forum earlier in the year in Brighton. Craig was able provide a "hot off the presses" roadmap slide on OWB and ODI 12g which he's kindly agreed for me to reproduce here: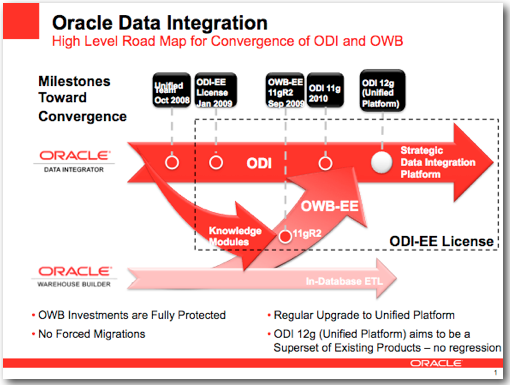 What we can take from this are a few points:
Going forward, the OWB product name will be de-emphasized in favour of "In-Database ETL", to differentiate itself from Oracle's strategic data integration platform, ODI
The 11gR2 version of OWB will be the last in it's current packaging, and license-wise it'll now be incorporated into ODI Enterprise Edition. The free OWB functionality will still remain but will be renamed "In-Database ETL" as above.
ODI 12g is the target version for integration between the ODI and OWB platforms
There will be an ODI 11g release out in the first half of next year (usual disclaimers apply
ODI is the strategic data integration platform for Oracle
Again, the slides are available for download here if you want to take a look, and they cover code templates, heterogeneous sources, OBIEE integration, change data capture and web service integration.

Craig is actually going to join me again tomorrow for the ODI and Oracle BI Applications session I'll be running (14.30 - 15.30, Tuesday, Hall 10b), so again if you've got questions on the ETL direction for the BI Applications and the role that ODI will play, come along and we'll be pleased to answer any questions.

Finally, if you're around tomorrow (Tuesday) evening, we're running a BI "Appreciation" drinks session at the Pitcher and Piano, Brindley Place, from 6pm - 9pm. If you're a BI user, customer, developer, partner etc, or you just know us and would like to join us for drinks and canapes, come down in the evening and it'll be great to see you.