OBIEE 11.1.1.6 Now Available for Download - Release Highlights
Well, the news broke late this afternoon that OBIEE 11.1.1.6 was now available for download, so here's some of the key new features that you should look out for once you've installed this new release. We'll start first with the front-end, then take a look at some administration and server-side changes, and then say where Exalytics fits in with things.
From an end-user perspective, OBIEE 11.1.1.6 provides a much-enhanced interface for analyses and dashboards, plus some changes to the way that you create BI Publisher reports. Starting off with analyses, one of the big changes is that you can now create selection steps for an analysis by right-clicking on it and selecting the step you wish to add. By adding this feature, it's now possible to publish a basic analysis to the dashboard, then have the end-user add further steps to add, remove or keep dimension members; add totals, groups or calculated items, or otherwise manipulate the analysis results set. For me, this is the major new end-user feature in 11.1.1.6, and gives "power users" much more control over how results are displayed on their dashboards, especially considering that any selection steps they add can then be saved as a dashboard customization for later recall.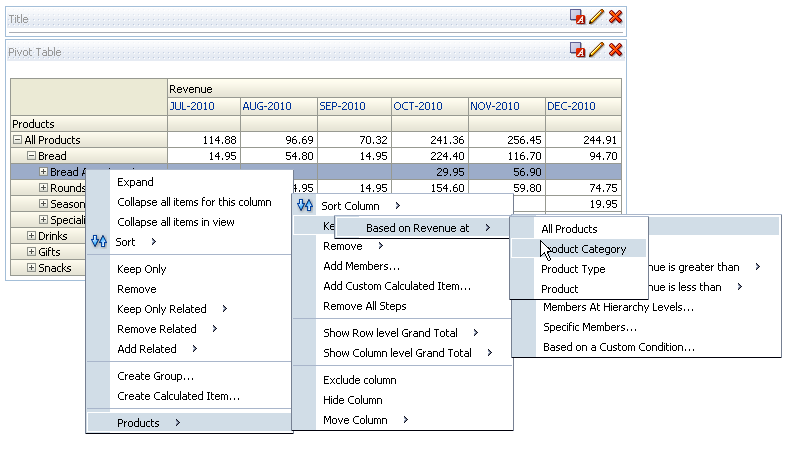 Now that it's possible to add selection steps to an analysis after it's been published to the dashboard, it's especially important the end-user knows what selection steps have been applied, as well as any filters. Therefore, there's a new Selection Steps view that you can add to an analysis compound layout, that shows you just what's been applied.
As well as these changes to how analyses are presented, you can also now save analyses and other BI objects as favorites, which are then accessed from the global header area.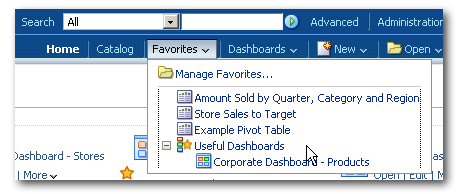 Another new feature, inspired by Exalytics (more on this later) but available for all 11.1.1.6 installations, is the ability to remove the Apply and Reset buttons from prompts. To do this, you can either set this at the individual prompt level, or you can remove them at the dashboard page level. Once you do so, any change to a prompt value will trigger an automatic refresh of those analyses connected to the prompts, though you should use this feature with care if not using an Exalytics, OLAP or fast-database data source.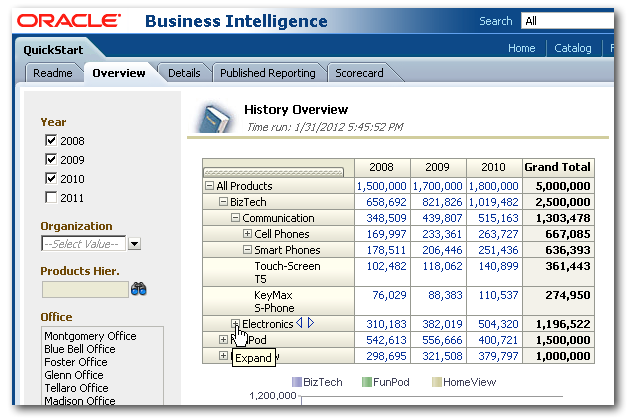 There's also a bunch of miscellaneous enhancements to the front-end including adding of new columns to existing views automatically, a new wizard for creating BI Publisher reports, and the ability to rename views once you've created them. We'll post more on the new front-end features in a few days.
In terms of the repository (RPD), the major new change is the introduction of MDS XML as a repository storage option, and the ability now to integrate the Oracle BI Administration tool with source control systems. MDS XML is a fore-runner of future changes to how the Oracle BI Repository is structured and stored, and allows us to save the repository, not as a single monolithic binary file, but instead as a set of XML files. Each XML file contains the definition of an individual repository object, with objects corresponding to logical and physical tables, logical dimensions, logical joins and so on. The main point of MDS XML is to be able to upload these XML documents to a source-control system, with the XML documents then needing to be re-saved as a single RPD file before you can then upload it to the Oracle BI Server in the Oracle BI Domain. It's not really a substitute for MUD, it's more a way of integrating with source control, and we'll have a posting on how this works, in detail, on our blog tomorrow.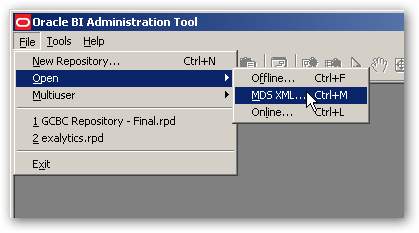 Finally, the other major thing that 11.1.1.6 enables is Oracle Exalytics BI Machine, one of which is on order for us and due to be delivered in the next couple of weeks. Exalytics uses an optimized version of OBIEE 11.1.1.6 as its business intelligence platform, which includes a new utility called the Summary Advisor used for recommending and creating in-memory aggregates. Again, keep an eye on the blog for more details next week on Exalytics, including how the Summary Advisor recommends and generates aggregates and how TimesTen works under the covers.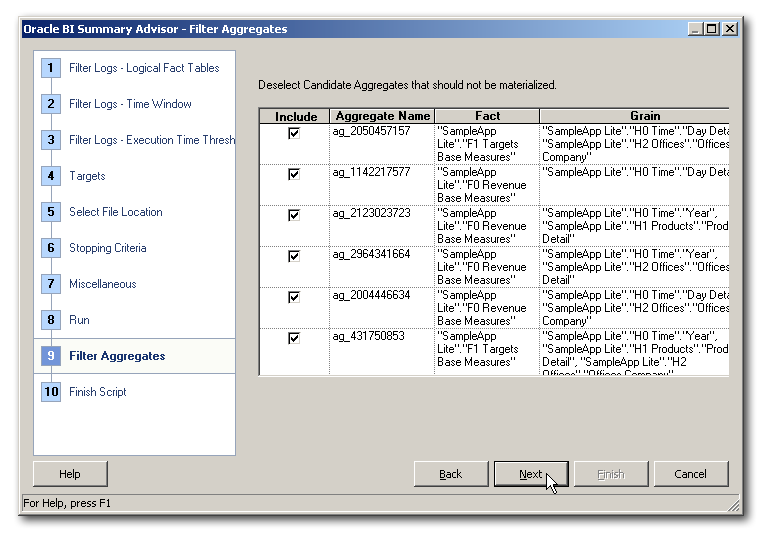 So that's it for now. We'll be back tomorrow with the next installment in Endeca week, and then check back later in the day for the more details on version control within the Oracle BI Administration tool.