Previewing the OBIEE 11.1.1.6 SampleApp
Last year we previewed the upcoming OBIEE 11.1.1.5 version of the SampleApp,  which introduced a bunch of new features including more Essbase examples, a working Essbase write-back using the Action Framework, new visualisations created using Google Charts, plus some content around TimesTen and Oracle Data Mining. Well, the updated 11.1.1.6 version of the SampleApp is due immanently, so let's take a preview look at what's coming in this new release.
Like the previous update, the 11.1.1.6 version of the SampleApp is an incremental release, designed to highlight new features that have come with the 11.1.1.6+ release of OBIEE, as well as incorporating some new examples sourced from the field. One of the most interesting new features in this updated version is Exalytics-enablement; if you download the VirtualBox image which has all the software pre-installed and pre-configured, OBIEE is enabled for Exalytics, with prompt buttons removed, auto-complete and auto-suggest enabled, and the ability to run the Summary Advisor from the BI Administration tool, which you'll need to ensure is at version 11.1.1.6 or higher too and install on a separate Windows-based environment.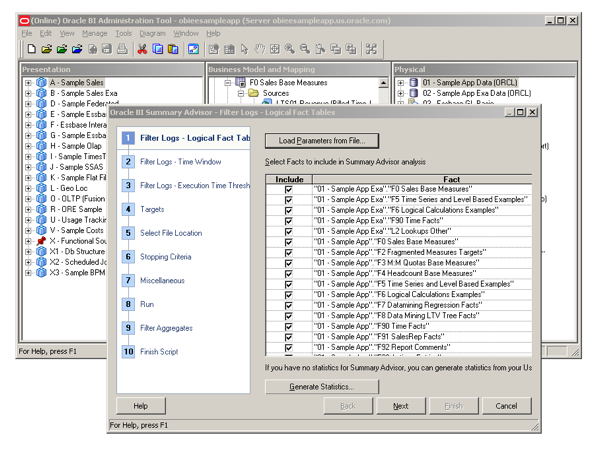 This new SampleApp also comes with scripts to automatically "inflate" the size of your dataset, and an additional subject area designed to analyze large tables and test out aggregation. The VirtualBox image for this release includes TimesTen for Exalytics, but of course it doesn't come with a free Exalytics box, so this is really for testing and self-training only, not actual performance testing. By default no Summary Advisor aggregates are set up, but you can run the Summary Advisor, create some and then test out the dashboard with all of the "speed limiters" removed.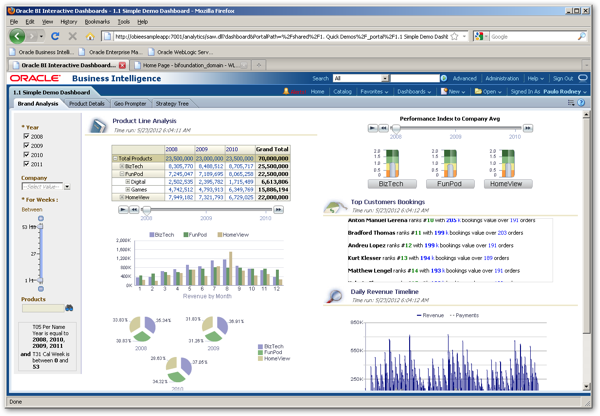 If you were lucky enough to see Jordan Meyer's "Designing Eye-Catching and Effective Dashboards" presentation at last week's BI Forum in Atlanta (if not, here's an interactive version you can page through using your cursor right key) you may have had your interest piqued in Oracle R, and it's ability to do statistical analysis on large data sets. This new version of the SampleApp has some R-based visualisations included, which use Oracle R Enterprise, an Oracle Database 11gR2 option that's pre-installed on the VirtualBox image) and BI Publisher to render the actual visuals.
If you followed some of my postings around the launch of Exalytics, I mentioned that usage tracking has been enhanced in this release in order to capture the physical SQL, as well as logical SQL, associated with an analysis. The new SampleApp includes an example dashboard page that displays this physical SQL information for the most recent queries, and is accessible from a link on any other dashboard page, like this: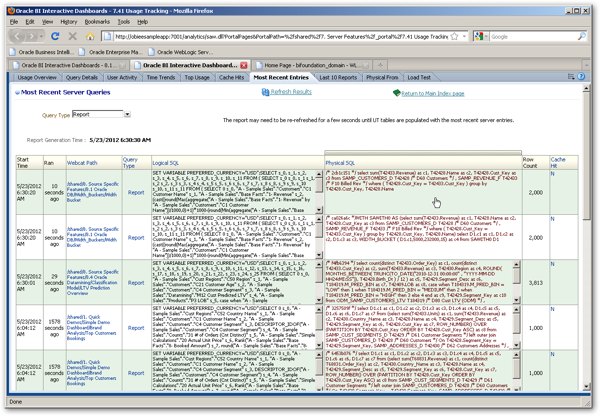 There's also a number of new visualisation and UI enhancement examples in this new release, including what is probably my favourite new front-end feature in 11.1.1.6 - the ability to add selection steps to analyses even after they've been published to the dashboard, giving users much more ability to customise analysis views within their own dashboard.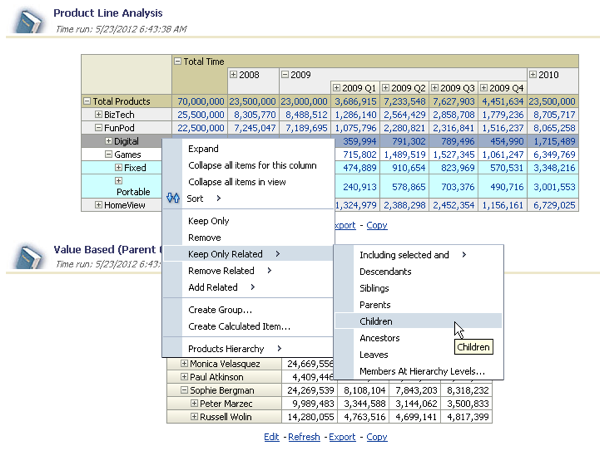 Other new visualisation features include the new Strategy Wheel view in Scorecard and Strategy Management, waterfall charts, heat maps and an interesting new capability, web-style menus on the dashboard page: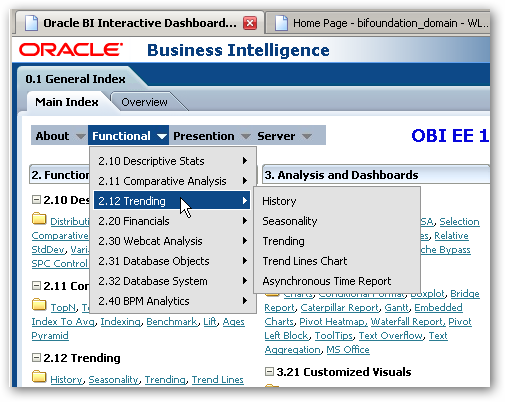 Something that caused some gnashing of teeth back at Rittman Mead headquarters when it was announced back at Openworld, was support for Web Catalog auditing from within the next SampleApp (we'd developed, independently, something very similar). Using a set of scripts provided with the SampleApp, you can export the web catalog structure into a set of database tables, and then report against those, along with Usage Tracking data, to work out which catalog objects aren't being used as well as volumes of objects in each folder, by user and type over time.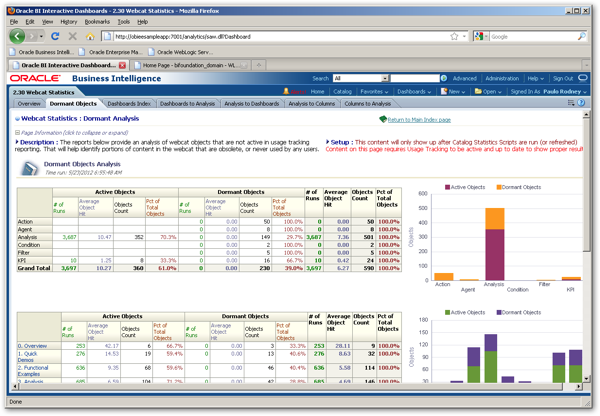 You can also perform some impact analysis, helping to identity in which dashboard are a set of select analyses, and quickly identify what list of objects are exposed in each dashboard page. Usefully, you can also use this feature to spot all objects that are using a specific RPD column, and looking at it the other way list out all RPD columns that are used by an analysis or other catalog object.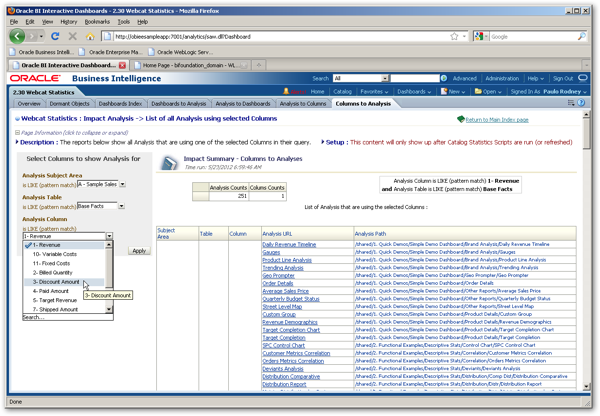 Something that'll interest the DBAs amongst us is another new set of dashboard pages, that report against the Oracle Database system views, to display details of user sessions, SQL queries, datafile sizes, database parameters and so on. It's clearly not meant as a substitute for Enterprise Manager Database Control, but if you're working on a development system and want to check, for example, whether materialised view query rewrite is enabled, or who else is logged in and reporting against your data, it could be a useful set of reports.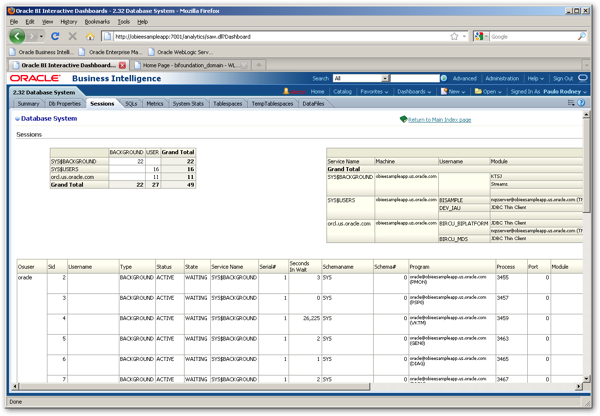 Finally, there's a whole new set of BI Publisher examples brought across from the new BI Publisher trial release, including lots of ones that show the additional capabilities the BIP brings, such as barcodes, OCR recognition, complex layouts using XPATH, bursting and so on. Here's one new report, showing how BIP can report against Essbase directly, using MDX queries defined in the report's data model.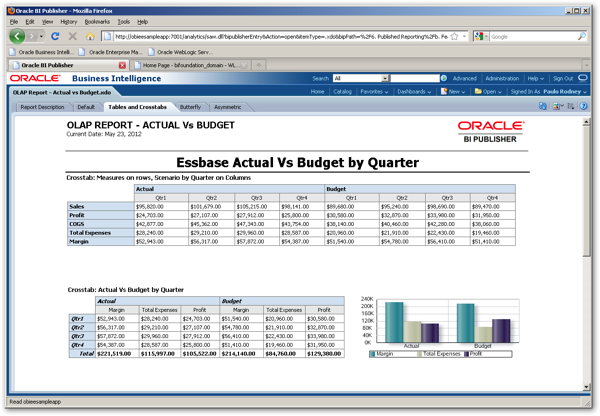 So, quite a few interesting new features. The new 11.1.1.6 SampleApp should be available soon, probably at the same time as the next bundle patchset for OBIEE 11.1.1.6, and will be available in both VirtualBox format, or as a set of install files that you can set up in your own environment. Watch this space, as they say.