In our previous posting in this series on the Oracle BI Applications 11g, we looked at the overall product roadmap for Oracle BI Applications 11g, and how in the next twelve months the 7.9.6.x branch that currently covers Applications Unlimited customers will eventually merge with the 11.1.1.x release, giving us a platform that covers all of Oracle's ERP applications and also supports both ODI and Informatica as the ETL tools. For a recap on yesterday's post and pointers to the other posts in this set, here's links to the whole series:
So for Apps Unlimited customers wondering what the move to BI Applications 11g will bring them, and for existing BI Applications customers interested in where the platform is going, let's look at what's in the BI Apps 11g now and what's been announced as planned functionality.
The current version of Oracle BI Apps 11g (at the time of writing, 11.1.1.6) is recognisable to all BI Apps customers in that it uses Informatica PowerCenter as the ETL engine, and uses OBIEE 11g as the BI platform. The DAC is still used to orchestrate Informatica mappings, but behind the scenes there are a couple of new tools aimed at making the setup and configuration process a bit simpler.
Oracle BI Applications Configuration Manager is a web-based application that takes you through the initial configuration steps for the BI Apps, and the data warehouse and ETL routines that provide its data.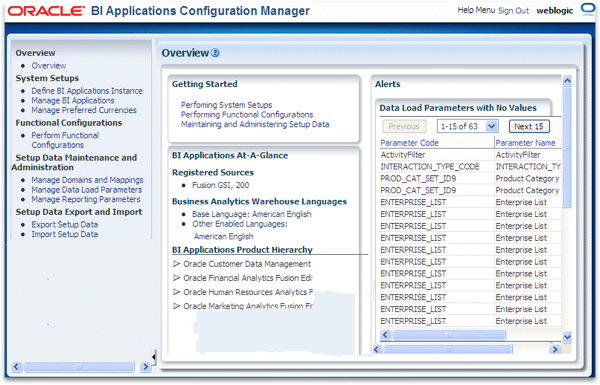 Configuration Manager is concerned with defining system-level settings such as sources and targets, initial load date and other DAC parameters, and in certain places launches another web-based tool, Oracle BI Applications Functional Setup Manager, which helps you select and then set up the various modules that you've licensed for your deployment of BI Applications 11g.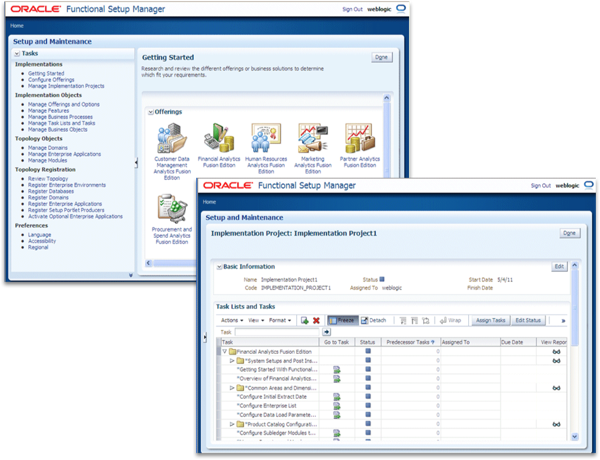 In this initial release that uses Informatica in the background, these tools work with the DAC but don't replace it; for the upcoming BI Apps 11g release that supports ODI as the data integration tool though, these tools will (with additional functionality) replace the DAC, making all ETL control tools web-based.
Installing the BI Apps 11g it its current form is very different to previous BI Apps 7.9.6.x installations, in that you install it as part of the Oracle Fusion Applications - there's no separate download. Presumably, once Apps Unlimited customers start getting supported, there'll be standalone installers similar to the ones currently used for the 7.9.6.x branch,
For the front-end, the major innovation in the BI Apps 11g is that as well as being available through traditional dashboards, they will also be embedded directly in the Fusion Applications; BI permeates the whole platform, with analyses, dashboards, scorecards and catalog views distributed throughout the product suite. So as well as providing a BI-centric dashboard interface aimed at analysts and managers, BI views will also be provided right alongside the transactional applications that users work with all day, broadening BI "smarts" to everyone in the business who needs to make a decision, and the more casual type of users who just needs access to one or two reports to do their job.

BI within the Oracle Fusion Apps actually comes in two forms, the first of which comes standard as part of the Fusion Applications, the other being an additional license cost:
Oracle Transactional BI, used for operational and real-time reporting on the Fusion Apps database, uses the OBIEE 11g framework and accesses current-state transactional data through ADF View Objects
Oracle BI Applications, the BI Apps 11.1.1.x we've been talking about so far and licensed separately to the Fusion Apps, which will appear as additional analyses, dashboards and other BI objects in the catalog, focuses on trend and analytic views and uses the Oracle Business Analytics Warehouse as its data source.
Oracle BI Composer, the lightweight version of the OBIEE Analysis Editor previewed on this blog a year or so ago, will also ship with the Fusion Apps to provide a simple, guided environment for end-user report creation. BI Publisher will be there in the background providing published reports, and Oracle BI Mobile will be used for delivering analytics on mobile devices.
As well as these two "horizontal" BI products there'll be, as with the current 7.9.6.x branch, specialist analytic applications around areas like salesforce management, pharmaceuticals, marketing and so. The diagram below shows the BI Applications 11g architecture, with the OBIEE BI Repository mapping to both real-time data sources via ADF view objects, and to historical and trend data via the Oracle Business Analytics Warehouse.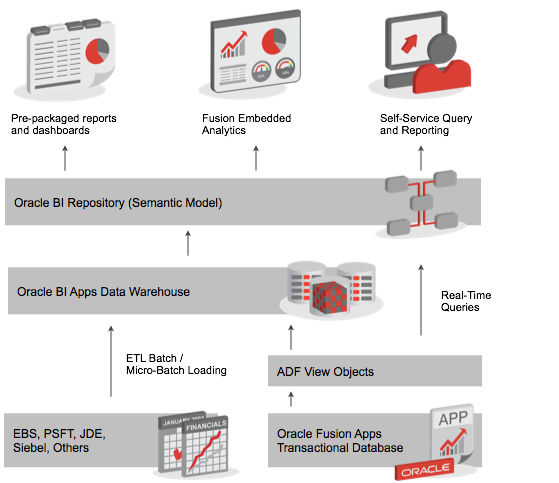 The Oracle Business Analytics Warehouse uses a different data model to the current 7.9.6.3 OBAW, but as there won't be migration support from moving from Informatica to ODI, this won't really affect people as anyone using this data model will be working on a new implementation anyway. 
All of the elements mentioned in this post are actually already place now with the BI Applications 11.1.1.6, but going forward there are a number of planned innovations coming along aimed at reducing the total cost of ownership for the platform:
BI Extender, which will interrogate the Fusion Applcations setup and identify flex-fields that need to be pushed-down into the BI Apps repository and ETL process
Support for data integration tools like Oracle GoldenGate to permit real-time, trickle-feed data loads into the Business Analytics Warehouse
Updated, "consumer-style" perspective-style dashboards based around concepts like "Projects", "People", "Risks" and "Finances" using some of the concepts brought over from the Endeca acquisition.
From my perspective, it'll be interesting to see how Oracle balance the opportunities for tighter integration between the Fusion Apps and the BI Applications versus maintaining support for Apps Unlimited customers; and the integration opportunities coming from owning both ODI and OBIEE together with the BI Apps versus maintaining support and relevance for Informatica customers. So, with all of this in mind, what can you do as customers, and developers, to get yourself ready for the BI Applications 11g? Keep an eye out for the last post in this short series, when we look at getting yourself ready for BI Applications 11g.