Oracle BI EE Management Pack Now Available for Oracle Enterprise Manager 12cR2
Ever since I wrote the an article on Oracle Enterprise Manager 10g's BI Management Pack, people have asked me when equivalent functionality would be available for OBIEE 11g. With the release of Oracle Enterprise Manager 12c Release 2 (we're still on 11gR1 for BI….) the BI Management Pack has now been restored to OEM, and it now covers OBIEE 11g and Essbase as well. Details of what's in this latest release of the BI Management Pack are in this PDF on the OTN website, with the basic functionality looking pretty-much the same as with the OEM 10g version.
Once you've setup OEM 12cR2 you go through a process of installing management agents on the hosts running your OBIEE environments,  and then OEM "discovers" the various services on the host based around the WebLogic domains that are running there. Similar discovery processes can be set up for database, application and other host types, giving you the ability to manage more or less all of your Oracle, and some non-Oracle, systems in your enterprise. Essbase, as mentioned earlier, is covered along with Golden Gate and the BI Apps DAC, though ODI isn't specifically covered except through generic monitoring of the JEE agent running in a WebLogic managed server.
Logging into Enterprise Manager 12cR2 initially presents you with an overview of the targets that you're managing, and you can then select from the various target types from the Targets drop-down menu, like this: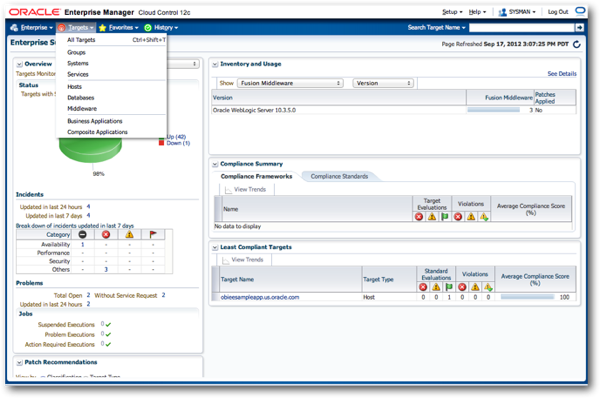 Selecting Middleware brings up a list of Fusion Middleware installations that you're managing, allowing you to select a particular one for further investigation. In this instance, I'm selecting one of my servers running the 11.1.1.6.2 BP1 SampleApp.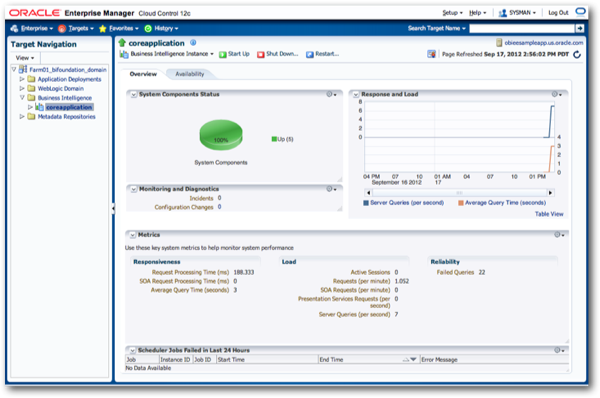 From hereon it looks pretty familiar, with a node in the left-hand navigation menu for Business Intelligence that then brings up details of the BI Instance and the various system components. I can start, stop and restart the various servers, but notice how each server is listed under the main coreapplication node, as well as grouped together on the main coreapplication page.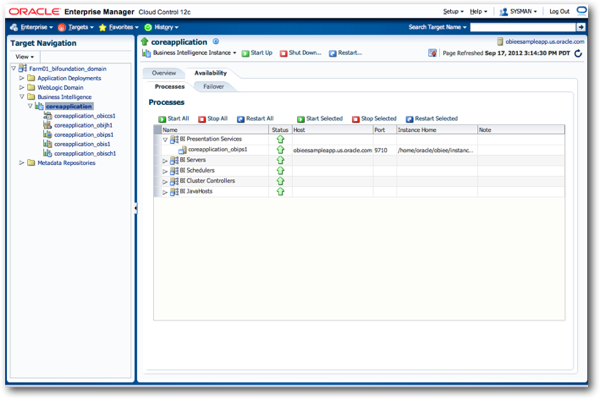 One of the difference between OEM "proper" and Fusion Middleware Control is that you can set service level tests, record availability and response times, and define alerts that detect when your BI system's service is out-of-line. These tests and services can be defined from the on-screen component menu, such as the one in the screenshot below for a BI Server component.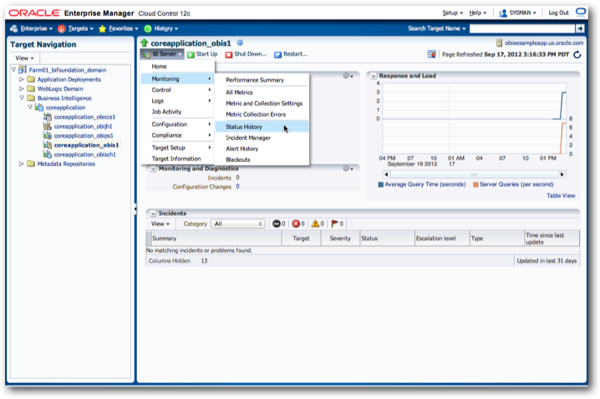 The BI Management Pack also integrates with usage tracking data that's recorded in the BIPLATFORM schema, giving you visibility around dashboard and analysis usage on your systems.
Finally, it looks like OEM 12cR2's "Cloud Control" screens aren't a superset of what's in Fusion Middleware Control, or WebLogic Administration Console for that matter. Fusion Middleware Control features like the JMX MBean Browser aren't there, nor are the screens for setting up application roles and policies (though these are presumably somewhere else in the application as they're fairly central to all Fusion Middleware applications). What you do get extra though are functions around cloning and extending WebLogic homes and installations, plus of course metrics history which you don't get with Fusion Middleware Control.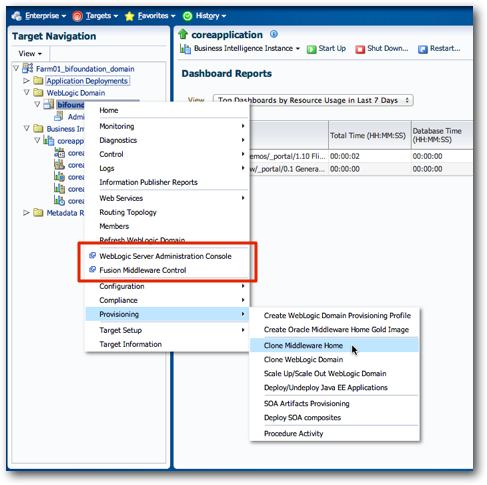 We'll be looking at OEM 12cR2 in more detail over the next few months, including management of Essbase and other EPM applications, and management of BI/DW/EPM-complementary products such as Golden Gate, Exadata and OVM virtual servers.