After what has been around five years of development, including two years of waiting for OBIEE11g and then three of desperately keeping up with 11g point releases, the Oracle Business Intelligence Developers Guide has now been published by Oracle Press / McGraw Hill and is available for purchase at Amazon.com, Amazon.co.uk, Barnes & Noble.com, Apple's iTunes bookstore, and most other online and high-street retailers. It's a pretty hefty volume, covering in over a thousand pages the whole spectrum of OBIEE development from installation, configuration of the BI Repository, accessing relational, OLAP, file and XML data, and then analysing it using dashboards, analyses, KPIs, scorecards, maps, published reports and mobile devices.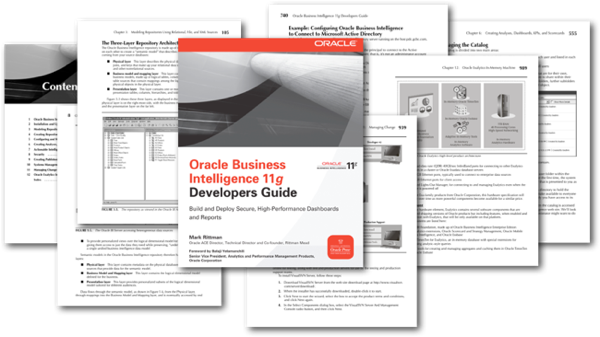 Based on the 11.1.1.6 release of OBIEE, the book features in-depth coverage and step-by-step examples of security, the action framework, change management and deployment through environments, clustering and high availability, and Oracle Exalytics In-Memory Machine, with the following chapter list.
Chapter 1 : Oracle Business Intelligence Overview and Architecture
Chapter 2 : Installation and Upgrading of Oracle Business Intelligence
Chapter 3 : Modeling Repositories using Relational, File and XML Data Sources
Chapter 4 : Creating Repositories from Oracle Essbase and Other OLAP Sources
Chapter 5 : Configuring and Maintaining the Oracle BI Server
Chapter 6 : Creating Analyses, Dashboards, KPIs and Scorecards
Chapter 7 : Actionable Intelligence
Chapter 8 : Security
Chapter 9 : Creating Published Reports
Chapter 10 : Systems Management
Chapter 11 : Managing Change
Chapter 12 : Oracle Exalytics In-Memory Machine
My aim at the outset with the book was to make it the definitive guide to developing on the OBIEE 11g platform, with every page in the book written by myself and Oracle's Mike Durran (Principal Product Manager, Oracle Business Intelligence) and our own Venkatakrishnan J (Managing Director, Rittman Mead India) as technical editors, and Balaji Yelamanchili (Senior Vice President, Analytics and Performance Management Products) kindly providing the foreword. The book is full of worked examples and comes with a downloadable dataset (available shortly on the McGraw Hill website) that allows you to follow along with the examples, and try them out yourself.
As well as the Oracle Business Intelligence Developers Guide which covers the whole product stack and is based on the 11.1.1.6 release of OBIEE, Oracle Press have also published Oracle Exalytics Revealed, a specially-priced ebook-only release containing an extended and updated version of the main book's Oracle Exalytics In-Memory Machine chapter.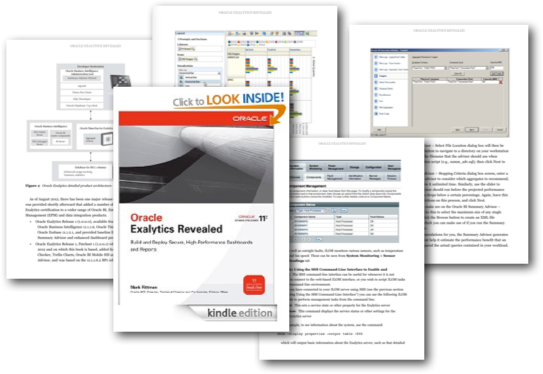 The book is only just out in the United States and was rush-released for Oracle Openworld, but it should be available in other countries in the next week or so. Over the coming weeks and months I'll be posting errata and other content on the book's homepage on our website, but for now, take a look at the two books and if you find them useful, post a review or drop me a line at mark.rittman@rittmanmead.com