Just a quick update on my two recently published books, "Oracle Business Intelligence Developers Guide" and "Oracle Exalytics Revealed", both of which are now published and available to purchase around the world in printed and electronic format. Here are some links to the two books on Amazon.com, Amazon.co.uk, Google Play and the Apple iTunes Store.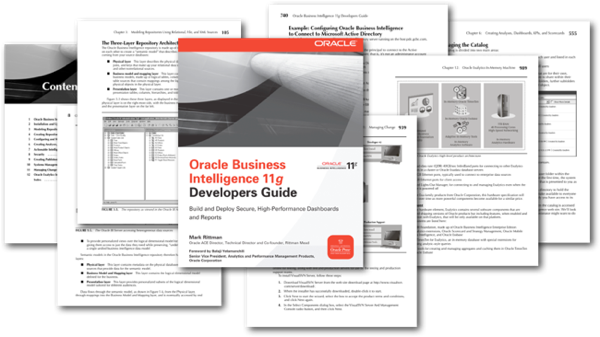 The main Oracle Business Intelligence 11g book has had some great, five-star reviews on Amazon.com and Amazon.co.uk, with comments such as:
I've also recorded a podcast about the book with Oracle's VP in charge of Oracle Business Intelligence product management, Paul Rodwick, which can be accessed in MP3 format from here. In the podcast we talk about how I ended up writing the book, my favourite chapters and why I chose Oracle Business Intelligence 11g to write about - it's about 10 minutes in length and available for download now.
I'd encourage you particularly to take a look at the standalone "Oracle Exalytics Revealed" ebook in Kindle and Apple iBooks format - this was an experiment by McGraw Hill (Oracle Press) and myself to see if shorter, focused ebooks might be popular - we've taken the existing Exalytics chapter from the main book (which was based on the initial 11.1.1.6 release) and then extended it, covering 11.1.1.6.2 BP1 and adding additional content around testing approaches, management using Integrated Lights-Out Management, and the new Presentation Server features aimed at Exalytics that became available with the 11.1.1.6.2 BP1 patchset (trellis charts etc). The Exalytics book is only $9.99 and  is a great complement to the main book, or just something you'd buy if you're contemplating buying an Exalytics server. Here's a couple of review comments also from Amazon.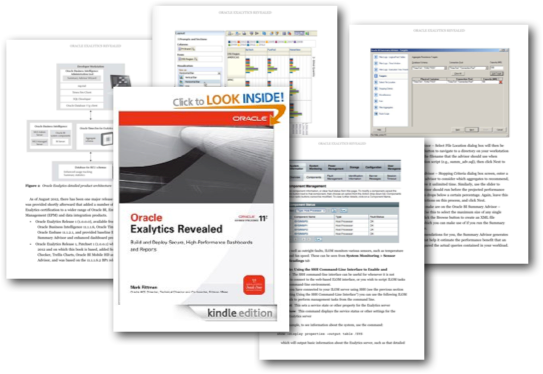 "Nowhere will you find a more comprehensive look at Oracle Exalytics from start to finish than in this book … extremely thorough and easy to follow … and I find this narrative incredibly useful to explore the product."(5-Star Review on Amazon.com)
"The book … delivers what it promises on its title, a thorough review on the most important aspects of this engineered system created by Oracle. Either if you are working with Exalytics or if you are going to do an implementation in the near future, you should have this book around as it's packed with valuable information in a much easy way to digest than the official Exalytics Documentation" (5-Star Review on Amazon.co.uk)
The sample data for the main book is also now available from the Oracle Press / McGraw Hill website along with a sample chapter, whilst Amazon and Apple also offer sample pages from the book if you want to try it out electronically.
Finally, a bit more news about out training courses - going forward, we'll be giving away a copy of the book to every attendee of our OBIEE 11g courses in the UK, USA and India, and to clients who hire us to deliver training for their team on-site in their offices. Full details of our training courses can be found on our Training page, with the key benefit to trainees being that the examples in the book are based around the same ones we used for our OBIEE 11g hands-on labs, so you'll be able to read-up on areas you're particularly interested in after the course finishes, and practice the examples using the downloadable sample data that comes with the book.