OBIEE 11.1.1.7 Now Available for Download
OBIEE 11.1.1.7 became generally available ("G.A.") over the long Easter weekend, for Microsoft Windows 32/64-bit and all the usual Unix and Linux platforms. We'll have more on this blog over the next few weeks on the details of some of the most important new features, but at a high-level here's what's new:
The OBIEE dashboard and analyses have a new look-and-feel to match the Oracle Fusion Apps, though you can switch-back to the old look if you want to (both are user/developer-selectable themes). There are a number of new visualisation types including performance tiles (as shown in the screenshot below), and 100% stacked bar and waterfall charts.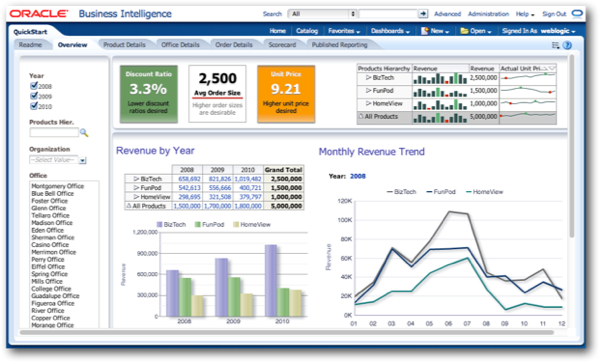 There's also a new view suggestion feature, that recommends the best visualisation based on the type of analysis or comparison you're trying to put together.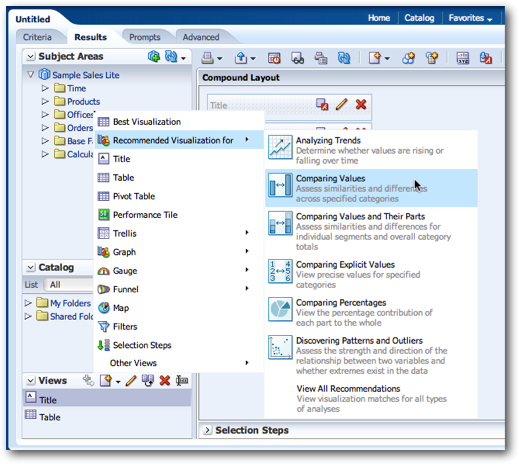 There's also improvements to the Trellis Chart view including the ability to associate action links with individual trellis cells; an ability to freeze headers in table and pivot views, and a number of other "fit and finish" changes to improve overall product quality.
With the installer, Essbase can now be installed alongside the main OBIEE server products, and as we saw in a preview with OBIEE 11.1.1.6.2 BP1, Essbase then appears within the main Oracle BI Domain and can be monitored, and stopped and started, from within Enterprise Manager Fusion Middleware Control.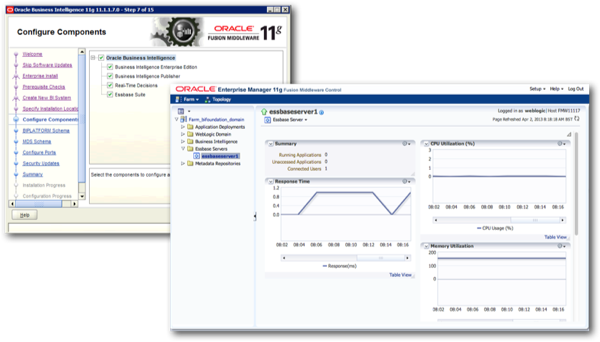 There's also a number of improvements and new features to the Administration tool and BI Server, including support for Apache Hadoop sources (via Hive and MapReduce), some incremental improvements to the Model Checker and statistics gathering, and some changes and improvements around MUD (it wouldn't an OBIEE patch release without some changes to how MUD works). Full details of everything are in the updated product docs, and we'll cover some of these new features, particularly the Apache Hadoop integration, in some postings in the near future.