OBIEE, OEM12cR2 and the BI Management Pack Part 1: Introduction to OEM12cR2
A few years ago I wrote a series of blog posts, and an OTN article, on managing OBIEE 10g using Oracle Enterprise Manager 10gR4 and the BI Management Pack, an extra-licensable option for OEM that provided additional management capabilities for OBIEE  and the BI Apps Data Warehouse Administration Console. The BI Management Pack was reasonably popular at the time but disappeared with the move to Enterprise Manager 12c Cloud Control, but with the recent release of EM12cR2 it's come back again, but now with additional capabilities around WebLogic, GoldenGate, TimesTen and Essbase. I covered the news of this new release a few months ago, and since then our customers are often asking about these new capabilities, but information on Oracle's website and the web is pretty thin so I thought I'd go through it in a bit more detail, today talking about how the product works, tomorrow going through installation and configuration and then on the third day, covering some of the common requests and questions we've had from our own customers.
Unlike Oracle Enterprise Manager Fusion Middleware Control (or indeed Database Control, the equivalent for the Oracle Database), Enterprise Manager 12cR2 Cloud Control is designed to manage multiple target systems, not just the one that its installed on. What this means is that you can manage all of your BI domains from one place, along with all of your databases, your GoldenGate installation, the DAC, Essbase and so forth, with their details held in a management repository stored in an Oracle database. The diagram below shows a typical OEM12cR2 topology, with the OEM installation on a server connected to the repository database, and OBIEE and other BI "targets" installed on other servers in the organisation.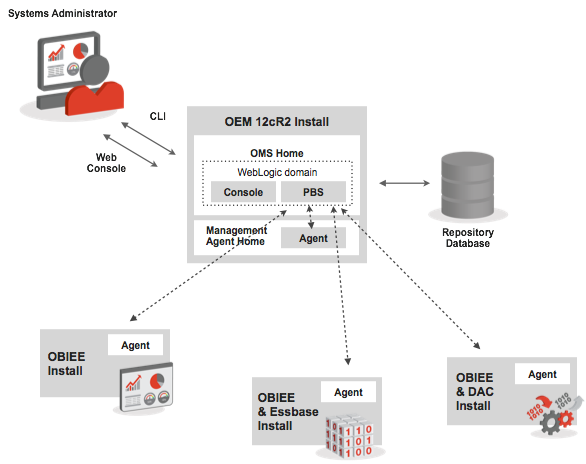 OEM is actually made up of two parts, and a database repository. The Oracle Management Service runs within a WebLogic domain and comprises of a Web Console (what we'd know as Enterprise Manager) and "Platform Background Services", a set of background services that communicate with the target hosts and store the relevant information. The other part of OEM is the "Oracle Management Agent", a server process thats installed on each monitored host that collects metrics to pass back to OMS and PBS, and executes tasks such as stopping and starting the target on behalf of OMS. OEM12cR2 Cloud Controls stores its metadata and monitoring data in a separate repository database, which can either be on the same server as OMS or on a separate machine - note that if you use a database instance that's previously had Database Control enabled on it (as most of them have), you need to disable and remove it before you can use it for OEM's own repository.
One of the main benefits of OEM12cR2 compared to standalone management consoles is that it manages the majority of Oracle's server products - WebLogic Server, Oracle Database, Exadata, Exalogic, E-Business Suite and so on, though you need to read the small print as management covers more features in some products than others - we'll get back to this point later on. At its best though, OEM12cR2 becomes your central monitoring point for all products (including some third party ones, via plugins), allowing you to monitor, manage, patch and maintain all of your servers from the one place.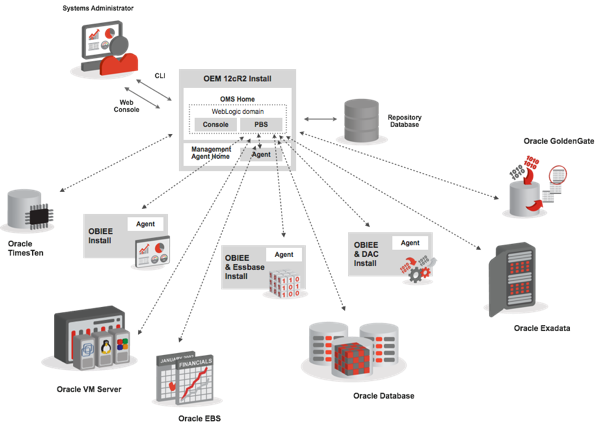 As well as managing all hosts in one place, headline benefits of OEM12cR2 over "free" Fusion Middleware Control include:
Monitor all BI Domains in one place, so you can see their versions, host types, patch levels etc
Perform WebLogic lifecycle-type tasks such as patching the installation, packing and unpacking managed servers to move them between hosts, deploying test-to-production
Define quality of service checks, create alerts for slow response times, hosts down etc
Persist and store metrics, rather than only display them whilst you have the Metric screen open in your browser
Like the Oracle database though, Enterprise Manager comes with a number of extra-cost packs, including:
Database Lifecycle Management Pack for Oracle Database
Data Masking Pack
Test Data Management Pack
WebLogic Server Management Pack Enterprise Edition
SOA Management Pack
and, of course, the BI Management Pack. So what do you get in the base version of OEM before you need to start paying for these packs? For all of the database, middleware and other targets, you can deploy agents, set alerts and define metric thresholds, and for Oracle Database specifically you can use the data movement features, view errors, use Advisor Central and so on, whereas the stuff you really want such as performance pages, wait event breakdowns and so on are extra cost. Same goes for WebLogic, with a small base-level set of functionality that's pretty-much limited to discovering the WebLogic installation, then stopping and starting it, in other words what you get for "free" with Fusion Middleware Control. For BI, again you can display what you would normally see in Fusion Middleware Control (database and middleware licensed customers can use base-level Oracle Enterprise Manager at no extra license cost, so this would follow), but if you're after anything else such as persisted metrics, service tests and so forth, figure on buying a few of the add-on management packs.
My article on OEM Grid Control 10gR4's BI Management pack described the features that are still the core of OEM12cR2's BI Management Pack, which at the time included the features below, as shown in the screenshot below.
The ability to collect and record BI Server, BI Presentation Server, BI Cluster Controller and other BI target metrics, and define thresholds and events against those metrics
The ability to connect to the BI repository database tables, to read for example the BI scheduler information about failed iBot executions and use it to alert you
The ability to connect to the DAC repository, and then graph out ETL run information such as execution time, number of errors and so forth
Record configuration settings, and then report on what's changed for a target configuration compared to the previous settings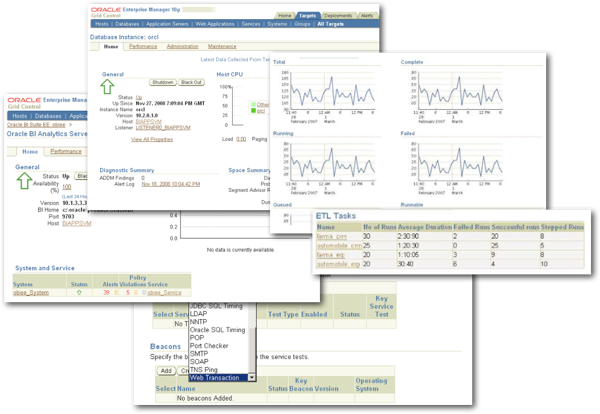 So now that the BI Management Pack is back with OEM12cR2, what do you get with it? Well you get everything that you had before, plus some new features:
The ability to discover, and then monitor, Essbase installations
All the new functionality around WebLogic (albeit with the requirement to license the WebLogic Management Pack)
Compatibility with OBIEE 11g, along with continuing support for 10g
The screenshots below show some of these features in use, with the new EM12cR2 "Fusion" look and feel for the web console.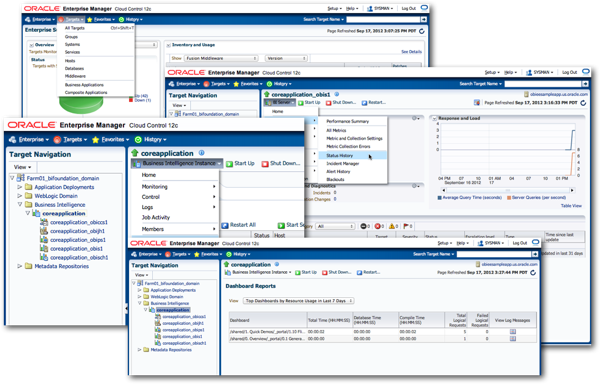 So how do we get EM12cR2 connecting to OBIEE, and make use of some of the new BI Management Pack features; also, how do we register an OBIEE installation with it, and how does it work with a BI Apps installation, or even about Exalytics? Come back tomorrow when we'll cover off the installation and configuration parts of the product.