OBIEE, OEM12cR2 and the BI Management Pack Part 3: But What Does It Do?
In the previous two posts in this series, I looked at the product architecture for Oracle Enterprise Manager 12cR2 (EM12cR2) Cloud Control and the BI Management Pack, and how you registered OBIEE, TimesTen, Essbase and the DAC as targets for monitoring and managing. But what can you do with EM12cR2 and the BI Management Pack once you've set it all up, how well does it handle other related products such as Informatica and Siebel CRM, how customisable is it and what other tasks can it perform?
To start off, one of the questions we've been asked is whether, in a similar way to OBIEE and Oracle Portal, you can customise the EM web console display to include just those views that you're interested in; to create, for example, a dashboard page for monitoring OBIEE that might include views on BI Server query throughput, GoldenGate activity, DAC ETL alerts and so on. The answer is - not quite - but there are some customisations and bookmarks that you can create which at least make it easier to navigate your way around. 
When you first log into OEM12cR2, you're presented with the standard Enterprise Summary view, which summarises a number of metrics across all targets in the EM repository.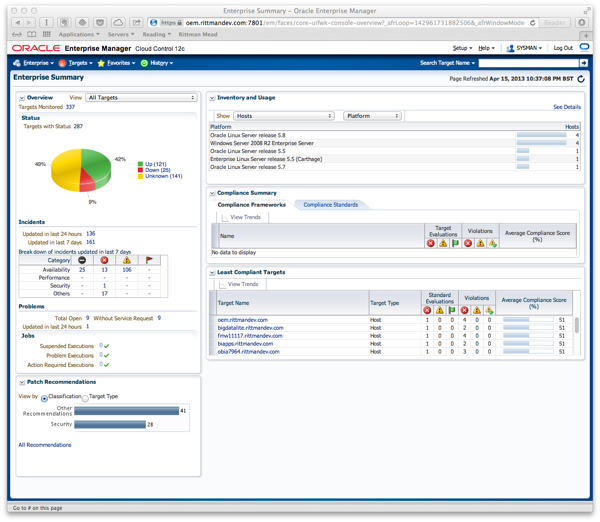 You can, however, change this for a more focused view of a particular type of target, by selecting SYSMAN > Select My Home… (or whatever your logged-in user name is), and then selecting from the list of pre-defined target views presented on the Select Enterprise Manager Home page that's then displayed.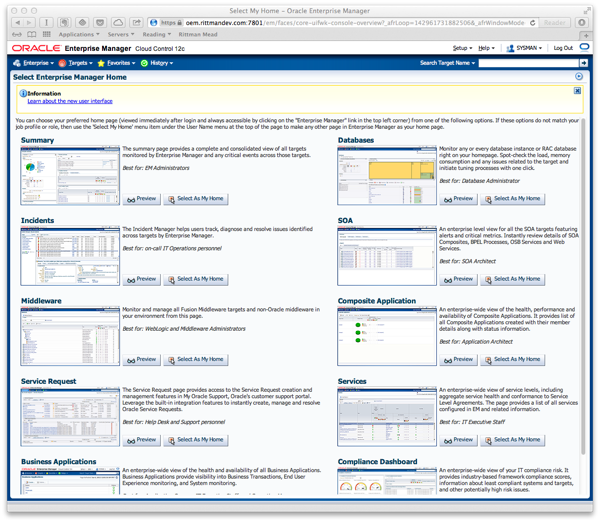 If, for example, your primary responsibility was looking after OBIEE systems, you might choose to have the Middleware page as your homepage, so that all of the WebLogic farms are listed out on your front page.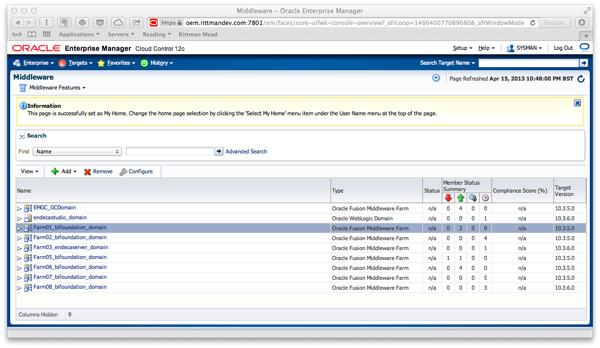 You can also set individual pages in EM as "favorites", so that they appear from the Favorites menu for quick access as shown in the screenshot below.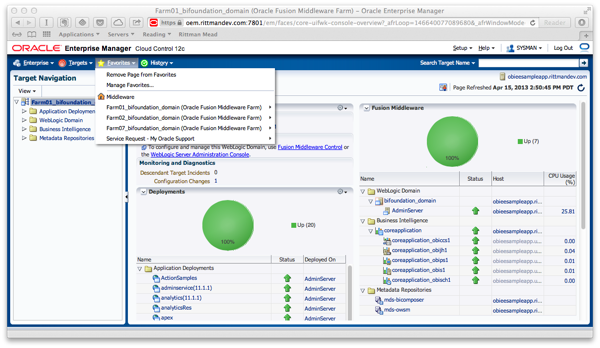 Something else that's useful when you've got a number of similarly-named systems registered within your EM repository is to put them into groups. To create a group to hold my "demo" OBIEE systems, for example, I would select Targets > Groups from the web console menu, and then press the Create > Group button to bring up the Create Group page. Then, using the Search or Search by Criteria buttons I can refine the search to include, for example, just Fusion Middleware Farms, and then select the ones that I'd like to add to the new group.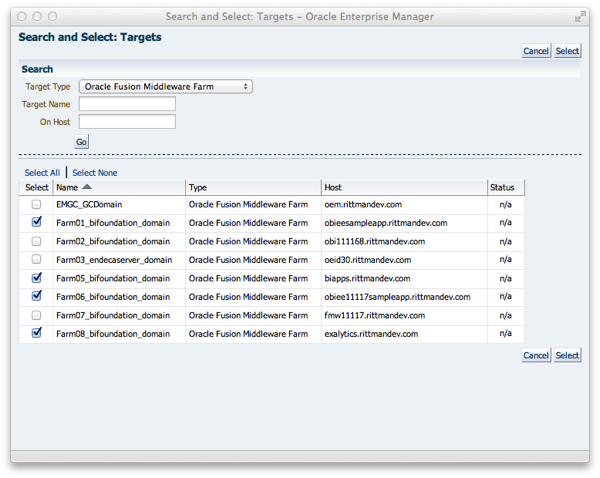 You can also create "dynamic" groups as well, including all systems that have a "development" status in a group that updates over time, like this: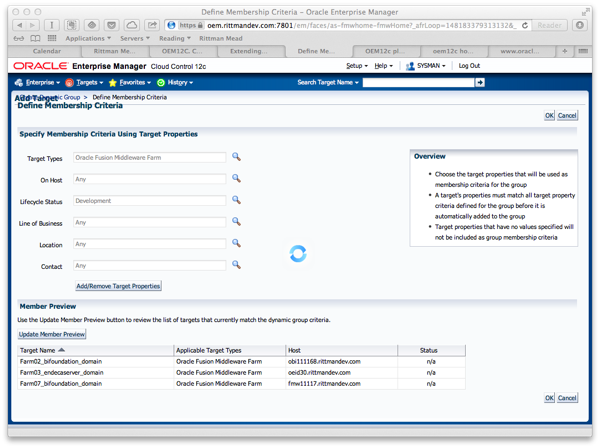 Once you've registered your systems, you can do all of the same things you did with the 10gR4 version of EM and the BI Management Pack, including view metrics over time rather than for just the time you've got the metric window open (to my mind, one of the most valuable features in EM vs. Fusion Middleware Control).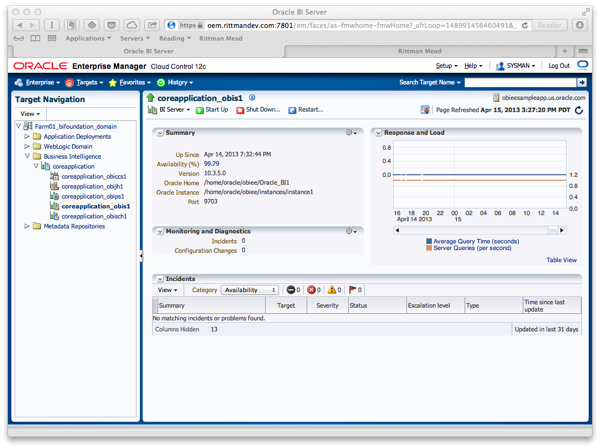 Metric thresholds can also be defined in a similar fashion to how they were in EM10gR4, with events that are then triggered by the threshold being exceeded to notify you, for example, when query response times exceed a certain number of seconds, or when the dashboard login page can't be reached. Unfortunately the dashboard and scheduler reports that are included as part of the BI Management Pack can't be turned into graphs, but like Fusion Middleware Control any of the standard metrics can be graphed, overlayed on the same server's metrics for the previous day, or compared to another server's metrics or a baseline.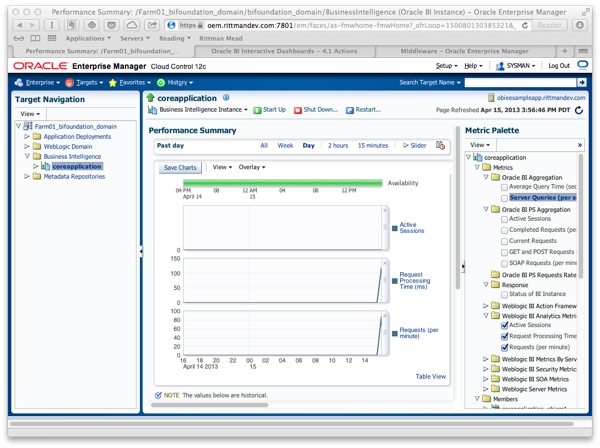 Finally, another question we're often asked is how many other systems EM12cR2 can monitor, either out-of-the-box, through paid-for official plugins, or through third party extensions? The first thing to be aware of then is what EM functionality is included "for free" as part of your database or middleware license and what functionality costs more, and the definitive place for this information is the Oracle® Enterprise Manager Licensing Information 12c Release 2 (12.1.0.2) doc on OTN; also from the web console you can select Setup > Management Packs > Show Management Pack Information to have EM highlight for you those menu items that require additional licensing beyond those included by default for licensed database or middleware customers. For example, in the example below the items annotated with "OBIM" would require an Oracle BI EE customer to purchase the BI Management Pack, whilst the others would be "free" to use by any BI customer.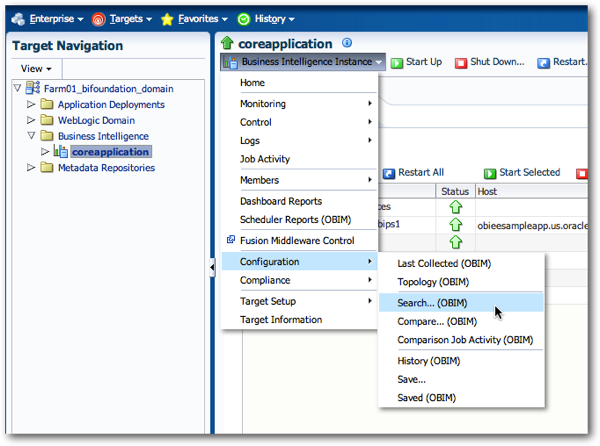 As for what these management pack and plug-ins cost, again the definitive source is the Oracle Tech Price list, which changes from time to time but can always be found with a Google search for "oracle tech price list". The price list as of the time of writing listed the BI Management Pack at $11,500/processor (based on the processors licensed for BI EE).
Note also with management packs that you generally - at least in the case of Oracle Database - need to license the appropriate database option as well, though plug-ins are generally free or at least provided as part of the main product cost, as is the case with TimesTen and Exadata. In terms of what features come out of the box and what ones require separate installation, you can check this by selecting Setup > Extensibility > Self Update and Plugins menu items, which show the downloaded and available agent versions, along with the various plugins that can be used immediately, or downloaded from Oracle's support site, including ones for Siebel, below, and EMC's SAN arrays.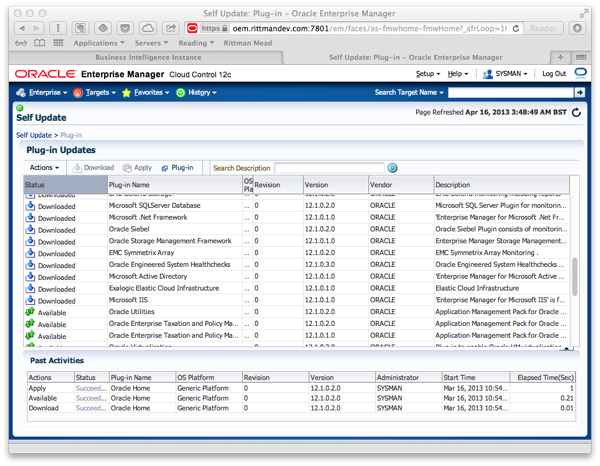 There are also plug-ins available for download from third-party sites for targets such as ones for Informatica PowerCenter, VMWare VSphere and mySQL, with most of them gathered together at the Enterprise Manager Extensions Exchange, also on the Oracle website.
So there we are with our three-part look at EM12cR2 and the BI Management Pack. I'm over in Norway now for the Oracle User Group Norway conference, but check back soon for some new content on the 11.1.1.7 release of OBIEE 11g.