SmartView as the Replacement for BI Office with OBIEE 11.1.1.7
Apart from system-wide improvements to Essbase integration across OBIEE 11.1.1.7, the other Essbase-related improvement that came with this latest release was the (re-)introduction of SmartView as the replacement for Oracle BI Add-in for Microsoft Office ("BI Office"), OBIEE's previous MS Office solution. As a reminder, BI Office appeared with OBIEE 10.1.3.3 back in 2007/8 and supported integration with Microsoft Excel and Powerpoint, allowing you to download analysis views from the BI Catalog and then view them within Excel and Powerpoint.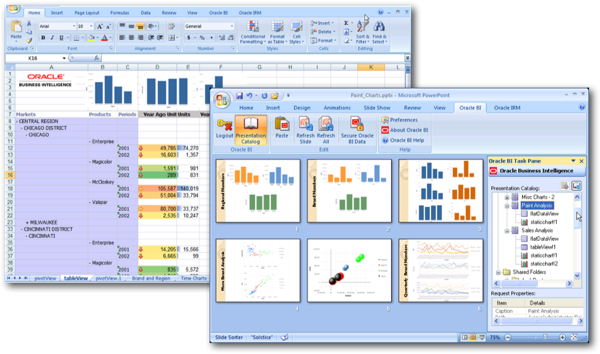 What you couldn't do with BI Office though was use it to create new analyses, or upload what you'd created back to the BI Catalog. There was also no integration with Microsoft Word or Outlook, which meant it was a feature meant more for viewing and copying analyses into Excel and Powerpoint rather than as a "first class" report authoring environment.
Then when OBIEE 10.1.3.4 was released, a number of EPM Suite products were integrated with OBIEE, including Workspace (now resurrected with OBIEE 11.1.1.7), SmartSpace (where did that go?) and SmartView, the long-term replacement for Essbase's somewhat minimalist Excel Add-in. This was all good stuff except that, in terms of OBIEE support, this version of SmartView was essentially unusable, rendering OBIEE data in an Essbase-like way that made little sense for an OBIEE user.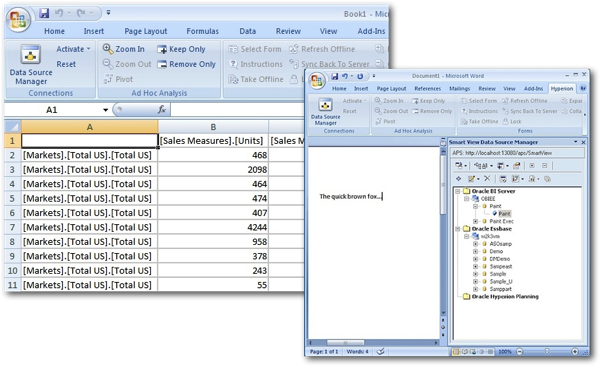 "The UI takes a bit of getting used to" was my comment at the time, which in retrospect was a bit of an understatement and this version of SmartView had little to no take-up within the OBIEE world, with BI Office carrying on until now as the only viable MS Office integration approach. Now though, the new improved version of SmartView is with us, so how well does it work with OBIEE data?
SmartView can be download from the BI Presentation Services homepage, but note that this is the 32-bit version and you'll need to go to My Oracle Support for the 64-bit version, available using patch ID 16238382 (at the time of writing, for SmartView version 11.1.2.2.310). Once its installed, select SmartView > Options > Advanced and enter your general EPM Suite Smartview Provider Services URL into the Shared Connections URL setting (in the format http://[machine_name:port}/workspace/SmartViewProviders), like this: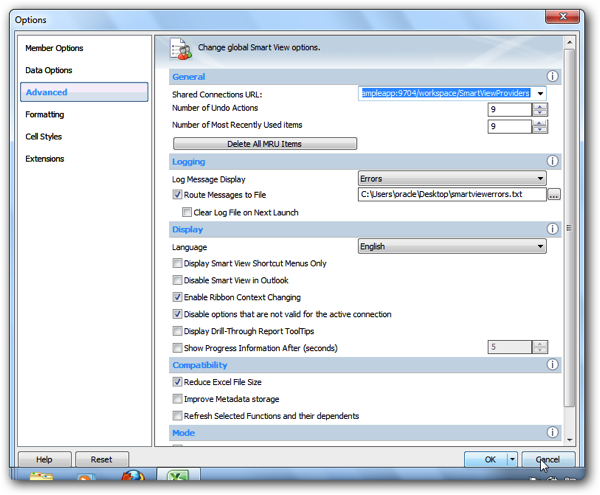 This setting only covers SmartView connecting to Essbase and Financial Reporting, so to connect to OBIEE's Presentation Services Catalog you'll need to create what's called a Private Connection (or define a shared connection for OBIEE within an XML file, as detailed in the SmartView 11.1.2.2.310 docs), by pressing the Panel button in the menu ribbon, selecting Private Connections from the Smart View menu, then clicking on the Create new connection button.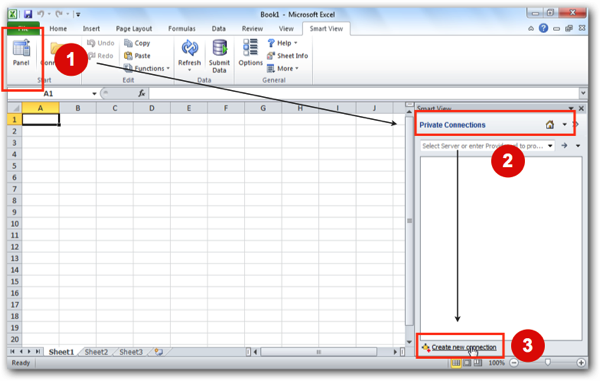 Then, when prompted for the SmartView connection type, select Oracle BI EE, then type in the OBIEE SmartView URL in the format http://[machine_name:port]/analytics/jbips, and press Finish to complete this part of the process.

Then, when prompted enter the username and password for your OBIEE system, and then save the connection as a private connection to your workstation.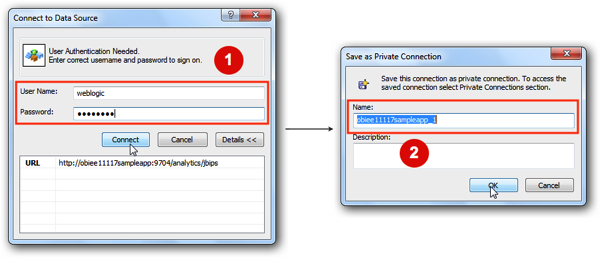 Now you should be able to browse the BI Catalog and select a SmartView report, for example, to view within Excel.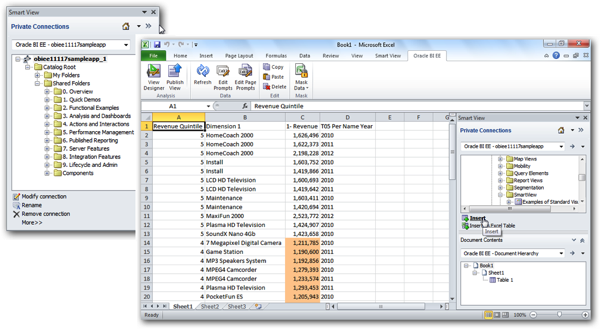 Or you can select any view from a regular analysis, and add that to Excel just as you did with BI Office.
More importantly though, the View Designer feature allows you to create a new report from scratch, selecting from any subject area in the BI Catalog and creating a report from right within Excel.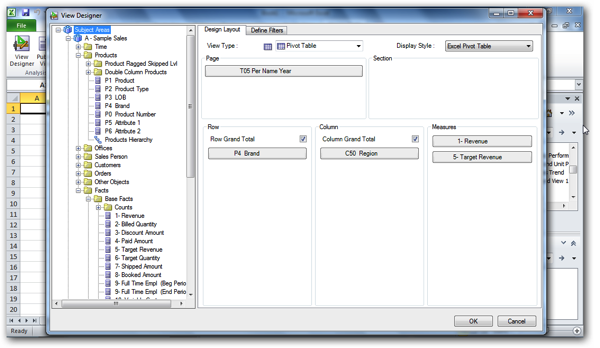 This report can then be manipulated either as an Excel pivot table (pictured below) or an OBIEE pivot table, giving you an OBIEE-within-Excel experience far more intuitive and usable than the earlier incarnation of SmartView.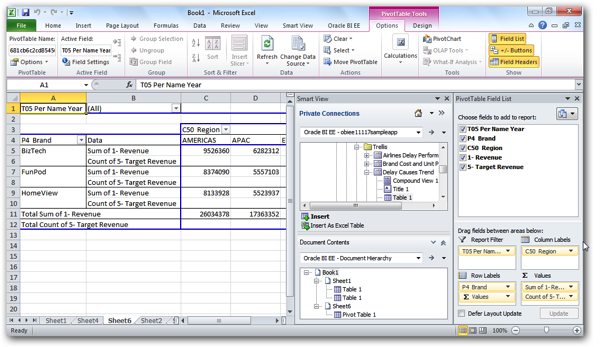 Additional calculated fields can be added, in what is arguably a more obvious way than you'd do so in the Analysis Editor...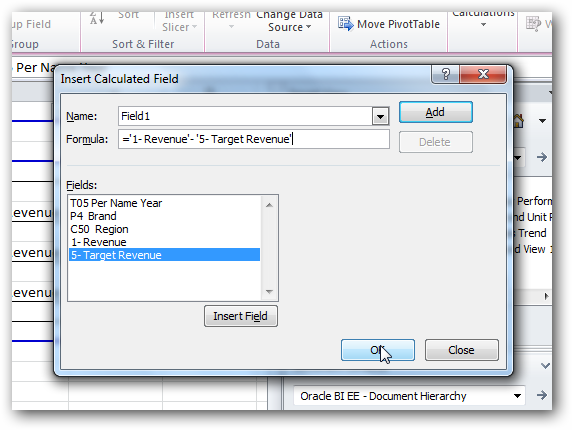 … and charts can be developed as well, using a similar set of of chart types to the ones provided by the Analysis Editor.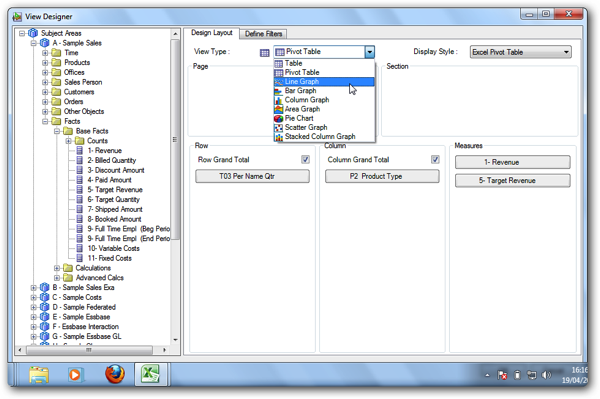 Then, once you're done, you can either save the Excel (or Word, or Powerpoint, or whatever) document to your workstation's filesystem, or you can upload to the BI Presentation Catalog using the Publish View button...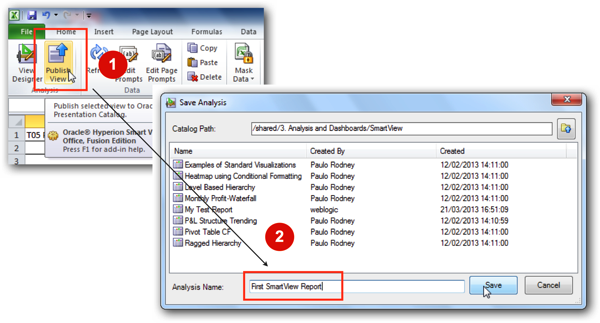 … and then - get this - open the report in the Analysis Editor, just like any other analysis in the catalog. Impressive stuff (although the calculation defined in Excel didn't make it through to OBIEE, and the upload feature only seems to bring a single view at a time, but this is version 1.0)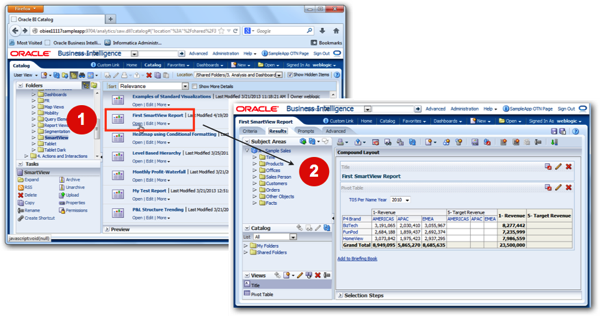 There's tons more to Smartview and in reality, presumably some of the new OBIEE stuff won't work properly in this first release, but it's a huge improvement over the old OBIEE MS Office plug-in, and it's also useful being able to use the same MS Office plugin for all Oracle's BI & EPM tools, with full 32 and 64-bit support for all the modern MS Office versions.