New Oracle Magazine Article on Integrating OBIEE 11g with Oracle WebCenter Portal: Spaces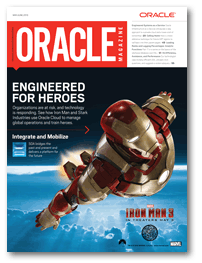 Just a short note to say that my latest Oracle Magazine article is now online, and talks about integrating OBIEE 11g with Oracle WebCenter Portal: Spaces, the "spiritual successor" to Oracle Portal. "New Spaces for BI" introduces Portal: Spaces talks about the high-level benefits of integration, and then goes through a step-by-step example where BI content gets added to a Portal : Spaces team website.
Writing this article brought back a few memories, as I wrote the article for OTN back in 2005 on integrating Oracle Discoverer with Oracle Portal, with the same end-objective of creating a composite intranet-style web application that placed BI content alongside more "line-of-business" web portlets. The technology has come on a lot since the time of that article - apart from Discoverer, we were using Oracle Application Server 10g (pre-BEA and WebLogic), Portal itself and Oracle Database 10g, and whilst the approach in the other article worked, you didn't have a lot of control over the layout and there was a weird mechanism in the background that showed you cached data, rather than live data in the Discoverer port lets. But the basic principal was the same though - register the Discoverer End-User Layer as a Portlet provider, as we do with OBIEE 11g's Presentation Services catalog in the Oracle Magazine article, and then users can drag and drop their favourite BI content into their corporate portal.
Also, if you're interested, I covered OBIEE 11g and WebCenter integration in a lot more detail back towards the end of 2012, with a series of postings on the blog starting with an introduction to Oracle WebCenter and WebCenter Portal, a more detailed look at OBIEE and WebCenter Portal : Spaces integration, and then finally a posting on leveraging the WebCenter Portal : Framework ADF toolkit with OBIEE 11g to programmatically bring together BI content and a portal framework as a custom ADF application.