Agenda and Details for the Brighton RM BI Forum 2013
It's Tuesday morning, and later today delegates will be starting to arrive in Brighton for the 5th Annual Rittman Mead BI Forum, running again at the Hotel Seattle down at Brighton Marina. Around seventy of Europe's most experienced OBIEE, ODI and Essbase developers will be getting together to discuss techniques, share tips and take part in sessions led by some of the OBIEE world's best speakers, all in our home town of Brighton. We're also very pleased to be joined by several of the OBIEE and ODI product team members, as well as our special guest speaker, Toby Potter from Datasift. In this posting I'll be setting out the detailed agenda for the three days, and don't forget places are still (just) available for the Atlanta event, running the week after at the Georgia Tech Hotel & Conference Center.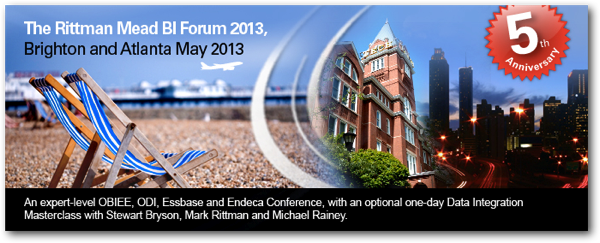 Registration for the Brighton BI Forum officially opens at 5pm on Wednesday evening, but before that we're running an optional one-day Oracle Data Integration Masterclass at the hotel venue led by myself, Stewart Bryson and Michael Rainey. The masterclass will start at 10am and go through until about 4.30pm, with the following estimated timings:
Day 1 : Optional Oracle Data Integration Masterclass, followed by Registration, Drinks and Keynote/Meal
10.00 - 11.00 : Welcome, and Introduction to Oracle Data Integrator 11g (Stewart Bryson)
11.00 - 11.15 : Morning Coffee 
11.15 - 11.45 : ODI and the Oracle Reference Architecture for Information Management (Stewart Bryson)
11.45 - 12.45 : ODI and GoldenGate - A Perfect Match… (Michael Rainey)
12.45 - 13.30 : Lunch
13.30 - 14.30 : ODI and Hadoop, MapReduce and Big Data Sources (Mark Rittman)
14.30 - 15.30 : The Three R's of ODI Fault Tolerance : Resuming, Restarting and Restoring (Stewart Bryson)
15.30 - 16.30 : Scripting and Automating ODI using Groovy and the ODI SDK (Michael Rainey)
Registration will then open at 5pm (17.00), with a drinks reception in the hotel bar between 6pm and 7pm (18.00 - 19.00), followed by the Oracle keynote and opening night meal in the hotel restaurant.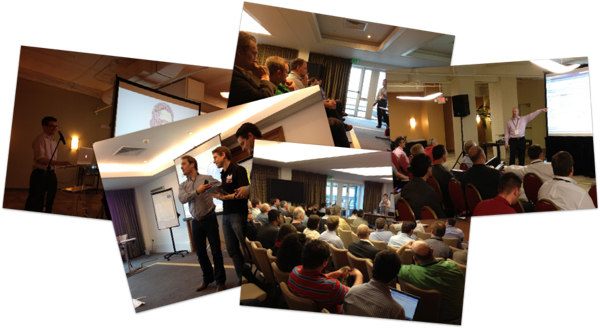 The main conference then opens at 8.45am on the Thursday morning, with the agenda for the first day looking like this:
Day 2 : Main Conference Sessions, Guest Speaker and Gala Meal
08.45 - 09.00 : Opening Remarks Mark Rittman, Rittman Mead
09.00 - 10.00 : "OBIEE SampleApp 11.1.1.7 functional highlights" (Philippe Lions, Oracle Corporation)
10.00 - 10.30 : Morning Coffee
10.30 - 11.30 : "OBI Performance Tuning - Real Customer Success Stories" (Antony Heljula, Peak Indicators Ltd)
11.30 - 12.30 : "Secrets of OBIEE implementation at LGI" (Marco Klaassens, Liberty Global)
12.30 - 13.15 : Lunch
13.15 - 13.30 : TED Session 1:  "Why I want to be working with Business Intelligence in 5 years time" (Jon Mead, Rittman Mead)
13.30 - 13.45 : TED Session 2 : "HA, DR, CFC, WTF?" (Mike Durran, Oracle Corporation)
13.45 - 14.00 : TED Session 3 : "Incrementally loading Exalytics using Notepad" (Antony Heljula, Peak Indicators Ltd)
14.15 - 15.15 : "Oracle Data Integrator 11g Best Practices. Busting your performance, deployment, and scheduling headaches." (Uli Bethke/Maciek Kocon, Independent)
15.15 - 15.45 : Afternoon Tea/Coffee/Beers
15.45 - 16.45 : "New Developments in BI Multi-tenancy and Cloud" (Adam Bloom, Oracle Corporation)
After the first day's presentations we'll take a short break, and then convene again back in the conference room for our special guest speaker session, this year being provided by Toby Potter from Datasift, who'll talk to us about social media and how it can be used within BI and analytic applications. Then, we'll be picked-up by coach from outside the Hotel Seattle and taken to the venue for our gala meal, The Ginger Pig pub and restaurant in Hove, just down the road from where Jon and I live (though don't all expect to come back afterwards, whatever Borkur and Ragnar tell you when you leave the pub.)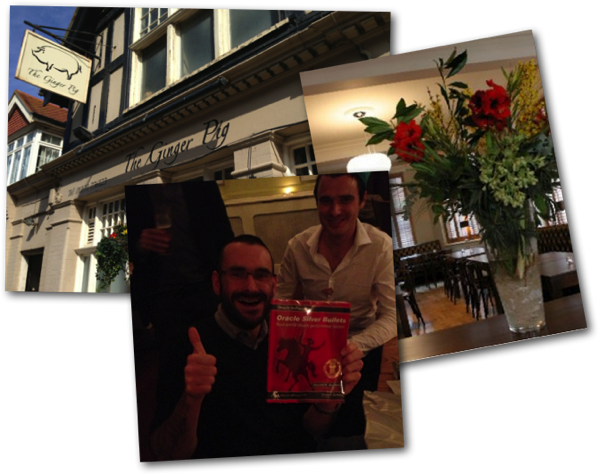 18:00 - 18.45 Guest Keynote Toby Potter, Datasift - "Social Data and Business Intelligence"
19:00 - 19.30 Depart for Restaurant 
20:00 - 22:00 Gala Meal : The Ginger Pig, Hove
Don't go too crazy on Thursday evening though, as we're starting again early on Friday with sessions starting at 9am, going through until around 4.45 when we'll close. Here's Friday's agenda:
Day 3 : Main Conference Sessions, and Close
9.00 - 10.00 :  "The magic of aggregates" (Michael Wilcke, sumIT AG)
10.00 - 10.30 : Morning Coffee
10.30 - 11.30 : "Update on BI Metadata Modeler and Metadata Architecture" (Philippe Lions, Oracle)
11.30 - 12.30 : "Integrating Oracle BI, BPM and BAM 11g: The complete cycle of information" (Edelweiss Kammermann, Awen Consulting)
12.30 - 13.15 : Lunch
13.15 - 14.15 : Debate "Big Data - Hype, or the Future or Oracle BI/DW?"
14.15 - 15.15 : "Endeca - Looking beyond the general demos" (Adam Seed, Rittman Mead)
15.15 - 15.30 : Afternoon Tea/Coffee/Beers
15.30 - 16.30 : "Virtualizing Exalytics" (Mike Durran, Oracle Corporation)
16.30 - 16.45 : Closing Remarks (Mark Rittman)
You'll notice we've brought back the popular "debate" section this year, with this year's topic being "Big Data - Hype, or the Future of BI/DW?". I'll be looking for volunteers to argue the case for either of the two sides in the debate, so if you've got a view on whether big data is going to be the salvation of BI, whether it'll turn us in to the COBOL programmers of the future, or whether its just a load of hot air (or you just like having an argument), let me know when you arrive and we'll pull the debating teams together.
Other than that - have a safe journey over, bring something warm and waterproof as the weather is typically England in May, and see at least some of you in Brighton today and tomorrow!