I'm very pleased to announce a one-off Rittman Mead BI Masterclass Tour that we're organising, in partnership with ODTUG, to take place in India in October 2013. Along with the US and UK, India has the largest amount of readers of our blog, and so we thought it'd be nice to put together an event especially for our Indian readers and run it in conjunction with our favourite international user group, ODTUG.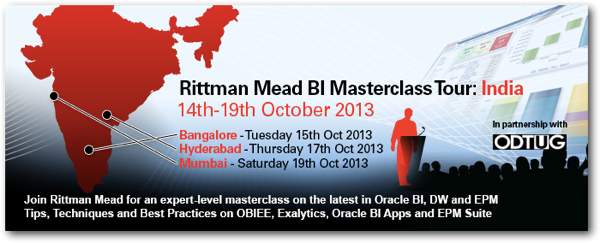 The event is taking place over three cities - Bangalore, Hyderabad and Mumbia - on the week commencing 13th October 2013. We'll go to Bangalore on Tuesday 15th October, Hyderabad on Thursday 17th October and then fly up to Mumbai for Saturday, 19th October 2013. Joining me will be Venkatakrishnan J, who you'll all know from the OBIEE and EPM posts on our blog, and Stewart Bryson, Managing Director for Rittman Mead in the US and also prolific blogger, writer and presenter on OBIEE, DW, data integration and data modelling. We'll be bringing the best of our recent presentations including new content from Oracle Openworld, and we'll leave plenty of time for networking, introductions, questions and deep-dive discussions, with topics covering the following Oracle products:
Oracle BI Enterprise Edition 11.1.1.7 development, administration and new features
Oracle BI Applications 11.1.1.7.1 configuration and development
Oracle EPM Suite 11.1.2.3+
Oracle Exalytics In-Memory Machine
Oracle Data Integrator
Stewart, Venkat and I will deliver a number of sessions over each day, with the planned agenda as follows:
9.30am – 10.00am: Registration and Welcome10.00am – 10.30am: Oracle BI, Analytics and EPM Product Update – Mark Rittman
10.30am – 11.30pm: Reporting against Transactional Schemas using OBIEE11g – Stewart Bryson
11.30pm – 12.30pm: OBIEE 11g Integration with the Oracle EPM Stack – Venkatakrishnan J
12.30pm – 1.30pm: Lunch & Networking
1.30pm – 2.30pm: OBIEE and Essbase on Exalytics Development & Deployment Best Practices – Mark Rittman
2.30pm – 3.30pm: Oracle BI Multi-user Development: MDS XML versus MUDE – Stewart Bryson
3.30pm – 4.00pm: Coffee Break & Networkng
4.00pm – 5.00pm: Intro and tech deep dive into BI Apps 11g + ODI
5.00pm – 6.00pm: Metadata & Data loads to EPM using Oracle Data Integrator - Venkatakrishnan J
The dates, locations and registration links for the three events are as follows:
Bangalore, Fortune Select Trinity Hotel, Whitefield: October 15th 2013, 10am – 6pm (IST)
Hyderabad, Westin Mindspace, Hyderabad, Hitec City: October 17th 2013, 10am – 6pm (IST)
Mumbai, Courtyard Marriott, Mumbai: October 19th 2013, 10am – 6pm (IST)
We're also investigating the idea of bringing our Rittman Mead BI Forum to India in 2014, so this would be a good opportunity to introduce yourself to us and the other attendees if you'd like to present at that event, and generally let us know what you're doing with Oracle's BI, EPM, analytics and data warehousing tools. There'll also be lots of ODTUG goodies and giveaways, and a social event in the evening after the main masterclass finishes. The last events we ran in India were back in 2010 for the launch of OBIEE 11g, each of which was a sell-out and were great fun. Hopefully some of you who came in 2010 can join us again in 2013, where we can look at how Oracle's BI products have progressed since then, and see what's planned and announced at Openworld 2013.
Numbers are strictly limited, so register now using one of the three links above, or contact either Mark Rittman (mark.rittman@rittmanmead.com) if you have any other questions about the agenda, or Venkatakrishnan J (venkat@rittmanmead.com) for questions about registration and the venues.. Note that this is a lecture-based format, there are no hands-on labs, although you are welcome to bring your laptops + installed software if you would like to try out any of the techniques we describe, or discuss any aspect of Oracle BI development and administration. Hopefully we'll see you in India in October 2013, on one of the three days!