Create a Mobile BI App for iOS, Android or BlackBerry within 5 Days!
A few weeks ago I posted an article on the blog about the new Oracle BI Mobile App Designer, an HTML5-based mobile app builder for OBIEE 11.1.1.7.1. BI Mobile App Designer differs from Oracle BI Mobile HD in that:
It's based on HTML5, so it works on most modern mobile devices, including Android, iOS, BlackBerry and Windows Phone
It uses "responsive design", so apps built using it work on phones, tablets and laptops
The technology behind it is based on BI Publisher 11g, to it's easy to use and builds on skills you already have
As it's 100% thin-client, you won't get caught up in mobile device security issues, or need to involve companies such as Good Technologies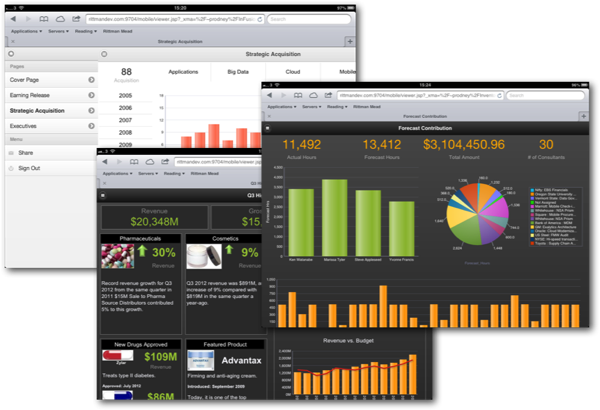 We're particularly excited about BI Mobile App Designer and its possibilities for LOB ("Line of Business") mobile BI apps - creating focused, workflow-based analytic apps for a particular department and with the UI focused on doing a particular job. In the screenshots below you can see a couple of examples of user interfaces very-much customised to a particular role or reporting scenario, and users can easily access apps you create using the new "Apps Library".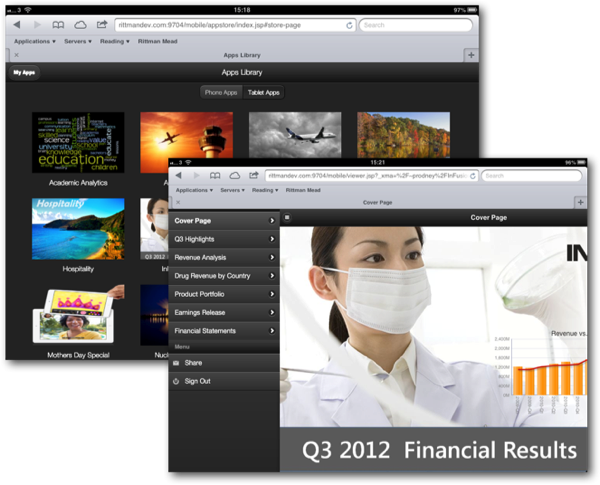 Whilst you could give BI Mobile App Designer a go yourself, you're probably going to get the most success by working alongside a partner who's got experience with the product, understands the issues around deploying mobile apps, and has a delivery approach that emphasises quick wins and working collaboratively with users. To this end, we've put together a special "Quickstart for Oracle BI Mobile App Designer" package, that delivers a working LOB mobile analytic app for you within a week, using this new feature - and leaves you with a roadmap and development plan so you can extend it yourself, afterwards. 
Over this five-day, fixed-price and fixed-scope engagement, we will:
Work with you collaboratively to identify the LOB use-case
Review your current OBIEE 11g installation, and if necessary work with you to install any required updates to enable the Mobile App Designer feature
Identify with you the existing analyses and reports to include in the app, and the app structure and navigation menu
Develop the first iteration of the app, and then review it with the proposed users
Create the final iteration, including any imagery and corporate design, links to other content etc, and then deploy in the Mobile App "Appstore" within Oracle Business Intelligence
Work with your team to deploy the app to end-users, and provide hand-over so that they can continue development after the engagement.
Interested? Full details on this package are on the Quickstart for Oracle BI Mobile App Designer page on our website, and also on this data sheet. Get in touch now if you'd like to take advantage of this offer - and have mobile analytics delivered to your workforce in just a week!