Installing Essbase Analytics Link for HFM 11.1.2.3
If your requirement is to install EAL for HFM, then this post is for you. Oracle has not yet released a new version of EAL that is certified with HFM 11.1.2.3 and hence you will not be able to find one in the edelivery. The question is – what version of EAL one can use with EPM 11.1.2.3. A few days ago, MOS published a Doc - 1570187.1 that said we could use EAL 11.1.2.2.301 PSU for the same. This PSU is a full installation, which is available for download at MOS site. Also, any previous installation of EAL must be uninstalled before installing this release.
The pre-requisites from the documentation include (these are applicable only if you have an existing EAL instance, and not applicable for fresh installations) -
Clear the existing Analytics Link repository (this is bad since you need to redefine the connections, regions, bridges etc.)
Unregister previous instance of Analytics Link Server from Foundation Services
Reset Data Sync Server
This post will demonstrate a fresh installation on a Windows 2008 64-bit server. Also, this post will not give you a step-by-step approach but will highlight the key steps in the installation.

Like other EPM products, EAL cannot use EPM System Installer for installation. To install EAL 11.1.2.2.301, you should use 32-bit version Oracle Universal Installer 11.2, even if the installation is going to be on a 64-bit machine. The OUI will install Analytics Link version that matches the bitness of the operating system. This comes with the EAL download and hence no separate download required. Alternatively, you can use the OUI that comes with Oracle database installed if you've one on the same server.

Installation:

Run the OUI installer; select the installation type and destination folder.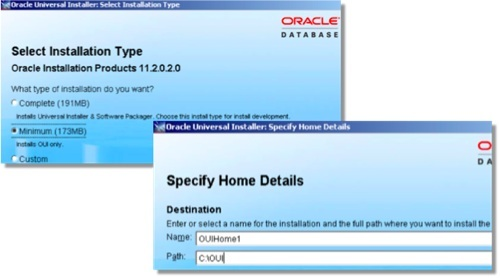 To let OUI know what product we're going to install, we need to browse to the path where products.xml exists under the unzipped EAL part.

Specify a path where you want to install EAL and kick-off installation. Make sure the installer displays 11.1.2.2.301 version during the install.

Once the installation is finished, the configuration tool starts up. You must enter the Weblogic server details and Analytics Link repository details when prompted.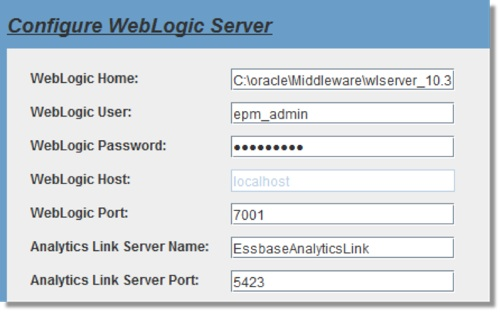 The Doc ID mentioned earlier also suggests not using the default EPM Instance Home location at the Foundation Configuration step.

Give a suitable Username and password for the Data Sync Server and use an account that is an Administrator to configure Analytics Link services. Unfortunately, the configuration tool doesn't show the progress of configuration, so you'll have to wait until you see the 'success' message on the window. As specified earlier, this is a full installation and cannot be rolled back.
Verifying the installation:
After successful installation, to verify that EAL is able to connect to HFM, we have to log on to Essbase Administration Services Console (use client installers to install EAS Console) and import the EAL plug-in which is shown in the below screenshots. Go to Tools>Configure components and click Add to import the EAL plug-in.
Navigate to the directory where Analytics Link server is installed (HFS_HOME which is C:\EAL_Home in our case) and import the jar file eas-plugin_wl.jar.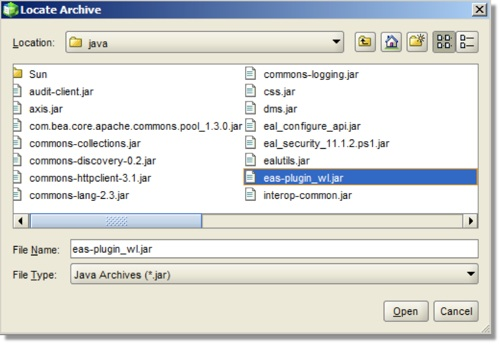 After the import is finished, you may need to exit and restart EAS Console to see the 'Analytics Link Servers' node.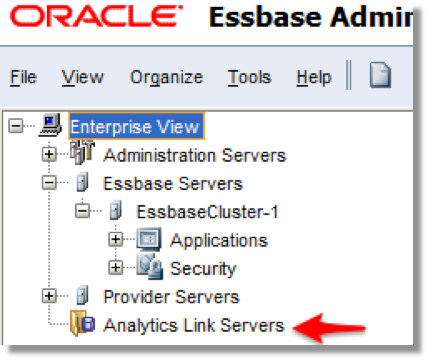 Add a new Analytics Link Server by specifying the username and password that is given at the time of configuration.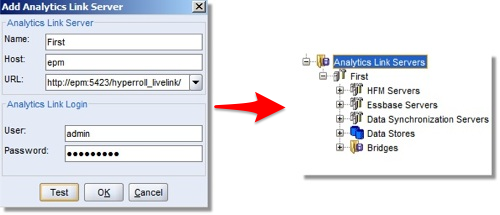 Now that we have successfully imported EAL plug-in and added our First Analytics Link server, to verify the HFM connectivity – we need to define which HFM application that EAL should connect to etc. and to what Essbase database it should write the outline/data based on HFM application. Basically, we should configure all the objects under the 'First' Analytics Link Server.
HFM Server and Application: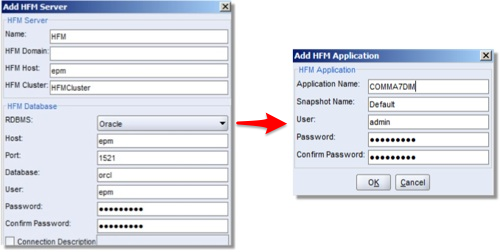 Essbase Application and Database:

After you define the Data Sync Server and Data Store – create a bridge that acts as a link between HFM application and Essbase database refreshing the outline and data.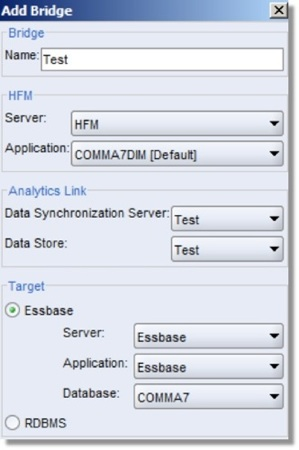 Open the bridge, create a bridge application and check if the outline is created.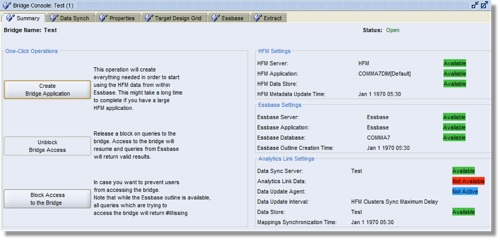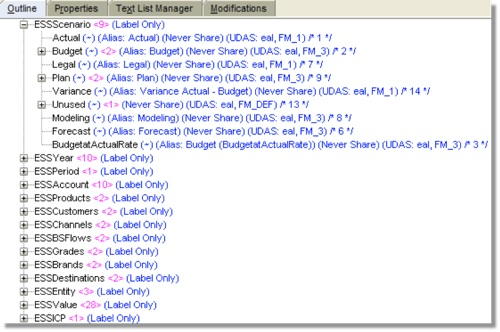 Now, we can conclude that there are no configuration related issues since we're able to refresh the metadata to Essbase without any issues. This I assume gives a good walk through of installing and configuring Essbase Analytics Link for HFM.