New OTN Article: Making the Move from Oracle Warehouse Builder to Oracle Data Integrator 12c
One of the reasons I've been silent on the blog lately regarding new Oracle Data Integrator 12c content (even though I promised it some months ago) is because I've been writing an article focused on migration options from Oracle Warehouse Builder (OWB). Published recently on OTN, this article hopefully helps customers understand some of the options Oracle has included to make good on their recent Statement of Direction for Data Integration.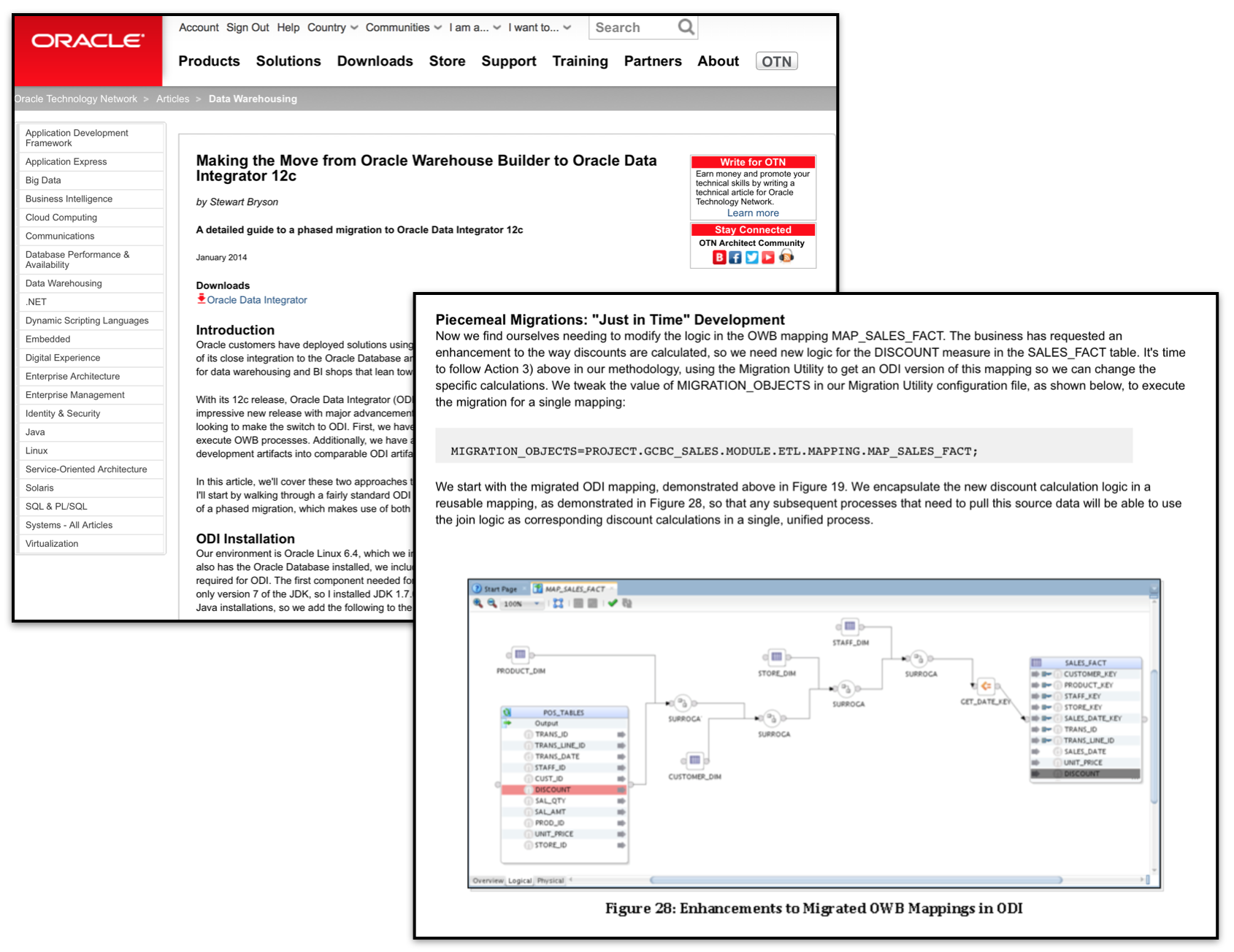 While the article is focused primarily on OWB customers looking to make the move, there's plenty of value here for organizations already familiar with ODI 11g. I walk through an Enterprise Installation of ODI 12c on Linux, including Fusion Middleware domain creation and JEE agent configuration. Following that, I explore two new technical capabilities for OWB shops included in the new tool. First is Runtime Integration, which allows the execution of OWB mappings and process flows directly from ODI with complete auditing and load plan integration. Secondly, I investigate the new Migration Utility which will migrate the majority of customer mappings directly from OWB to ODI 12c. I then embark on a functional assessment of what it means to add value to a data integration project, and how organizations can use these new features to achieve it. I present three different approaches for OWB shops to implement ODI 12c: the Side-by-Side Approach, the Big Bang Approach, and the Phased Approach. Understanding that no size fits all, I'm sure organizations all over the spectrum will recognize a fit in at least one of these solutions.
As always, early access and beta participation means that Rittman Mead is prepared to implement an OWB migration project immediately using any of these three approaches. If you have any questions, please comment here on the blog, or reach out to us directly.