Previewing Three Oracle Data Visualization Sessions at the Atlanta US BI Forum 2014
Many of the sessions at the UK and US Rittman Mead BI Forum 2014 events in May focus on the back-end of BI and data warehousing, with for example Chris Jenkins' session on TimesTen giving us some tips and tricks from TimeTen product development, and Wayne Van Sluys's session on Essbase looking at what's involved in Essbase database optimisation (full agendas for the two events can be found here). But two areas within BI that have got a lot of attention over the past couple of years are (a) data visualisation, and (b) mobile, so I'm particularly pleased that our Atlanta event has three of the most innovative practitioners in this area - Kevin McGinley from Accenture (left in pictures below), Christian Screen from Art of BI (centre), and Patrick Rafferty from Branchbird (right), talking about what they've been doing in these areas.

If you were at the BI Forum a couple of years ago you'll of course know Kevin McGinley, who won "best speaker" award the previous year and most recently has gone on to organise the BI track at ODTUG KScope and write for OTN and his own blog, Oranalytics.blogspot.com. Kevin also hosts, along with our own Stewart Bryson, a video podcast series on iTunes called "Real-Time BI with Kevin & Stewart", and I'm excited that he's joining us again at this year's BI Forum in Atlanta to talk about adding 3rd party visualisations to OBIEE. Over to Kevin...
"I can't tell you how many times I've told someone that I can't precisely meet a certain charting requirement because of a lack of configurability or variety in the OBIEE charting engine.  Combine that with an increase in the variety and types of data people are interested in visualizing within OBIEE and you have a clear need.  Fortunately, OBIEE is web-based tool and can leverage other visualization engines, if you just know how to work with the engine and embed it into OBIEE.
In my session, I'll walk through a variety of reasons you might want to do this and the various approaches for doing it.  Then, I'll take two specific engines and show you the process for building a visualization with them right in an OBIEE Analysis.  In both examples, you'll come away with a capability you've never been able to do directly in OBIEE before."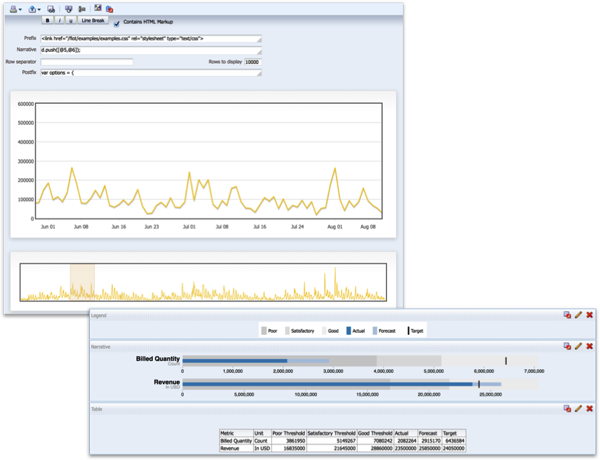 Another speaker, blogger, writer and developer very-well known to the OBIEE community is Art of BI Software's Christian Screen, co-author of the Packt book "Oracle Business Intelligence Enterprise Edition 11g: A Hands-On Tutorial" and developer of the OBIEE collaboration add-in, BITeamwork. Last year Christian spoke to us about developing plug-ins for OBIEE, but this year he's returned to a topic he's very passionate about - mobile BI, and in particular, Oracle's Mobile App Designer. According to Christian:
"Last year Oracle marked its mobile business intelligence territory by updating its Oracle BI iOS application with a new look and feel. Unbeknownst to many, they also released the cutting-edge Oracle BI Mobile Application Designer (MAD). These are both components available as part of the Oracle BI Foundation Suite. But it is where they are taking the mobile analytics platform that is most interesting at the moment as we look at the mobile analytics consumption chain. MAD is still in its 1.x release and there is a lot of promise with this tool to satisfy the analytical cravings growing in the bellies of many enterprise organizations. There is also quite a bit of discussion around building new content just for mobile consumption compared to viewing existing content through the mobile applications native to major mobile devices.
The "Oracle BI Got MAD and You Should be Happy" session will discuss these topics and I'll be sharing the stage with Jayant Sharma from Oracle BI Product Development where we'll also be showing some cutting edge material and demos for Oracle BI MAD.  Because MAD provides a lot of flexibility for development customizations, compared to the Oracle BI iOS/Android applications, our session will explore business use cases around pre-built MAD applications, HTML5, mobile security, and development of plug-ins using the MAD SDK.  One of the drivers for this session is to show how many of the Oracle Analytics components integrate with MAD and how an Oracle BI developer can quickly leverage the capabilities of MAD to show the tool's value within their current Oracle BI implementation.
We will also discuss the common concern of mobile security by touching on the BitzerMobile acquisition and using the central mobile configuration settings for Oracle BI Mobile. The crowd will hopefully walk away with a better understanding of Oracle BI mobility with MAD and a desire to go build something."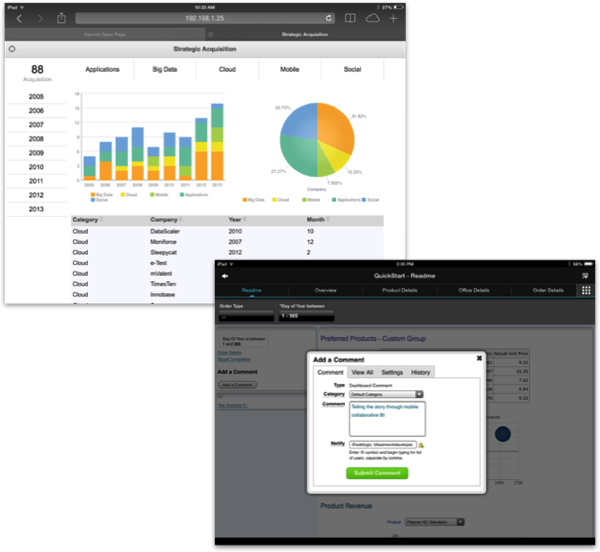 As well as OBIEE and Oracle Mobile App Designer, Oracle also have another product, Oracle Endeca Information Discovery, that combines a data aggregation and search engine with dashboard visuals and data discovery. One of the most innovative partner companies in the Endeca space are Branchbird, and we're very pleased to have Branchbird's Patrick Rafferty join us to talk about "More Than Mashups – Advanced Visualizations and Data Discovery". Over to Patrick ...
"In this session, we'll explore how Oracle Endeca customers are moving beyond simple dashboards and charts and creating exciting visualizations on top of their data using Oracle Endeca Studio. We'll discuss how the latest trends in data visualization, especially geospatial and temporal visualization, can be brought into the enterprise and how they drive competitive advantage.
This session will show in-production real-life examples of how extending Oracle Endeca Studio's visualization capabilities to integrate technology like D3 can create compelling discovery-driven visualizations that increase revenue, cut cost and enhance the ability to answer unknown questions through data discovery."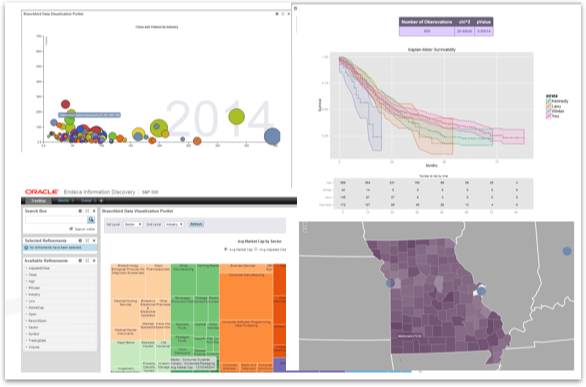 The full agenda for the Atlanta and Brighton BI Forum agendas can be found on this blog post, and full details of both events, including registration links, links to book accommodation and details of the Lars George Cloudera Hadoop masterclass, can be found on the Rittman Mead BI Forum 2014 home page.