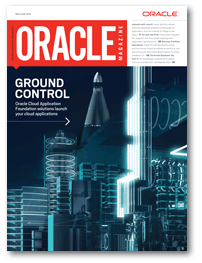 Oracle have just published the May/June 2014 edition of Oracle Magazine, and my business analytics column this time round is on the new 12c release of Oracle Data Integrator.
In "Go with the Flow" I look at how this new editor supports OWB-style multi-step mappings, and how new features like "deployment specifications" allow you to choose different load strategies depending on whether you're doing a full, or an incremental load. On the same topic, you might also want to take a look at my colleague Stewart Bryson's recent article on the Oracle Technology Network, "Making the Move from Oracle Warehouse Builder to Oracle Data Integrator 12c", where he takes an in-depth look at what's involved in migrating from, and interoperating with, Oracle Warehouse Builder, and what's in-store for OWB developers when they upgrade to the new 12c release of ODI.
This is actually excellent timing, as we're just about to launch our new ODI12c training, with our initial course being a three-day ODI12c bootcamp that's running for the first time in Brighton, UK, from May 12th -14th 2014. Based on this latest release of Oracle Data Integrator, this three-day course assumes no prior knowledge and takes you through everything you need to know to get started with ODI12c.
From setting up the topology through to creating mapping, packages and load plans, this course features modules and labs covering many aspects of ODI 12c functionality. As with all of our courses, we bring our trainer to you and teach all of your team, together, how to make the most of Oracle's premier data integration tool, with one of our experienced consultants leading the sessions and sharing their project experience.

This first run of the course will be taught by the course author, Oracle ACE Edel Kammermann, accompanied by Jerome Francoisse, our lead beta-tester for ODI12c and speaker at events such as Oracle Openworld and RMOUG training days. If you've been looking to get trained-up on the new 12c release of Oracle Data Integrator, this is an excellent opportunity to learn the basics in just three days, down in sunny Brighton in May! Course details are as follows:
Duration : 3 Days
Course Delivery : Instructor-led with labs, on-site at customer location
Who Should Attend : Developers, consultants, project managers, technical leads, DBAs
Prerequisites : None
Detailed Course Agenda :
Getting Started with ODI 12c
ODI Topology
ODI Projects
Models and Datastores
Data Quality in a Model
Introduction to ODI Mappings
ODI Procedures, Variables, Sequences, and User Functions
Advanced ODI Mappings
ODI Packages
Scenarios in ODI
The ODI Debugger
ODI Load Plans
To book a place on the course, running in Brighton, UK on May 12th-14th 2014, just click on this link - we'll be running the course in the US shortly afterwards. Finally, if you've got any questions about this course or any of our other OBIEE, ODI, Oracle BI Apps or OWB courses, just drop us a line at training@rittmanmead.com.