RM BI Forum 2014 Brighton is a Wrap - Now on to Atlanta!
I'm writing this sitting in my hotel room in Atlanta, having flown over from the UK on Saturday following the end of the Rittman Mead BI Forum 2014 in Brighton. I think it's probably true to say that this year was our best ever - an excellent masterclass on the Wednesday followed by even-more excellent sessions over the two main days, and now we're doing it all again this week at the Renaissance Atlanta Midtown Hotel in Atlanta, GA.
Wednesday's guest masterclass was by Cloudera's Lars George, and covered the worlds of Hadoop, NoSQL and big data analytics over a frantic six-hour session. Lars was a trooper; despite a mistake over the agenda where I'd listed his sessions as being just an hour each when he'd planned (and been told by me) that they were an hour-and-a-half each, he managed to cover all of  the main topics and take the audience through Hadoop basics, data loading and processing, NoSQL and analytics using Hive, Impala, Pig and Spark. Roughly half the audience had some experience with Hadoop with the others just being vaguely acquainted with it, but Lars was an engaging speaker and stuck around for the rest of the day to answer any follow-up questions.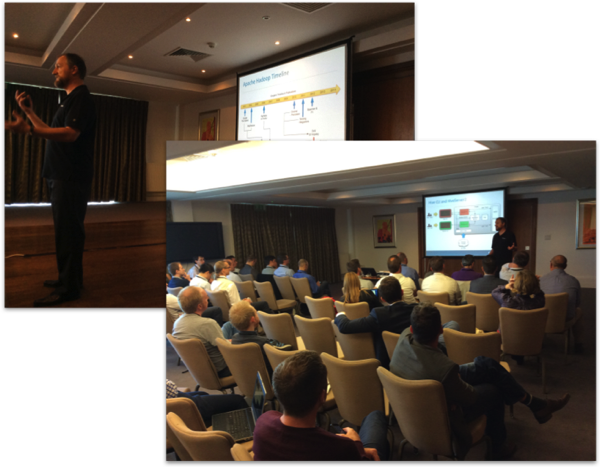 For me, the most valuable parts to the session were Lars' real-world experiences in setting up Hadoop clusters, and his views on what approaches were best to analyse data in a BI and ETL context - with Spark clearly being in-favour now compared to Pig and basic MapReduce. Thanks again Lars, and to Justin Kestelyn from Cloudera for organsising it, and I'll get a second-chance to sit through it again at the event in Atlanta this week.
The event itself proper kicked-off in the early evening with a drinks reception in the Seattle bar, followed by the Oracle keynote and then dinner. Whilst the BI Forum is primarily a community (developer and customer)-driven event, we're very pleased to have Oracle also take part, and we traditionally give the opening keynote over to Oracle BI Product Management to take us through the latest product roadmap. This year, Matt Bedin from Oracle came over from the States to deliverer the Brighton keynote, and whilst the contents aren't under NDA there's an understanding we don't blog and tweet the contents in too much detail, which then gives Oracle a bit more leeway to talk about futures and be candid about where their direction is (much like other user group events such as BIWA and ODTUG).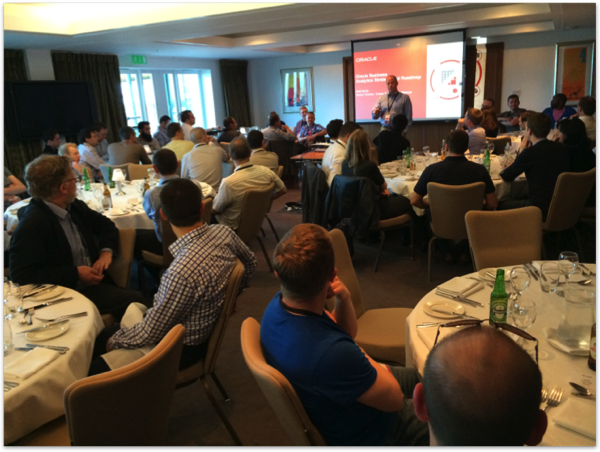 I think it's safe to say that the current focus for OBIEE over the next few months is the new BI in the Cloud Service (see my presentation from Collaborate'14 for more details on what this contains), but we were also given a preview of upcoming functionality for OBIEE around data visualisation, self-service and mobile - watch this space, as they say. Thanks again to Matt Bedin for coming over from the States to delver the keynote, and for his other session later in the week where he demo'd BI in the Cloud and several usage scenarios.
We were also really pleased to be joined by some some of the top OBIEE, Endeca and ODI developers around the US and Europe, including Michael Rainey (Rittman Mead) and Nick Hurt (IFPI), Truls Bergensen, Emiel van Bockel (CB), Robin Moffatt (Rittman Mead), Andrew Bond (Oracle) and Stewart Bryson (Rittman Mead), and none-other than Christian Berg, an independent OBIEE / Essbase developer who's well-known to the community through his blog and through his Twitter handle, @Nephentur - we'll have all the slides from the sessions up on the blog once the US event is over, and congratulations to Robin for winning the "Best Speaker" award for Brighton for his presentation "No Silver Bullets: OBIEE Performance in the Real World".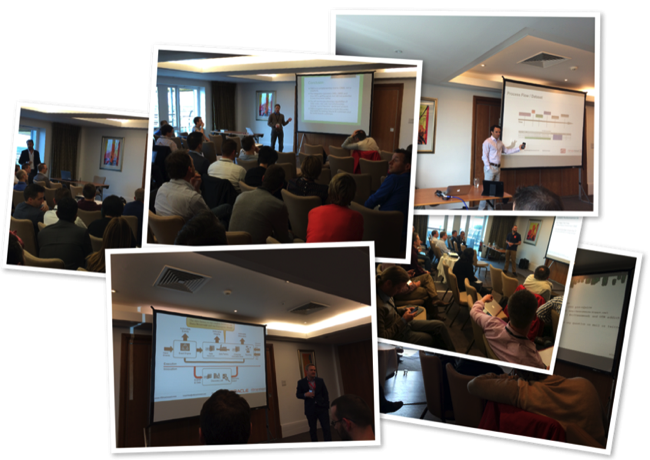 We had a few special overseas guests in Brighton too; Christian Screen from Art of BI Software came across (he'll be in Atlanta too this week, presenting this time), and we were also joined by Oracle's Reiner Zimmerman, who some of you from the database/DW-side will known from the Oracle DW Global Leaders' Program. For me though one of the highlights was the joint session with Oracle's Andrew Bond and our own Stewart Bryson, where they presented an update to the Oracle Information Management Reference Architecture, something we've been developing jointly with Andrew's team and which now incorporates some of our thoughts around the agile deployment of this type of architecture. More on this on the blog shortly, and look out for the white paper and videos Andrew's team are producing which should be out on OTN soon.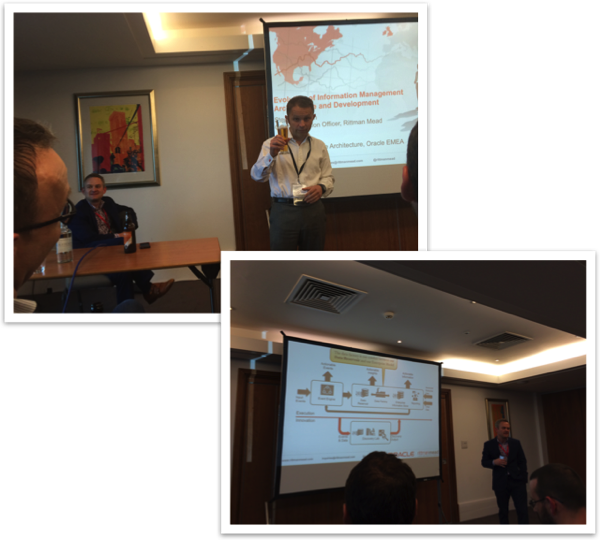 So that's it for Brighton this year - and now we're doing it all again in Atlanta this week at the Renaissance Atlanta Midtown Hotel. We've got Lars George again delivering his masterclass, and an excellent - dare I say it, even better than Brighton's - array of sessions including ones on Endeca, the In-Memory Option for the Oracle Database, TimesTen, OBIEE, BI Apps and Essbase. There's still a few places left so if you're interested in coming, you can book here and we'll see you in Atlanta later this week!