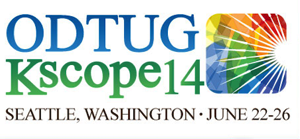 Next week is ODTUG KScope'14 in Seattle, USA, and Rittman Mead will be delivering a number of presentations over the week. Coming over from Europe we have Jérôme Françoisse and myself, and we'll be joined by Michael Rainey, Daniel Adams, Charles Elliott from Rittman Mead in the US. We're also very pleased to be co-presenting with Nicholas Hurt from IFPI who some of you might know from the Brighton BI Forum this year, who's talking with Michael Rainey about their Oracle data warehouse upgrade story.
Here's details of the Rittman Mead sessions and speakers during the week:
Daniel Adams : "Hands-On Training: OBIEE Data Visualization: The "How" and the "Why"?" - Monday June 23rd 2014 1.15pm - 3.30pm, Room 2A/2B
Jérôme Françoisse : "Oracle Data Integrator 12c New features" - Monday June 23rd 1.15pm - 2.15pm, Room 616/615
Mark Rittman : "Deploying OBIEE in the Cloud: Options and Deployment Scenarios" - Monday June 23rd 3.45pm - 4.45pm, Room 615/616
Mark Rittman : "OBIEE, Hadoop and Big Data Analysis" - Tuesday June 24th 11.15am - 12.15pm, Room 602/603/604
Michael Rainey and Nicholas Hurt (IFPI) : "Real-Time Data Warehouse Upgrade: Success Stories" - Tuesday June 24th 2014 2pm - 3pm, Room 614
Charles Elliott : "OBIEE and Essbase - The Circle of Life" - Wednesday June 25th 11.15am - 12.15pm
Mark Rittman : "TimesTen as your OBIEE Analyic "Sandbox" - Wednesday June 25th 3.15pm - 4.15pm, Room 615/616
We'll also be around the event and Seattle all week, so if you've got any questions you'd like answered, or would like to talk to us about how we could help you with an Oracle BI, data integration, data warehousing or big data implementation, stop one of us for a chat or drop me a line at mark.rittman@rittmanmead.com.