Today saw the official launch of the Oracle Database In-Memory Option, with Larry Ellison going through the product features and then reading out some quotes and testimonials from beta testers. Rittman Mead were part of the beta testing program, with several of our team testing out various scenarios where we ETL'd into it, used it with OBIEE and worked out what would be involved in "in-memory-enabling" some of our customer's BI systems.
In fact, as we said in our quote for the launch, enabling Oracle Database for in-memory analysis was almost "boringly simple" - just enable the option, choose your tables, drop any OLTP indexes and you're ready to go.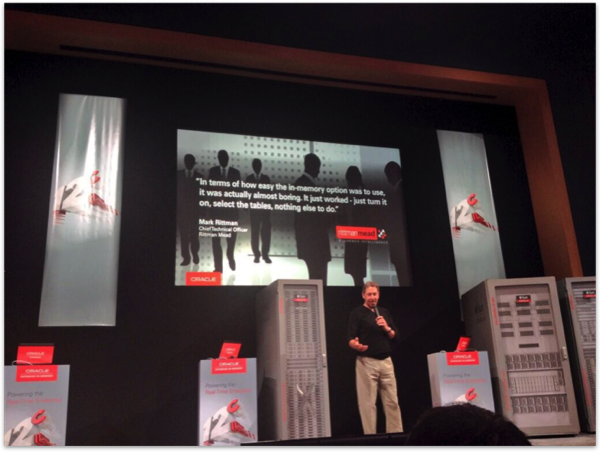 Of course, in practice you'll need to think about which tables you'll put into memory if RAM is limited, in some scenarios TimesTen might be a better option, and you'll need to test your particular system and carefully consider whether you'll keep particular indexes or materialised views, but we're really excited about the In-Memory Option for Oracle Database as it's got the potential to significantly improve query response times for users - and from what we've seen so far, it "just works".
We're still in the NDA period whilst beta testing goes on, but you can read more on the In-Memory Option on the Oracle website, and on the blog post I wrote when the feature was announced last Openworld. Once it goes GA look out for some in-depth articles on the blog around how it works, and details on how we'll be able to help customers take advantage of this significant new Oracle Database feature.