Introductions
There's a good chance that, if you're reading this, you likely perform some reporting, analytics, data stewardship role or probably some combination of all three. And be it for a large corporation or a small company, there are likely standards and practices that pertain to how the above jobs are performed on a day to day basis; not easily changed and perpetually validated by big budgets and long careers. It is equally likely that deeply ingrained within these reporting practices lies some moderate to heavy implementation of Excel. It wasn't long ago that I found myself utilizing the spreadsheet program on a daily basis and for hours upon hours at a time.
What this essentially amounted to:
Pulling down large amounts of data from our department's data model using large SQL queries that themselves could take most of the day to elucidate, let alone waiting on the query to yield results, which could easily warrant a bathroom break, a phone call, or if you were feeling adventurous, catching up on email.
Validating your results
Exporting to Excel (key step here!)Massaging and formatting your data by implementing innumerable and often unwieldy functions that deserved their own time slot on your schedule for the day to figure out
Proofing your analysis so that it got to management in ship shape
Hoping that an analyst from another department who utilized the same metric on their report and who would be at the same meeting actually coincided with yours

Fast forward a bit and I'm sitting here, writing this blog as a sort of proverbial white flag in the great battle between Excel and the behemoth that is OBIEE. And just what is this white flag? Why, it's Oracle's most recent iteration of Smart View, which provides expanded functionality and support for the Microsoft Office Suite of programs. Namely, its golden boy, Excel. That's right, Excel, the darling of office staff everywhere, the program upon which empires rise and fall. In paraphrasing a quote from www.cfo.com, some 64% of public and private companies still use Excel and other "manual" solutions to perform their finance functions. So, in the world of the spreadsheet, when does it makes sense to cross that blurry line from cell to subject area? Smart View now makes answering that question much easier. It seems that they've really gotten a grasp on the formatting shortcomings of the last version and made up for it in spades. Or, so at least they claim.
The Test Run - OBIEE to Excel 
The example below illustrates a simple import via Smart View. I generated a dashboard in Answers which mimics that of an Excel design I found online. Thank the good folks over at www.chandoo.org for their excellent skills in Excel dashboarding and for providing plenty of great examples. The dashboard contains a table with a selection of KPI's that the user may then choose to sort on via a View Selector (each view has been sorted on a different KPI and is on a different Compound Layout). Upon selecting a KPI, the analysis will then display the Top 10 products by the KPI selected. In addition, the table contains conditional formatting which simply alerts users to the variance between different KPI's and their targets. Lastly, there is a scatter plot view which displays our Product dimension as seen through the lens of Revenue and Quantity. Per the most recent Oracle documentation, we shouldn't have any trouble including the current selections of a dashboard prompt either. Let's see how it performs when we move it over to Excel.
 "OBIEE report and page prompts are fully supported as part of the import process. Dashboards can be imported through Oracle Smart View on a per page basis or the entire dashboard. Prompts are applied at the current state of the logged in user. Future releases of the product will support dashboard prompts directly through Microsoft Office."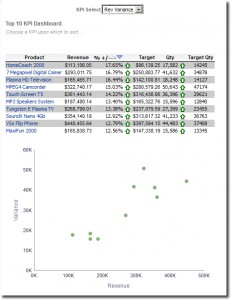 The Results
And there you have it! Excel displays our table and graph views as per the most recent selection from the Dashboard prompt. But wait! Our conditional formatting seems to be missing and to prove this, this is even the case when exported directly from the analysis view as an Excel workbook.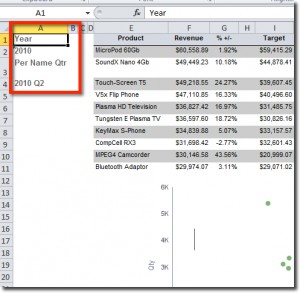 Conditional Formatting
For our second scenario, let's see how Excel handles a simpler, heat map style conditional formatting. I've made a simple table on our dashboard that measures Revenue, Quantity Sold, and the Average Order in $. I set up conditional formatting around the Average Order measure to see how Excel handles importing the color scheme for the currently selected Time parameters on the dashboard.
Contrastingly, we see that Smart View has preserved a simpler, Heatmap style of conditional formatting when imported from OBIEE through Smart View. So, perhaps it is Excel's lack of corresponding graphic in the previous example that has caused the migration snafu? OBIEE doesn't even seem to render our arrow graphics as per the documentation.
"Oracle BI Customizations and View Standards - The Import of Oracle BI content can leverage the customizations and view standards used within an OBIEE environment. All view designed modifications such as conditional formatting, background colors or data configuration is automatically translated to the Microsoft Office environment."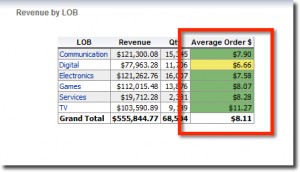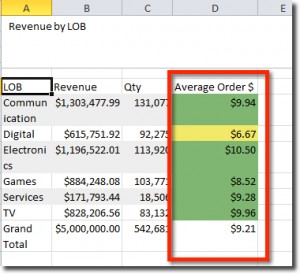 Excel to OBIEE
Let's see what the latest edition of Smart View offers when moving an analysis from Excel to OBIEE.
Because we weren't able to import our full table view, why don't we construct it using the View Designer? The interface looks clean and provides an intuitive approach to producing basic Answers views. Accessing our subject area, I simply selected the columns that matched those on our Answers analysis. After clicking 'OK', sorting on our Revenue column from largest to smallest and doing a little deleting, we have a pseudo 'Top 10' analysis by Revenue. Given the aesthetic attributes of our Answers analysis, lets see how we're going to replicate this in Excel.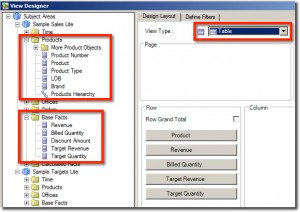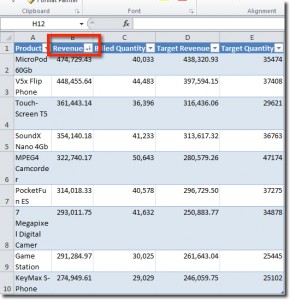 After selecting the table, we can navigate to the Design tab under 'Table Tools' and select an alternating Grey scheme which gives us the 'Enable Alternate Styling' design quality. Now lets add some formulas and conditional formatting that will give us our Calculated column equivalents. We can insert two rows, one between Revenue and Target, and between Qty and Target, to make room for conditional formatting and Excel's Icon Sets feature. We then create a simple formula that subtracts Revenue and Quantity from their respective targets in the column between the two, assign conditional formatting and voila! Excel even has a check box that lets you show the arrow only.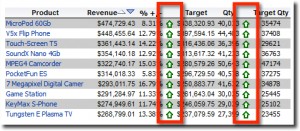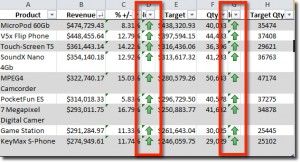 From Excel, we can select Publish View to deposit our analysis into our Shared Folder. The results indicate a sort of 'two way street' between Smart View and Excel and vice versa. Neither totally supports the formatting capabilities of the other, as if to say Smart View is giving ground with every new release. In this blog, we've taken a look at how Smart View handles some mildly complex conditional formatting and what it takes to replicate this feature in native Excel. In a user environment where reports are flying back and forth between the two platforms, Smart View definitely makes sense, however it might be advisable to simply deliver the minimum of what is needed and let an end user make any formatting based modifications. After all, who would want to do all that work only to have it lost in translation?