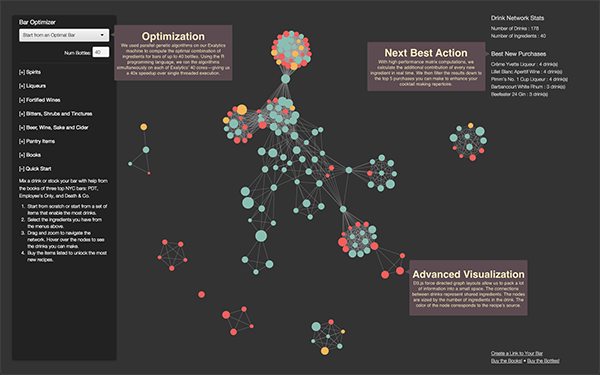 At Rittman Mead R&D, we have the privilege of solving some of our clients' most challenging data problems. We recently built a set of customized data products that leverage the power of Oracle and Cloudera platforms and wanted to share some of the fun we've had in creating unique user experiences. We've been thinking about how we can lean on our efforts to help make the holidays even more special for the extended Rittman Mead family. With that inspiration, we had several questions on our minds:
How can we throw an amazing holiday party?
What gifts can we give that we can be sure our coworkers, friends, and family will enjoy?
What gifts would we want for ourselves?
After a discussion over drinks, the answers became clear. We decided to create a tool that uses data analytics to help you create exceptional cocktails for the holidays.
Here is how we did it. First, we analyzed the cocktail recipes of three world-renowned cocktail bars: PDT, Employees Only, and Death & Co. We then turned their drink recipes into data and got to work on the Bar Optimizer, which uses analytics on top of that data to help you make the holiday season tastier than ever before.
To use the Bar Optimizer, enter the liquors and other ingredients that you have on hand to see what drinks you can make. It then recommends additional ingredients that let you create the largest variety of new drinks. You can also use this feature to give great gifts based on others' liquor cabinets. Finally, try using one of our optimized starter kits to stock your bar for a big holiday party. We've crunched the numbers to find the fewest bottles that can make the largest variety of cocktails.
Click the annotated screenshot above for details, and contact us if you would like more information about how we build products that take your data beyond dashboards.