Rittman Mead BI Forum 2015 Call for Papers Now Open - Closes on Jan 18th 2015
The Call for Papers for the Rittman Mead BI Forum 2015 is currently open, with abstract submissions open to January 18th 2015. As in previous years the BI Forum will run over consecutive weeks in Brighton, UK and Atlanta, GA, with the provisional dates and venues as below:
Brighton, UK : Hotel Seattle, Brighton, UK : May 6th - 8th 2015
Atlanta, GA : Renaissance Atlanta Midtown Hotel, Atlanta, USA : May 13th-15th 2015
Now on it's seventh year, the Rittman Mead BI Forum is the only conference dedicated entirely to Oracle Business Intelligence, Oracle Business Analytics and the technologies and processes that support it – data warehousing, data analysis, data visualisation, big data and OLAP analysis. We're looking for session around tips & techniques, project case-studies and success stories, and sessions where you've taken Oracle's BI products and used them in new and innovative ways. Each year we select around eight-to-ten speakers for each event along with keynote speakers and a masterclass session, with speaker choices driven by attendee votes at the end of January, and editorial input from myself, Jon Mead and Charles Elliott and Jordan Meyer.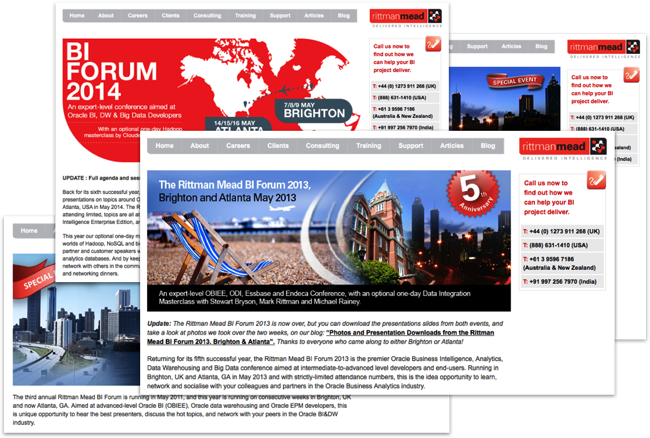 Last year we had a big focus on cloud, and a masterclass and several sessions on bringing Hadoop and big data to the world of OBIEE. This year we're interested in project stories and experiences around cloud and Hadoop, and we're keen to hear about any Oracle BI Apps 11g implementations or migrations from the earlier 7.9.x releases. Getting back to basics we're always interested in sessions around OBIEE, Essbase and data warehouse data modelling, and we'd particularly like to encourage session abstracts on data visualization, BI project methodologies and the incorporation of unstructured, semi-structured and external (public) data sources into your BI dashboards. For an idea of the types of presentations that have been selected in the past, check out the BI Forum 2014, 2013 and 2012 homepages, or feel free to get in touch via email at mark.rittman@rittmanmead.com.
The Call for Papers entry form is here, and we're looking for speakers for Brighton, Atlanta, or both venues if you can speak at both. All session this year will be 45 minutes long, all we'll be publishing submissions and inviting potential attendees to vote on their favourite sessions towards the end of January. Other than that – have a think about abstract ideas now, and make sure you get them in by January 18th 2015 - just over a week from now!.