Announcing the BI Forum 2015 Data Visualisation Challenge
The Rittman Mead BI Forum 2015 is running in Brighton from May 6th-8th 2015, and Atlanta from May 13th - 15th 2015. At this year's events we're introducing our first "data visualization challenge", open to all attendees and with the dataset and scenario open from now until the start of each event. Using Oracle Business Intelligence 11g and any plugins or graphics libraries that embed and interact with OBIEE (full details and rules below), we challenge you to create the most effective dashboard or visualisation and bring it along to demo on the Friday of each event.
Help DonorsChoose.org Donors Use their Funds Most Effectively
This year's inaugural data visualisation challenge is based around the DonorsChoose.org project and dataset, an online charity that makes it easy for anyone to help public school classroom projects that need funding (Rittman Mead will be making donations on behalf of the Brighton and Atlanta BI Forums to show our support for this great initiative). The Donorschoose.org project and dataset have been used in several hackathons and data crunching contests around the world, with analysis and visualisations helping to answer questions such as:
Why do some projects get funded, while others don't?
Who donates to projects from different subjects?
Does proximity to schools change donation behavior?
What types of materials are teachers lacking the most? (eg chalk, paper, markers, etc)
Do poorer schools ask for more or less money from their donors?
If I need product x, what is the difference between projects asking for x that were successful vs those that aren't.
More details on uses of the Donorschoose.org dataset can be found on the Donorschoose data blog, and example visualisations you could use to get some ideas and inspiration are on the Donorschoose.org Data Gallery showcase page.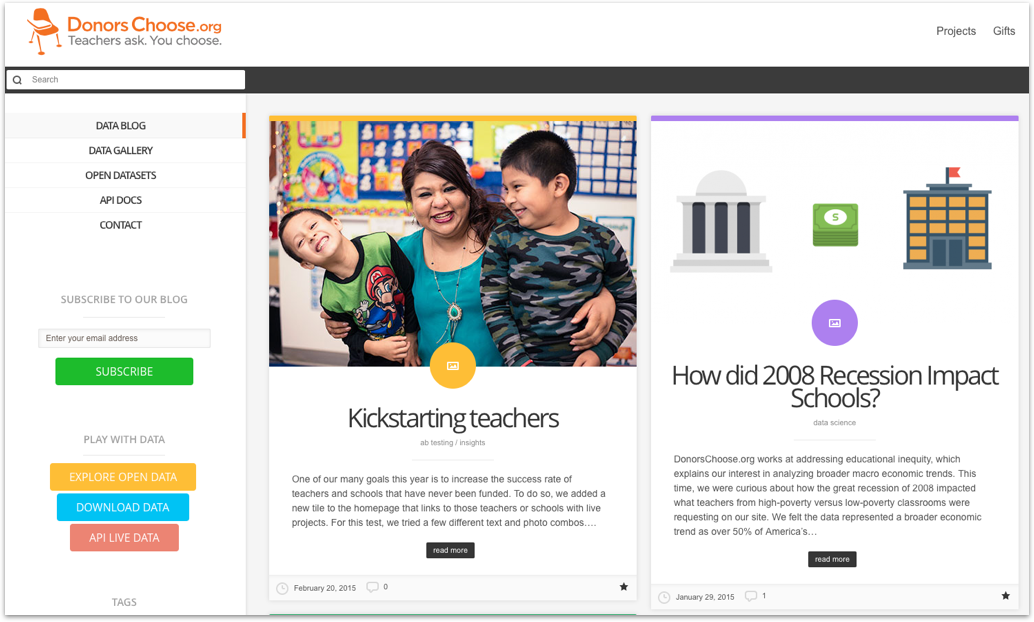 Your challenge is to import this dataset into your analytical database of choice, and then create the best visualisation or dashboard in OBIEE to answer the following question: "Which project can I donate to, where my donation will have most impact?"
How Do I Take Part?
For more on the BI Forum 2015 Data Visualization Challenge including how to download the dataset and the rules of the challenge, take a look at the Rittman Mead BI Forum 2015 Data Visualisation Challenge web page where we've provided full details. You can either enter as an individual or as part of a team, but you must be registered for either the Brighton or Atlanta BI Forum events and come along in-person to demonstrate your solution - numbers at each event are strictly limited though, so make sure you register soon at the Rittman Mead BI Forum 2015 home page.