Rittman Mead at KScope16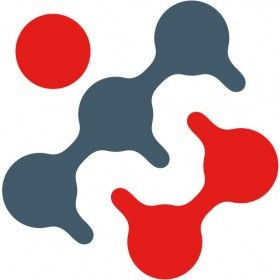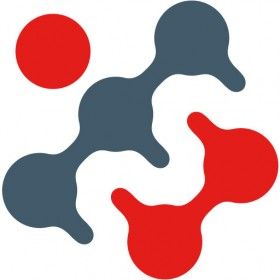 June is the perfect month: summer begins, major football (and futbol) tournaments are in full swing, and of course, KScope16 is on! Rittman Mead have participated in many of the past KScope conferences and will continue that tradition this year with a wide range of presentation and training topics across the Business Intelligence, Data Warehousing, Big Data, and Advanced Analytics subject areas. This year the event is held in Chicago at the Sheraton Grand Chicago, a great location right on the river and a short distance from sights such as the Navy Pier and Magnificent Mile. And, as always, there will be some great networking opportunities throughout the week.

This year, we're pleased to congratulate our own Becky Wagner (of Becky's BI Apps Corner) on her graduation from the ODTUG Leadership Program. This is the third class to complete the program, which aims to build leadership skills, confidence, and work/life balance skills, amongst many other things, throughout the 9 month class duration. Well done, Becky! You'll be able to find her and the rest of the 2016 Leadership class at the Career Community/Leadership Program Information Breakfast - Monday, June 27th 7:30AM at the Sheraton hotel main dining area. They will be kicking off the application season for the 2017 Leadership Program and providing further information about the new ODTUG career program as well.
The rest of the Rittman Mead attendees will be presenting one or more sessions during the week.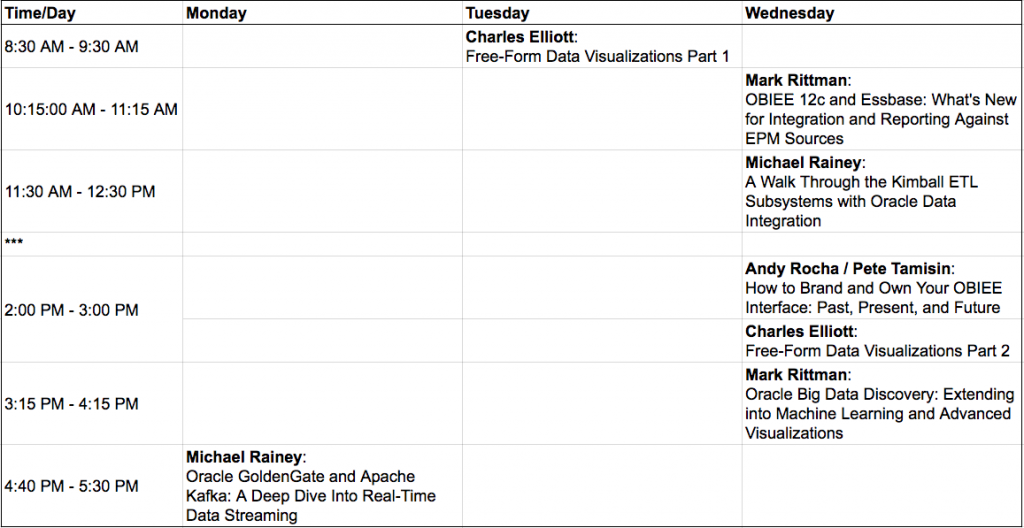 The week kicks off with my talk Monday on GoldenGate and Kafka integration using the new Oracle GoldenGate for Big Data release 12.2. The topic of this session, real-time data streaming, provides a great solution for the challenging task of ingesting data from multiple different sources, and different structures, and making that data readily available for others in the organization to use. By combining GoldenGate, Oracle's premier data replication technology, and Apache Kafka, the latest open-source streaming and messaging system for big data, we can implement a fast, durable, and scalable solution.

Tuesday morning, Charles Elliott, Managing Director of Rittman Mead in the US, will begin the first of his two-part hands on lab sessions on Free Form Data Visualizations. This hands-on introduction to all things visual in OBIEE's new Visual Analyzer (VA) will allow attendees to see the top reporting features within the current release while also understanding the core differences between OBIEE's previous reporting platform and what's available now. In addition to creating some of the most eye-catching visualizations the new tool has to offer, this session will highlight new OBIEE 12c features such as mapping, advanced analytics, and an overview of the brand-new web catalog. Whether you are just interested in what's new in free-form Oracle BI visualizations or preparing for an upgrade, this session is for you!
During the lunch and learn sessions you can find me moderating the BI and Data Warehousing panel and Mark Rittman will be moderating the Big Data and Advanced Analytics crew. Grab a lunch and join us!
The remainder of Rittman Mead sessions fall on Wednesday, with some interesting topics around Big Data Discovery, OBIEE branding and Essbase integration, and the Kimball ETL Subsystems. Also, the second day of the Free Form Data Visualizations HOL will be held on Wednesday afternoon.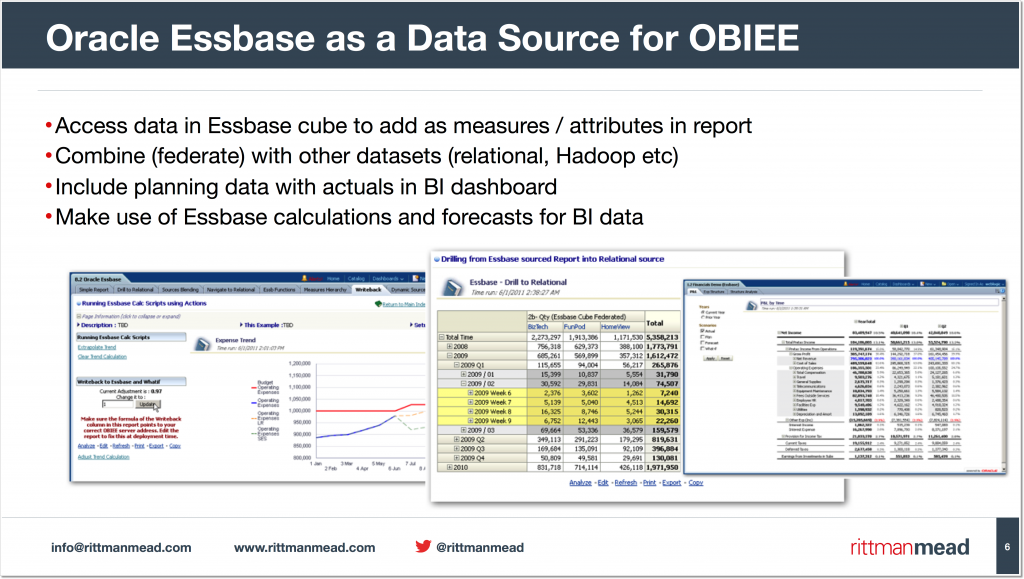 It all starts with Mark Rittman presenting "OBIEE 12c: What's New for Integration and Reporting Against EPM Sources". He'll dig into interesting new features around OBIEE 12c and Essbase integration, including improvements around using Essbase as a query acceleration layer and general improvements around usability and RPD/Outline integration. Come to this session to see what they are, how they affect OBIEE/Essbase integration, and where this initiative may be going over time.
Following Mark and his dive into OBIEE and Essbase on Wednesday will be my session, "A Walk Through the Kimball ETL Subsystems with Oracle Data Integration", with a focus on how to implement the ETL Subsystems using Oracle Data Integration solutions. As you may know, Ralph Kimball, dimensional modeling and data warehousing expert and founder of The Kimball Group, spent much of his career working to build an enterprise data warehouse methodology that can meet analytical reporting needs. His book, "The Data Warehouse ETL Toolkit," is a guide for many ETL developers. This session will walk you through his ETL Subsystem categories, describing how the Oracle Data Integration products (Oracle Data Integrator, GoldenGate, & Enterprise Data Quality) are perfectly suited for the Kimball approach.
After lunch, Andy Rocha and Pete Tamisin will dive into "How to Brand and Own Your OBIEE Interface: Past, Present, and Future". In this presentation, they will explore the different techniques in branding and customizing your OBIEE environment in different versions: 11.1.1.7, 11.1.1.9, and 12c. What that really means is they will talk about how to brand the interface in a thoughtful way… not just throwing the company's colors on the screen, but thinking about what will actually make the application more attractive and useful for the user community.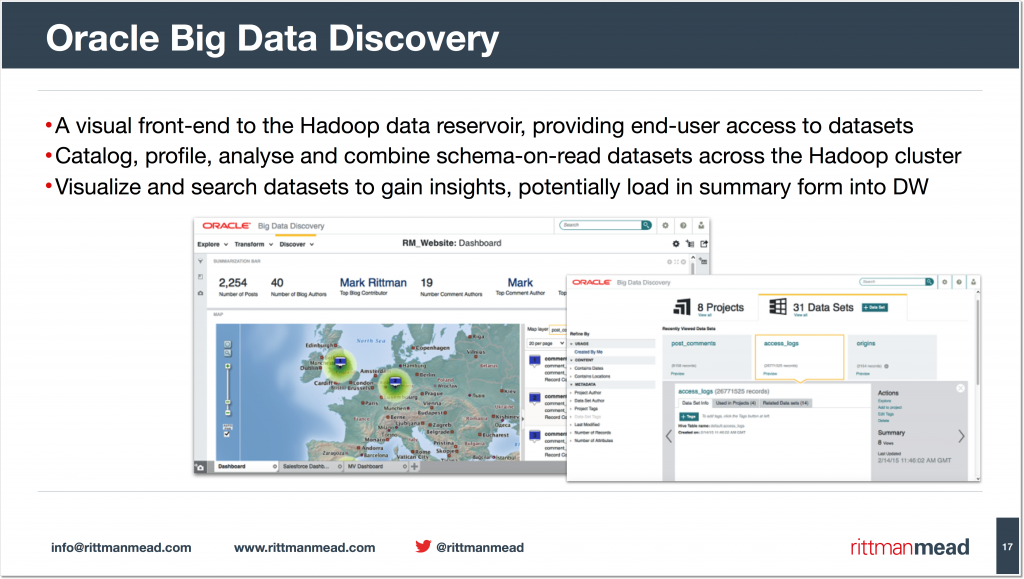 Closing out the Rittman Mead Wednesday sessions is Mark Rittman with his unique look at machine learning and advanced visualizations using Oracle Big Data Discovery (BDD). Mark will use the BDD Shell, pySpark, and Jupyter to ingest, process and run machine learning routines on IoT and smart home data, which he has been collecting over the past year. Oracle Big Data Discovery provides a graphical environment for cataloging, searching, and displaying data from Hadoop and other sources along with some basic data wrangling features and display options. In this session, he'll look at how BDD can be extended using the aforementioned APIs to cover more advanced predictive modeling, machine learning, and data science tasks, and how the graphics API can be used to add custom D3 advanced visualizations for your datasets and analyses. I'm definitely looking forward to this one!
We're all looking forward to attending the event in Chicago this year and can't wait for next week! If you'd like to get together to discuss any of the above topics we're presenting, or anything data integration or BI related, feel free to reach out via email ([email protected]), twitter (@mRainey) or drop a note in the comments below. Hope to see you there!