OTN Appreciation Day: OBIEE's Export to Excel Functionality
Only kidding…. Do you know that almost any transformation doable in excel can be achieved in OBIEE, probably faster and with zero impact on your local workstation?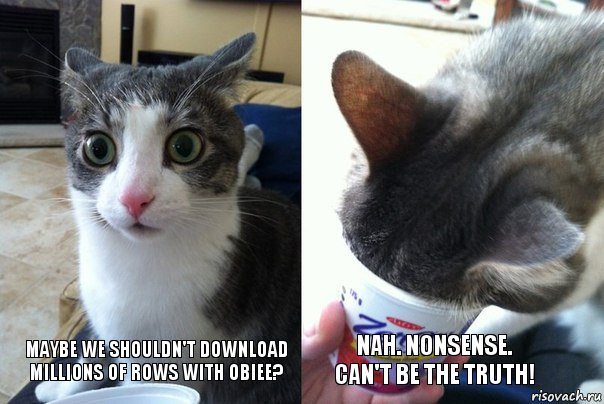 Image credit https://twitter.com/fomin_andrew/status/749305992198881281
Why bothering downloading data to Excel when you have pivot tables, conditional formatting and a huge variety of graphs with drilling/action capabilities all in OBIEE. A platform where analysis can be shared by passing a single URL instead of emailing huge XLS files?
Sometimes however there is a good reason to export to excel, like when preparing a presentation on top of OBIEE data/analysis. The following are the possible ways of achieving the OBIEE/Excel integration:
Dashboard and Analysis can be exported to excel with a single click
A BI Publisher version of a dashboard can be created and used by default when exporting
Excel can be linked via Smartview to a single Analysis: Data and Visualisations can be downloaded and refreshed upon request with configurable parameters.
Excel can directly query the BiServer Subject Areas via Smartview.
Excel version of Dashboard and Analysis can be delivered by email via Agents.
An important note, Oracle published "OBIEE 11.1.1.7 - New Features, Export Guidance And Recommendations For Working With Microsoft Office (Doc ID 1558070.1)". This Document contains recommendations on how to provide the export to Excel depending on the output data volume. The document was written for OBIEE 11.1.1.7 but the same suggestions apply to almost any OBIEE version available.