EVENT: Modernising Your Oracle Data & Analytics Platform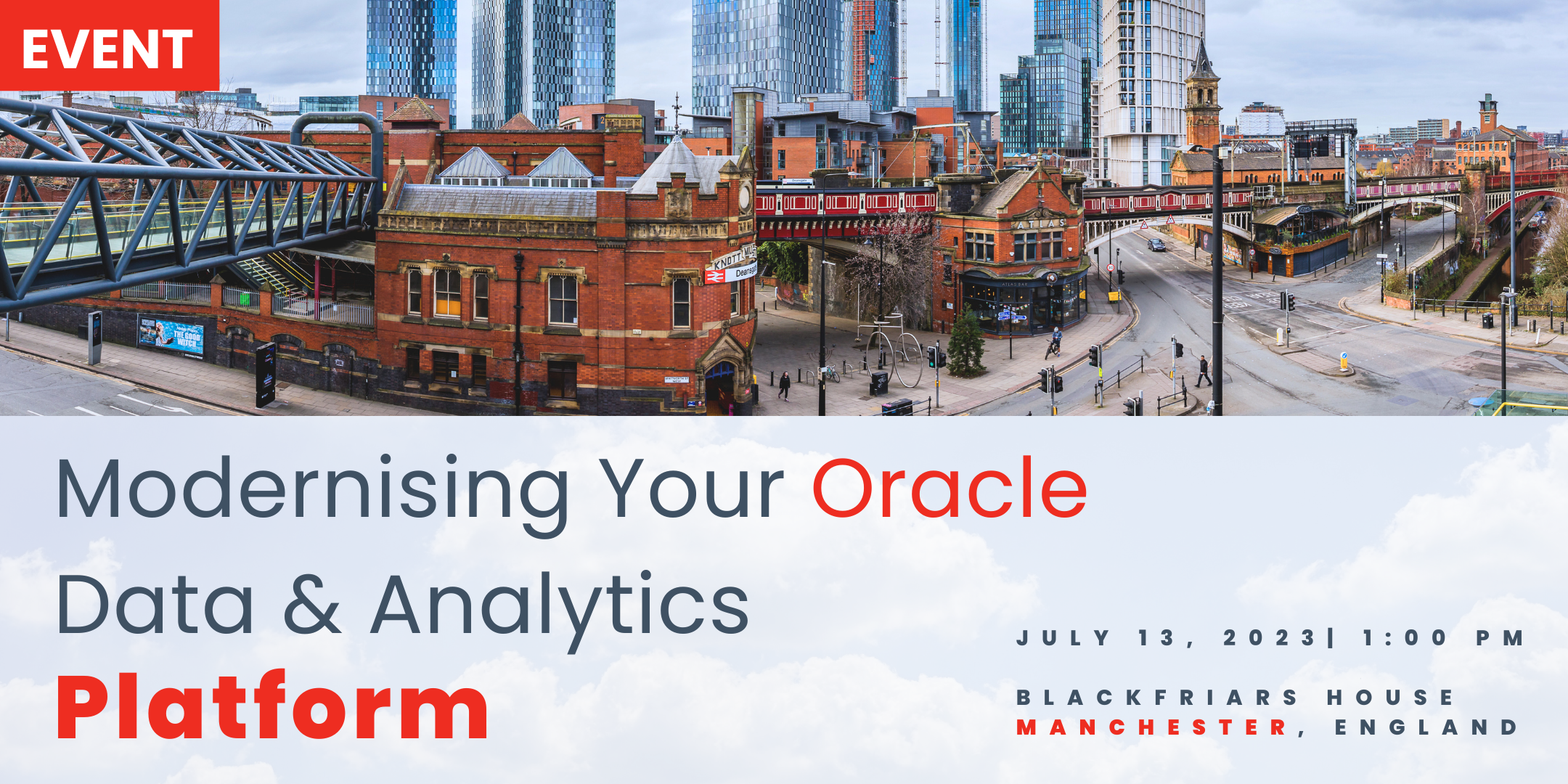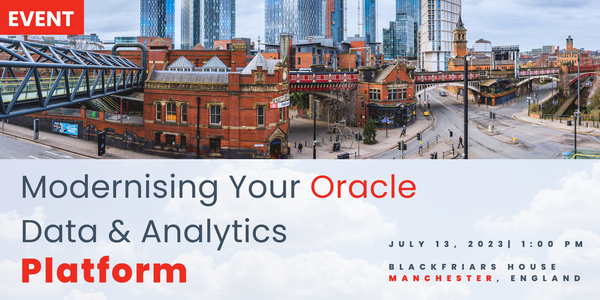 Date and time: Thursday 13/7/2023 - 1:00pm GMT
Location: Blackfriars House, Parsonage, Manchester, England.
Do you have on-premises Oracle data and analytics software? What is the roadmap for these systems? Should I consider on-premises upgrade paths or migrate to the cloud? What is "cloud at customer"?
Join Rittman Mead to learn about Oracle's latest technology, migration options for existing on-premises systems and how to innovate using Oracle's unique infrastructure and platform services. We aim to demystify the benefits of modernising your data and analytics platform.
Agenda:
Modernising Your Data and Analytics Platform
The first session looks at the drivers and technological advances that have resulted in current trends like cloud, data lakes, data science, self-service reporting and approaches like data mesh.
We look at how this impacts today's data architecture and infrastructure. We examine how data engineering has evolved from traditional ETL, how databases and data stores have evolved to support multiple data formats, how self-service reporting and data science have evolved, and how data governance and literacy need to support these advances.
Throughout the session, we look at the Oracle cloud services and software available to support this transition.
Oracle Data and Analytics - What's New?
The second session dives into more detail about the features and functionality enabling this change.
We will look at some of the services in detail: the autonomous database (ADW and ATP), the new converged features of 23c, data integration and pipelines, data exploration and augmented analytics in Oracle Analytics Cloud (OAC).
Attendees will learn about the benefits of these new features and how they can be used to improve their analytical capabilities and drive better business outcomes.
Data Science - Your Path to Predictive Analytics.
During this session, we will explore the machine learning options available through three Oracle tools; Data Visualiser, Oracle Machine Learning (OML) notebooks in ADW, and OCI Data Science Platform. We'll cover topics including notebooks, python environments, and model deployment. By the end, you will better understand which service suits your specific needs.
Modernising Analytics in Higher Education.
Rittman Mead migrated The University of Massachusetts from Oracle Business Intelligence Enterprise Edition (OBIEE) to Oracle Analytics Cloud (OAC). This session covers the migration, key factors resulting in a successful project, their user adoption programme, and plans for the next phase of their journey to the full OCI environment via Oracle's Autonomous Data Warehouse.
Oracle Data and Analytics Roadmap Consultations.
You'll be allocated a 25-minute slot with one of our expert consultants to discuss your data and analytics goals and how to achieve them. A survey will be emailed to you prior to the event. If you'd like to take advantage of this offer, please complete the survey by Wednesday 12th July.
Don't miss this opportunity to gain valuable insights and learn from the experts.
Register now to secure your free ticket:
https://www.eventbrite.com/e/modernising-your-oracle-data-and-analytics-platform-tickets-647994959367?aff=oddtdtcreator
Please contact us to find out more: [email protected]