CloudWorld 2023
Oracle shows products and features that use GenAI to close the gap between users formulating questions and then getting answers from the data; and purely using the data to drive action.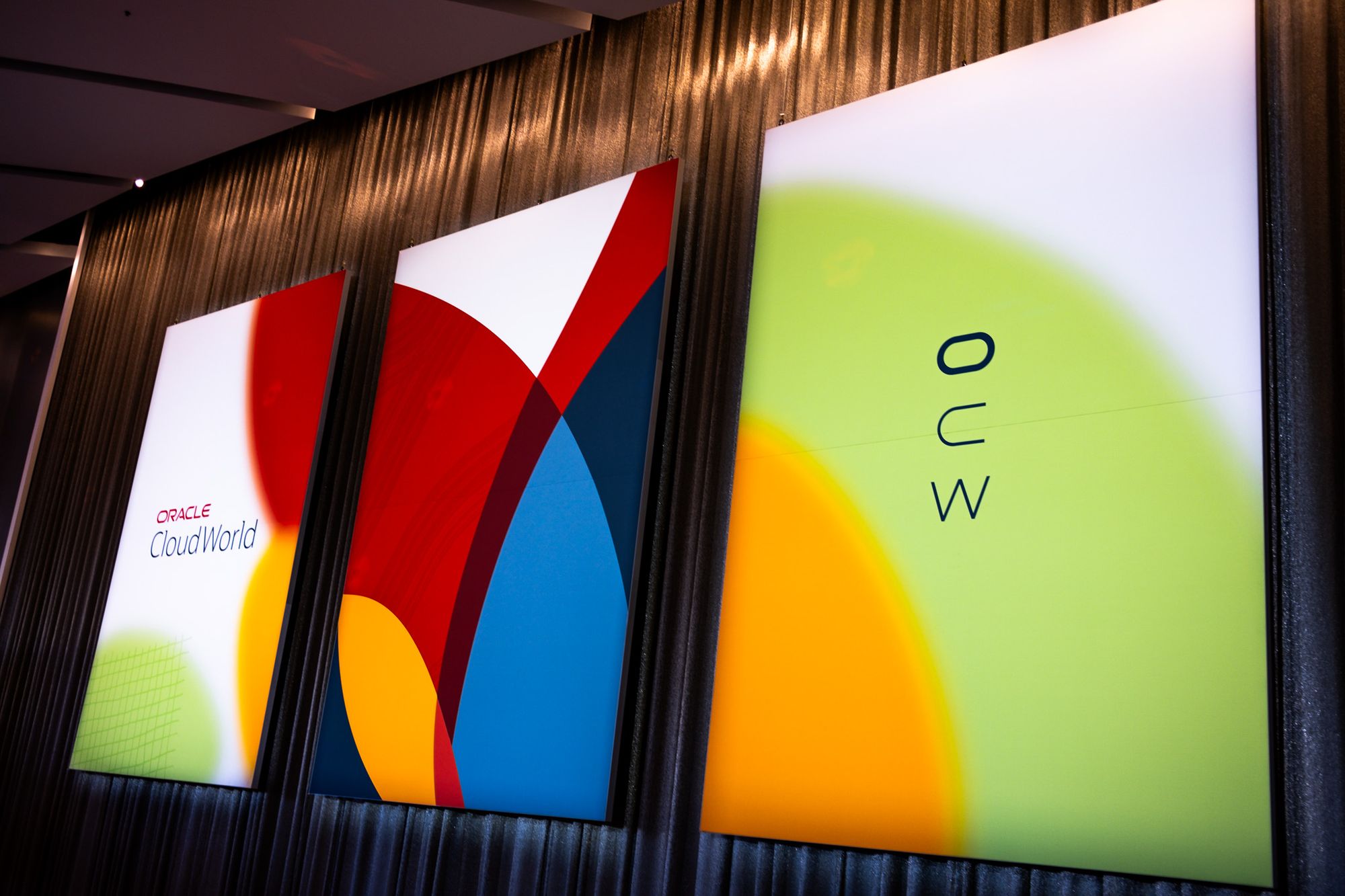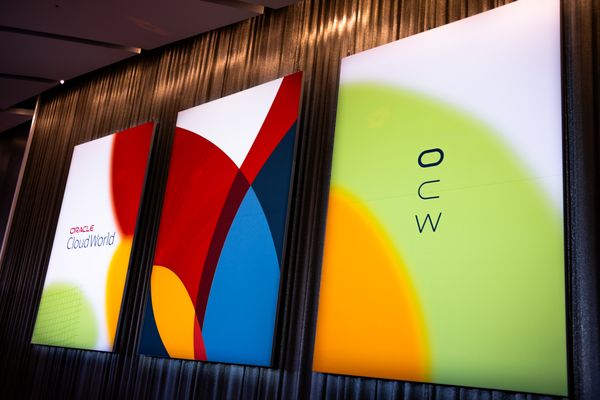 Last week, I was over in Las Vegas for Oracle's CloudWorld event. Following the age-old Rittman Mead tradition, I'm writing up my account of the week sitting in the airport waiting for my flight home.
Not surprisingly, the central theme for the week was AI, or more specifically GenAI. 2022 to 2023 seems a seminal year in the world of data and analytics and maybe in the world as a whole. This was not caused by a sudden advance in technology; it has been steadily coming over the last few years. The change is in our percpetion, how we feel it relates to us. Early in 2022 we saw image generation tools like Stable Diffusion and Midjourney. These were amazing, but were still quite geeky, and their use was limited to the tech-savvy world. Then came ChatGPT, and the floodgates opened. The penny dropped, and people suddenly realised the potential.
The result was a new tech gold rush. Analysts told us of the trillion-dollar economy this would drive. ChatGPT registered 100 million monthly active users two months after its launch. Everything was going to change.
Fast forward half a year, and you can see the influence. Here are some of the announcements that got my attention.
Analytics Assistant
The analytics team is working on an interactive chat interface that will extend the Explain and Ask functionality already in OAC. The interface sits next to the main canvas and is designed to support the user, not do their job. This is a similar approach to Microsoft's Copilot, and I think the best way to approach this. The user can "chat" to the data set, ask questions, Calculations can be defined in natural language, and like Explain, discovered insights can be added to the canvas.
Fusion Data Intelligence Platform
FAW is being "re-imagined" or extended to include prescriptive AI/ML models and Intelligent Applications. The thinking is that using data for decisions is one thing; however, if you can drive action through data, it will take your data-drivenness (arrghh!!!) to the next level. The new platform covers both data-driven decision-making and data-driven process optimisation.
Here is a supply example. The prescriptive AI/ML model could use external weather data to predict that the path of a hurricane collides with one of your main supplier distribution centres and then use workflows and processes to suggest or prompt remedial actions, for example, rerouting supplies or procuring from a different vendor.
Select AI
This looked fun. Oracle has posted a comprehensive blog post here. The functionality can best be demonstrated by this image.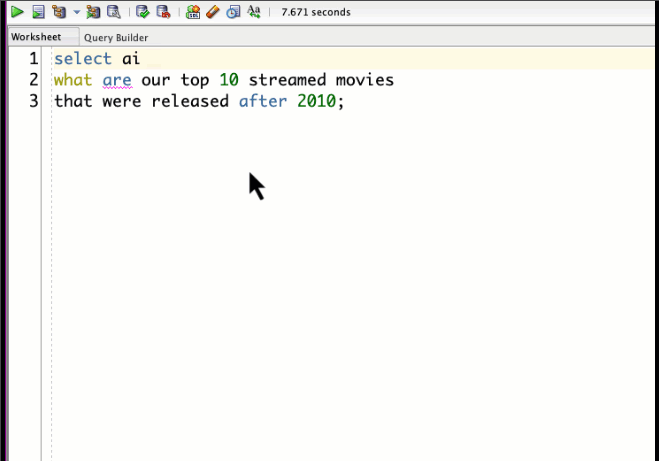 This functionality is available now in ADW if you want to try it.
The key thing here is that it is helping users better interact with data through GenAI and LLMs. I think it is fair to say that most people don't expect to be able to somehow "train" an LLM on their data lake/lakehouse/warehouse so they can type "how many widgets did I sell last month?". Where things get interesting is if you break this down into steps. If you can generate SQL from the natural language statement "how many widgets did I sell last month?" then you can have the database execute this and get an answer. As questions get more complex, there is the chance for AI errors and hallucinations. Still, it's a good start, and I imagine this technology underpins the Analytics Assistant described above.
Oh... And Oracle Cybertruck
No keynote would be complete without an Oracle-branded Tesla Cybertruck. Someone told me that these were actually in service somewhere; however, it was late, and we were in a bar. Robocop anyone?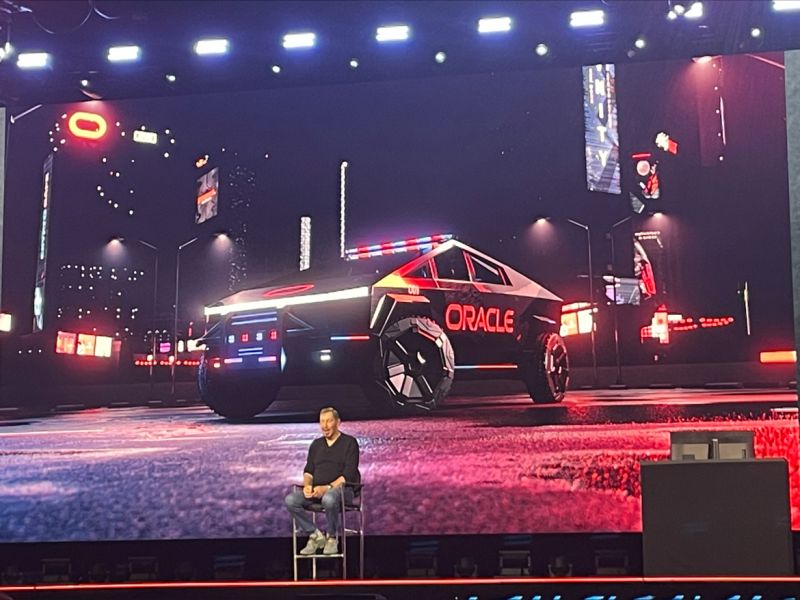 Summary
Circling back to where I started, you could argue that a lot of this was already in being done behind the scenes, and yes, there is a lot of marketing hype. However, there is a fundamental change here. Oracle is starting to imagine how to use GenAI to close the gap between (1) users formulating questions and then getting answers from the data; and (2) purely using the data to drive action.
Oracle Global Leaders EMEA - Implementation Partner Award
Last, but not least, on Thursday, Rittman Mead was named as the Intel/Oracle Global Leaders Award Winner EMEA - Implementation Partner. We received at the World-Wide Oracle Global Leaders Event on Thursday night. We are deeply honoured to receive this award, seeing it as a testament to our team's hard work and dedication.