A few weeks ago I posted a preview of the new 11.1.1.5 version of the OBIEE 11g Sample App, and I'm pleased to see now that it's now available for download on OTN.
This is a pretty useful release as not only are the install files available, but there's also a downloadable VirtualBox image, complete with a full installation of OBIEE 11.1.1.5, Essbase, TimesTen and so on. I've been using a preview copy more or less every day since it became available, and the pre-installed VirtualBox image is particularly useful if you're looking to investigate Essbase integration, integration with TimesTen, integration with Web Services and so on. I've been using it extensively for demos, and to investigate some of the repository modeling, reporting and other best-practice features that Philippe Lions and his team have been putting together.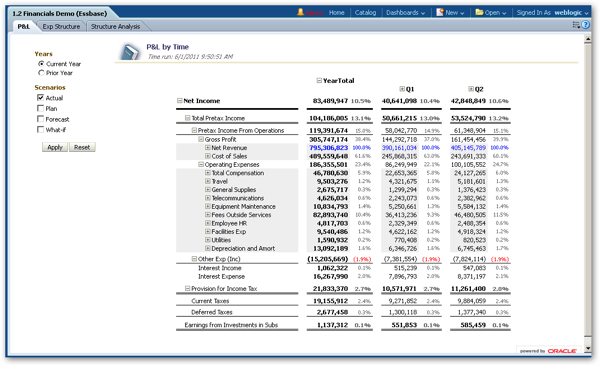 Some of the highlights of this updated SampleApp from my perspective include:
Some excellent "field examples" of actions in real-world use; for calling Essbase calc scripts and writebacks, for example, and for annotating analyses
Examples of Essbase calculations, plus a Answers analysis in the style of a P&L report - I'll have to reverse-engineer how they've done that...
Examples of Oracle OLAP and TimesTen use
Some excellent repository modeling examples, including horizontal and vertical federation
Examples of visualization techniques such as spark line charts, and use of Google Maps
The VirtualBox image runs on Oracle Enterprise Linux 5, and you need around 25GB of space for the download, about the same again after the OVF import, and then a minimum of 3GB of RAM on your laptop or server (4GB if you want to use Essbase). I've got a copy running now on my home network, on a spare server, and I use it all of the time for reference purposes and for doing demos where I want to show off all of the features. I've also been digging into the various Action Framework examples this week, for example, to do some R&D and experimentation for the book.
Finally, there's also some mobile themes that you can use for dashboards, if you're looking to do an iPad demo.
Anyway, the product download page is here, and it's available for download now. Check out the Vlamis blog as well, as Chris and Dan will be posting some content around the OLAP and mapping examples in the next day or so.