As mentioned in my previous post here, EPM 11.1.2.2 has introduced a bevy of new features that customers have been asking for a while. Also, 11.1.2.2 theoretically is the actual Fusion release as all components now use ADF UI natively. In today's post we shall cover the new features introduced in Planning 11.1.2.2.
UI Enhancements:
ADF branding is a lot more apparent with the 11.1.2.2 release. For example, all forms now use the native ADF based prompts, POVs and selectors. Also, the UI has been enhanced to give "Concertina" style menus so that it is easier to access related & relevant objects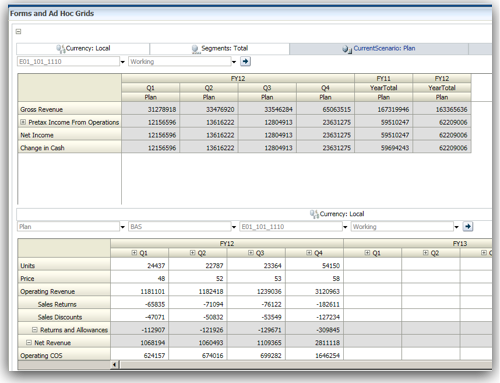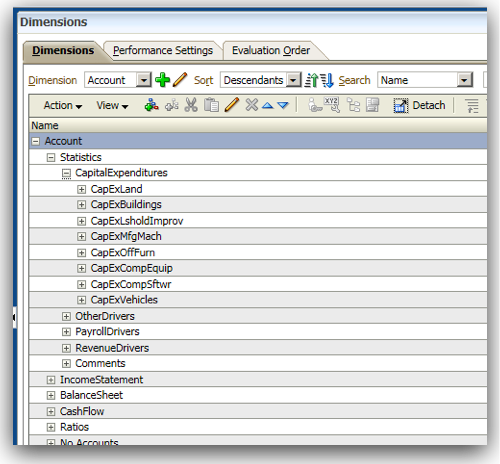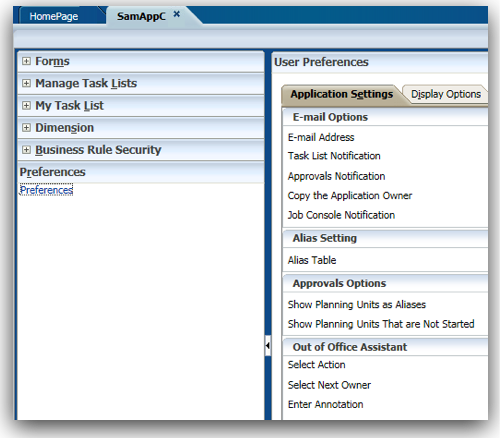 Adhoc Grids use more of ADF features like swapping columns from rows to columns, pages to columns etc. Adhoc grids are more like BI EE 11g in UI.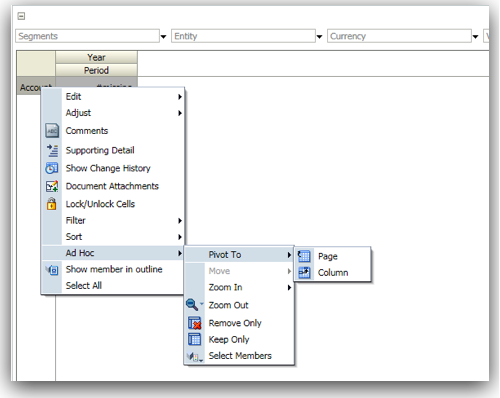 Cell Data History:
This is one feature that planners and people who are part of the approval chain will really like i.e. showcase who has modified what data. Generally when plans are submitted for approval, the approver has to go through all the cells and find out what has changed manually. But with this feature its a lot easier to find out who has modified what cells. This can result in faster approvals and reduced effort spent.
For this to work Auditing at Cell Data level needs to be turned on.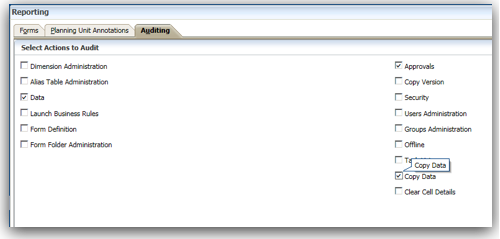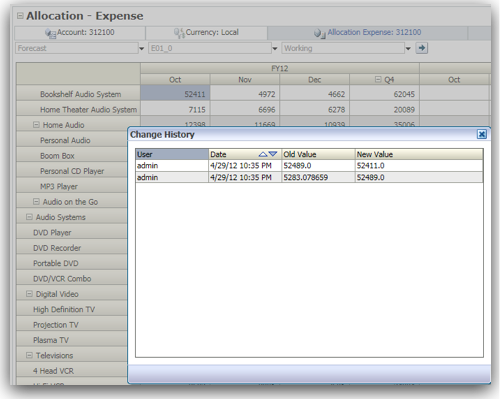 Charts in Planning Forms:
Another key feature is in the ability to display the forms as charts in a Composite form. This way planners can immediately visualize the change in data.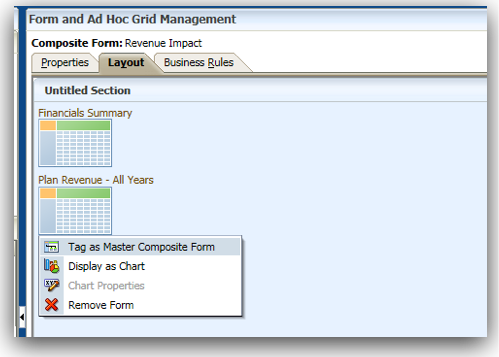 More important drills are available on graphs as well - Now we need this capability in BI EE i.e. here the drills are all native Essbase drills (unlike in BI EE where we have to go through the RPD).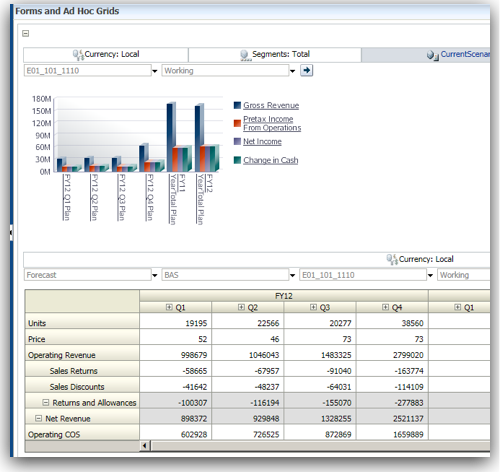 Grid Diagnostics:
Another significant new feature is the ability to find out poorly performing/designed forms by using the Grid Diagnostics feature. This will let us know the page load times, number of row retrieved, suppressed etc. Pretty handy tool especially for Administrators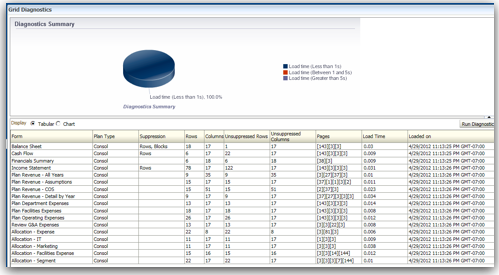 Substitution Variables Management from Planning:
Another excellent & long-pending feature is the ability to manage & update the substitution variables used per plan type directly from Planning App. There is no more dependency on Essbase/EAS (of course they still reside there but no need to create there first in EAS) to create the variables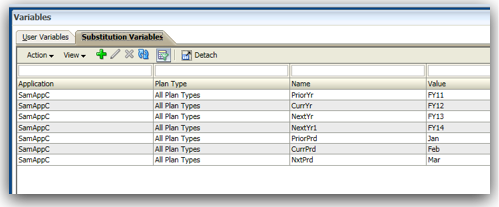 Predictive Planning & Crystal Ball:
Another very interesting new feature is the ability to predict future plan values using Crystal Ball (or called as Predictive Planning now). It is natively integrated into Smart View. By just clicking on a cell within a form, one can start predicting what will be the plan values. Crystal Ball provides a comprehensive set of statistics as well while providing a recommended value (on what basis the recommendation was done).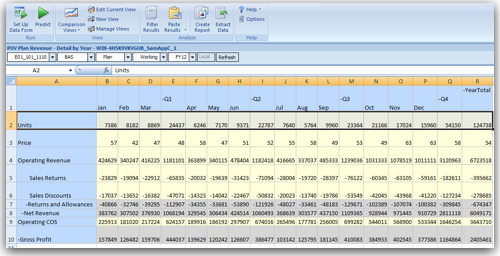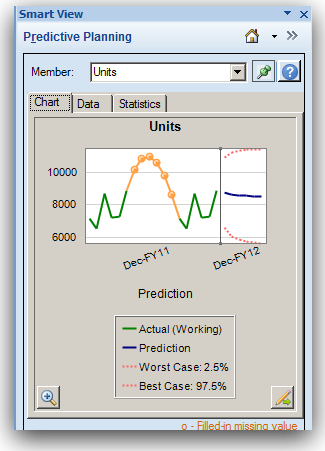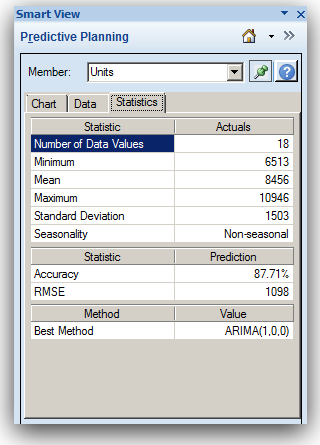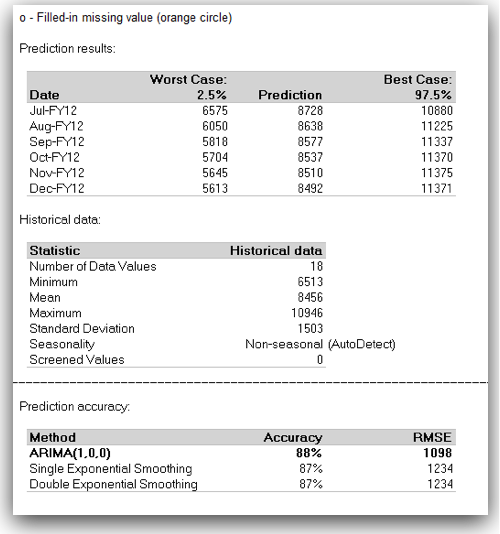 In addition there are other small enhancements like Group Based Approvals, Rolling Forecasts (Setup at form level), Multiple cell document attachments, De-support of Business rules etc. Also, from an architecture standpoint we can now have multiple Planning Managed Servers in a cluster thereby making it truly Highly Available. In the next post, we shall see the new features in HFM 11.1.2.2.