Previewing the BI Forum 2013 Data Integration Masterclass
I guess it's a British thing to not blow our own trumpet (does that translate the same over in the US?), but something I'm particularly proud about with the upcoming Rittman Mead BI Forum 2013 events is our Oracle Data Integration Masterclass, running on the Wednesday before each event properly starts, and put together by myself, Stewart Bryson and Michael Rainey. Although the main theme for the BI Forum is OBIEE, virtually every BI system that we all work with has a data warehouse of some sort underneath it, and most OBIEE professionals to one extent or another have to understand data warehousing principles, and how Oracle's data integration tools work. So this year, we thought we'd take a deep-dive into Oracle Data Integrator and the wider Oracle Data Integration Suite, and in this preview positing I'll be giving you a bit of a preview of what's coming in the session - and places are still available for the US BI Forum event, and for the masterclass itself if you've only registered for just the main conference event.
The masterclass is made up of six sections, delivered by myself, Stewart and Michael, assumes a basic understanding of data warehousing and ETL tools but otherwise gets down into the detail of what we've found works well "in the field".  Stewart Bryson, Oracle ACE and Managing Director for Rittman Mead America, will open the session with an overview of ODI and the Oracle Data Integration Suite, taking a look at the product history and walking the audience through the major elements of the ODI product architecture. If you've ever wondered what agents do within ODI, why there are two repositories and where WebLogic comes into it, Stewart's session will make everything clear before we get into the rest of the details.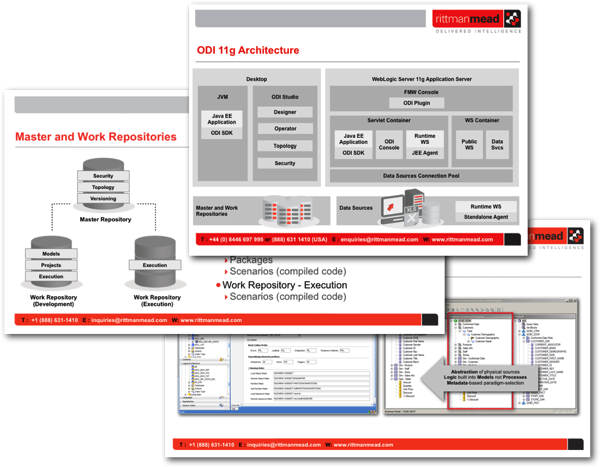 Then, after coffee, Stewart will carry on and talk about what's called the Oracle Information Management Reference Architecture, Oracle's next-generation blueprint for data warehousing and information management that combines the best of Kimball and Inmon with new thinking around "big data" and "data discovery". ODI and Oracle Data Integration Suite is the enabling technology for this new framework. At Rittman Mead, we use this framework for the majority of our DW customer engagements and we'll be talking later on in the masterclass about how big data sources, for example, can be leveraged by ODI and brought into your BI environment in the same way as any other regular, relational datasource.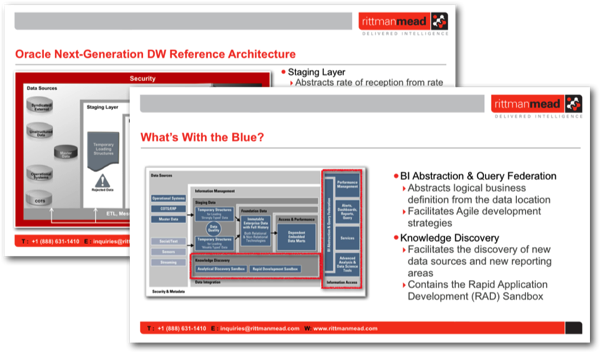 The third section of the masterclass sees Michael Rainey take over the stage and talk to us about ODI's integration with Oracle GoldenGate, Oracle's data integration product for real-time analysis and data loading. Michael has taken part in several ODI & GoldenGate customer engagements over in the States, and has worked with Stewart in producing a number of custom ODI knowledge modules to better make use of this powerful new data integration tool. If you've read through any of Michael's blog posts on ODI and Golden Gate and are interested in hearing a bit more detail on how it all works, as well as some real-world practical tips and tricks, this will be an invaluable session for you.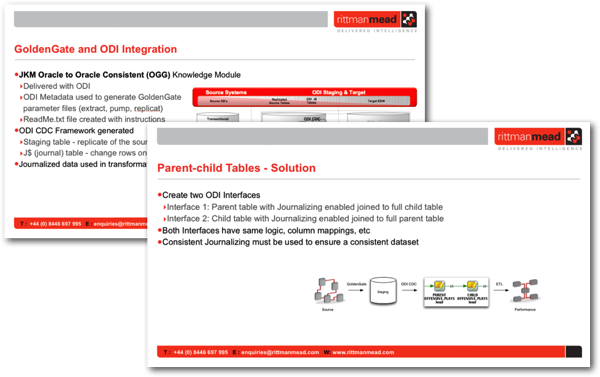 So far I've got away with just making the tea, but straight-after Michael is my session, where I'll be talking about ODI and its new integration with Hadoop, NoSQL and the wider "big data" technology area. I've been covering ODI and Hadoop in some blog posts over the past week, but there's only so much that I can get into a blog post and this session will be the first airing of this new material, where I'll be demoing all the main integration points and talking about what works well, and where the main value is, with this very interesting new feature.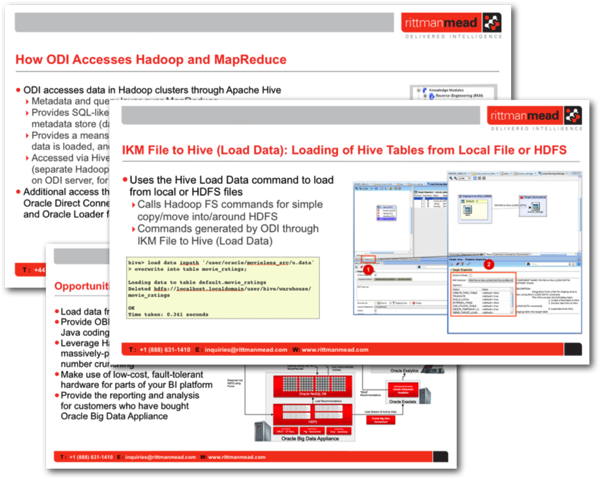 Then it's back to Stewart again, where he'll be talking about creating highly-resilient ETL code that's also resumable, using features such as ODI 11g's load plans and the Oracle Database's resumable space allocation feature. Stewart and I were particularly keen to put together this session as it brings together work Stewart did a few years ago on fault-tolerant ETL in the Oracle Database, with some blog posts I put together over the 2012 Christmas break around highly-resilient ETL with ODI11g.  What this session does is explain the background to the ETL resilience features in the Oracle Database, and ODI's use of WebLogic JEE agents, and demonstrates through some custom knowledge modules how they can be brought together for your project.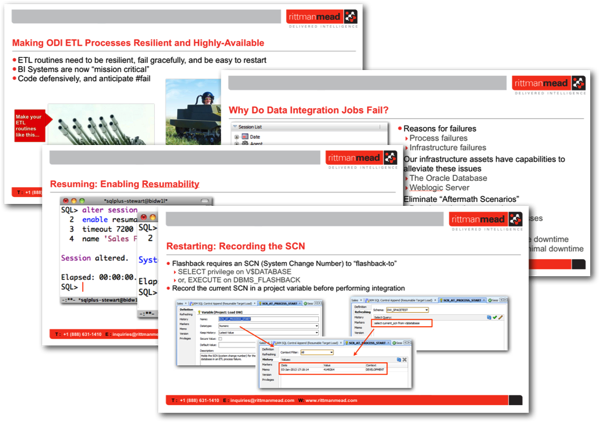 Finally, Michael concludes the masterclass with a look at a feature you're probably vaguely aware of, intend to learn something about, but sounds a bit complex; Groovy scripting and the ODI SDK. In fact, like WLST scripting for OBIEE, learning Groovy and the SDK is the key to automating tedious tasks such as mass-importing and reverse-engineering tables and files, as well as making it possible to add functionality to ODI or integrate it with other standards-based products. In a session almost entirely made-up of live demos, Michael will take us through the basics of Groovy and the SDK, and show us a few examples of where this could add value to your data integration projects.
So there we have it - Brighton is now fully-booked up, but if you've already registered for the main event but want to come to the masterclass now too, you can log back into the registration site and update your booking to include the additional masterclass fee. Atlanta is running a week later and so still has a few main event passes left, and again if you've already registered for the main conference, use the link in your registration confirmation to go back in and add the masterclass to your booking. And - hopefully we'll see you all in Brighton or Atlanta for the Rittman Mead BI Forum 2013 in the next two weeks!