Six Months an ACE…"Boy, that escalated quickly"
Boy, that escalated quickly. I mean, my path to becoming an Oracle ACE since joining Rittman Mead!
When I began with Rittman Mead back in March 2012, I wasn't planning on joining the ACE program. In fact, I really wasn't sure what an Oracle ACE even was. If you're not familiar, the Oracle ACE program "highlights excellence within the global Oracle community by recognizing individuals who have demonstrated both technical proficiency and strong credentials as community enthusiasts and advocates". That's quite a mouthful! Now let's find out how I got to this point in my career.
I wrote my first blog post ever shortly after joining Rittman Mead, sharing an innovative way to integrate Oracle Data Integrator and GoldenGate for data warehousing. This lead to submitting my first abstracts to several Oracle User Group conferences. My goal was to challenge myself to grow as a public speaker, something I had never been very good at in the past, and to share my data integration know-how, of course. To my amazement, the first abstract submitted, for UKOUG 2012, was accepted. Then, the other conferences continued to accept my abstracts! During the first couple of years, I kept blogging, speaking, wrote an article for RMOUG SQL>UPDATE Magazine, and joined in on a couple of ODTUG ODI expert webcasts and OTN ArchBeat podcasts over the past couple of years. Before I knew it, I had taken advantage of many knowledge sharing opportunities and built a decent list for my Oracle ACE nomination. I've found that networking and sharing your experiences are both wonderful ways to get noticed by other Oracle experts.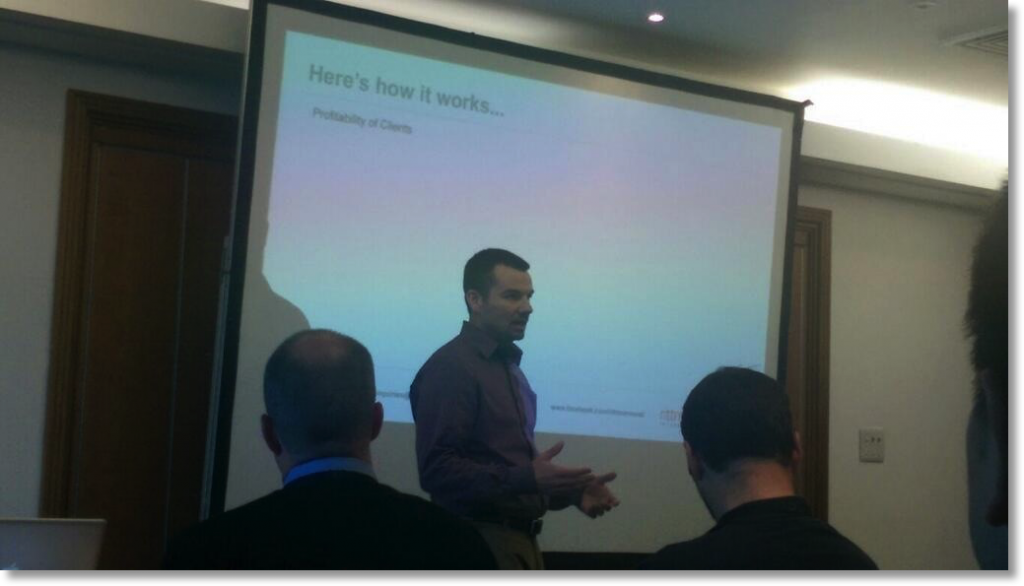 So now what is an Oracle ACE to me? I think it is someone knowledgeable about an Oracle product (or products) who enjoys sharing their knowledge and loves contributing to the greater Oracle community. It's that simple. One thing about the Rittman Mead organization, sharing what we know is a part of the ethos of the company. If you're an avid reader this blog, you're well aware that Mark Rittman and others love to share their technical knowledge. We also have an internal system that allows us to share our know-how amongst each other. That's one of the great benefits of working at Rittman Mead. If I don't know the answer to a question, I can easily reach out to the entire company and get a response from experts like Mark, James Coyle, Andy Rocha or others within minutes. I love that about this organization!
Well, around March or April timeframe, it was mentioned in a company meeting that if anyone has the goal of joining the ACE program, reach out to one of our current ACEs or ACE Directors and work on a plan to get there (again, a testament to how the RM organization works and thinks). I talked with Stewart Bryson, Oracle ACE Director. After reviewing my contribution to the Oracle community he agreed to submit the nomination for me. Again, to my amazement, and very much my delight, my nomination was accepted as an Oracle ACE! What began as several small goals of improving my writing and speaking skills, sharing technical content, and having an article published, led to the overall end goal (though not known to me at the time) of an Oracle ACE program invitation. I worked hard to earn the nomination, but I also know I was very fortunate to have been surrounded by, and mentored by, some great individuals (and I still am!).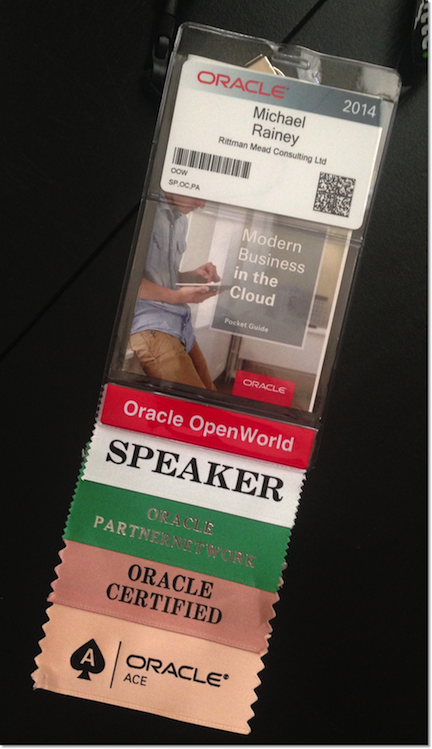 Since joining the ACE program, I've gained some additional Twitter followers, a great new ribbon on my conference badges, and some sweet ACE gear - but really it feels like not too much else has changed. Well, I do have an additional group of experts available to help me when I'm in a bind, because that's what ACEs tend to do. I can now send a question via a tweet or email to someone in the ACE program and I'll typically get an expert answer. It's a community of like-minded individuals that love their specific Oracle technology - and love to share knowledge and help others. If this sounds like you, it's time to work towards that ACE nomination!
Here at Rittman Mead we have several ACEs: myself, Venkat Janakiraman, Edelweiss Kammermann, and our newest ACE, Robin Moffatt, as well as an ACE Director, Mark Rittman. And our ACEs don't just sit back and blog or speak at conferences (not that blogging and speaking isn't hard work - it is!). We also provide all of the Rittman Mead services offered as consultants: training, consulting services, managed services support - all of it! Which means that when you hire Rittman Mead, the 5 folks in the ACE program are included, along with the other 100+ BI experts throughout the world. If you need some help on your Business Intelligence, Data Integration, or Advanced Analytics project, drop us a line at info@rittmanmead.com and we'll be happy to have a chat.
Now that I've met the goal of Oracle ACE, what's ahead for me? Well, I'm constantly working to keep up on the latest and greatest from the Oracle Data Integration team, while also consulting full-time. I plan to continue speaking and writing blog posts, but also work towards some additional published content in newsletters and magazines for the Oracle community. And I'm going to keep learning, because education is a never-ending journey. "They've done studies, you know. 60 percent of the time, it works every time." — Brian Fantana 
By the way, if you think Rittman Mead is the type of company you'd like to work for, give us a shout at careers@rittmanmead.com.