Looking Towards the BI Apps 11g Part 1 : BI Apps 11g Product Roadmap
Whilst this blog is most well known for articles on OBIEE, ODI, Essbase and data warehousing, many of the projects we work on are actually Oracle BI Applications implementations, out of our offices in the UK, India, USA and Australia. Recently we're getting asked more and more about the product roadmap for the BI Applications, with questions typically around whether ODI will be supported going forward, whether ODI will actually replace Informatica, and whether customers can actually upgrade to BI Applications 11g now. So over the next three postings, I'll be looking at what's coming up for the Oracle BI Applications, answering some questions around migrations and technology platforms, and looking at what we can do as customers and developers to get ourselves ready for BI Apps 11g.
I'll add the links in as the postings are published, but here's the topics and links for the other parts of the series:
For anyone new to Oracle BI or Oracle's packaged applications, the Oracle BI Applications take the Oracle Business Intelligence Enterprise Edition platform and use it to deliver sets of predefined ETL routines, dashboards and analyses all built on a common, dimensional data model. Oracle BI Applications is licensed per module (Financials, Supply Chain etc) and separate to the BI Apps purchase you also need to license Informatica PowerCenter, a third-party ETL tool that Oracle resells, and these ETL routines are orchestrated by an Oracle product called the Data Warehouse Administration Console, or DAC, which maintains a central record of what ETL routines are required to load your data. For some background into the BI Applications 7.9.x series, take a look at this Introduction to the Oracle BI Apps posting back from 2008, and this one on what's in the Oracle BI Applications data warehouse from around the same time.
When Oracle acquired Siebel back in 2007, from a BI perspective Siebel had two main product lines; Siebel Analytics, which became the foundation for Oracle Business Intelligence Enterprise Edition, and Siebel Business Analytics, which more or less is what the Oracle BI Applications are today. Siebel Business Analytics covered areas such as sales analytics, service and contact centre analytics as well as ERP areas such as financials and supply chain; if you're interested in a bit of history, here's an original Siebel Business Analytics brochure back from 2005 that's details both the Business Analytics and Analytics products. In fact, the CRM and ERP parts of Siebel Business Analytics had different data models, with the ERP content originally coming from Informatica Warehouse, a product Informatica sold alongside PowerCenter and their own query tool, Informatica PowerAnalyzer (and which Informatica themselves acquired through a company called Influence Software, which they acquired back in the late 90's). Already well underway by the time of the Oracle acquisition was "Project Tenerife", to merge the two data models together, with the product then becoming the Oracle BI Applications that we know today.
Now though, there are three distinct development branches of the BI Applications, and a fourth one that had just one release and then ended:
Oracle BI Applications 7.9.6.x (currently at 7.9.6.3), the mainstream version of the BI Applications with modules covering Oracle EBS, Peoplesoft, JD Edwards and Siebel source applications (often referred to as  "Applications Unlimited" sources, due to their legacy nature but Oracle's commitment to support them forever)
Oracle BI Applications 11.1.1.x (currently at 11.1.1.6), the next-generation version of the BI Applications that currently only sources data from the Oracle Fusion Applications, but in time will cover the Applications Unlimited sources as well
Oracle BI Applications 7.9.7.x, which sources data from SAP and has a much smaller amount of analytic modules, but unlike the other two BI Apps branches uses Oracle Data Integrator (ODI) for the data integration tasks, not Informatica PowerCenter.
Those of you with long memories might also remember a branch of the BI Apps back in 2009 that sourced data from Oracle EBS but used Oracle Data Integrator as the data integration tool; Oracle BI Apps 7.9.5.2 turned out to be a one-off release though, with no further modules, sources or targets covered, but was interesting as a preview of how Oracle might tackle an eventual move to ODI as the ETL tool, and also it highlighted those areas where ODI didn't have the required functionality to replace Informatica. We covered the 7.9.5.2 release in quite a bit of details when it first came out, and you can read some background to it in four blog posts that set out an introduction to the release, technology changes to accommodate ODI as an alternative to Informatica PowerCenter, data loading and customisation.
Oracle have also stated some long term plans and objectives for the BI Applications:
To enable customers to choose between either Informatica PowerCenter, or Oracle Data Integrator, as their data integration tool
To eventually support Applications Unlimited customers within the BI Apps 11g release as well, so that it will cover Oracle EBS, Oracle Fusion Applications, Siebel CRM, Peoplesoft and JD Edwards
To try and reduce the total cost of ownership for the BI Apps, particularly around areas such as setup and configuration, and the customisation process
Increase the scope and depth of the subject area modules, move ETL to as near to real-time as possible, and also make it practical to run the BI Applications in the cloud.
As of Collaborate'12 in April 2012 in Las Vegas, the current release roadmap for these three development branches was presented by Florian Schouten, Oracle's Senior Director, Product Management/Strategy in charge of BI Apps as looking like this: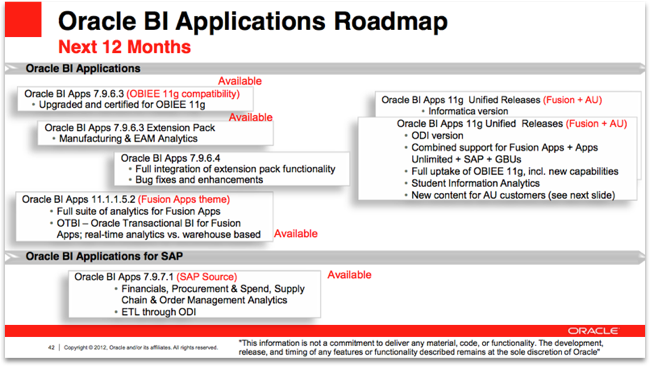 What this is telling us is a few things:
There'll probably be one more major BI Apps 7.9.6.x release, more as a tidy-up and integrating all bug fixes, extensions etc. This will then be the terminal release for this branch of the BI Apps
At some point in the next twelve months, there'll be a release of the BI Applications 11.1.1.x that will support Apps Unlimited customers but will only use Oracle Data Integrator as the data integration tool.
Later on in the next twelve months, there will be a further 11.1.1.x release that will also offer Informatica as the ETL tool for Apps Unlimited customers. 
This has a few implications and things to be aware of:
At the point where the 11.1.1.x release supports Apps Unlimited customers but only through ODI, you'll be able to start new, green-field BI Apps projects covering both the Fusion Apps and Apps Unlimited data sources, but there'll be no migration path to take you from Informatica to ODI, so existing BI Apps customers using Apps Unlimited sources will need to wait for the next release before moving to BI Apps 11g
When the subsequent 11.1.1.x release comes along, again within a twelve month (planned) timescale, existing Apps Unlimited customers will them be able to move to 11g as Informatica will be supported again. There's still be no (automated) Informatica to ODI migration path though, so the current thinking is that if you're on Informatica, you'll stay on Informatica
Going forward from this point, the plan is to offer all modules and all sources through both Informatica and Oracle Data Integrator, with no forced migration from one to the other. SAP customers using the 7.9.6.x product will stay for the time being in their own development stream, continuing to use ODI as their data integration engine, with the aim being to merge the SAP stream back into the BI Apps 11.1.1.x series in due course.
So now we know a bit more about the roadmap, what does Oracle BI Applications 11g look like, and what new end-user, development and administration tools can we expect to see? Stick around for a couple of days and we'll cover this topic next in the series.