As well as the 11.1.1.7 release of OBIEE, this week saw the 11.1.1.7 release of Oracle Data Integrator 11g, Oracle's long-term strategic data integration tool. Unlike the OBIEE 11.1.1.7 release which came with a bunch of new functionality outlined in our post earlier in the week, ODI 11.1.1.7 is really all about getting the product certified for use in the upcoming BI Apps 11.1.1.7.1 release, and most of the new functionality either relates to that certification or delivers on some long-term customer requirements such as support for WebSphere.
This PDF on the Oracle website provides more details on what's new in this release, but to summarise these include the aforementioned support for IBM WebSphere as an alternative to Oracle WebLogic for hosting JEE agents; improvements to XML parsing and handling (apparently functionality that was brought forward from the 12c release); the ability to run standalone agents using SSL for improved security; and out-of-the-box support for Oracle EDQ as a package step using its own ODI Tool.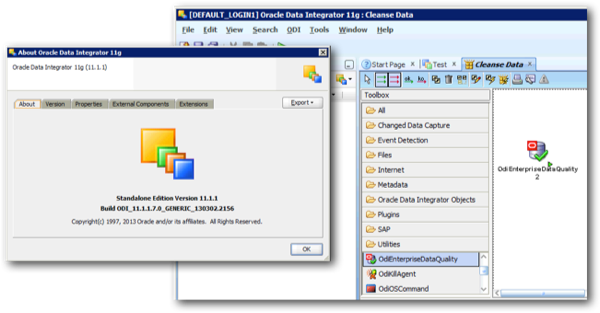 If the last time you checked-out ODI 11g's new features was the initial 11.1.1.3 release, you might also want to check out some of the new features that have come with the subsequent 11.1.1.5 and 11.1.1.6 patchsets, many of which we've covered on this blog and in other publications including:
Rittman Mead have also been working closely with Oracle's ODI product development team over the last year, providing feedback on the upcoming ODI 12c release and the upcoming BI Apps 11g version that uses ODI as the ETL service. Keep an eye on this blog as these products go onto general release, and hopefully we'll see some of you at the Oracle Data Integration Masterclass right before the Rittman Mead BI Forum 2013 events in Brighton and Atlanta, just over a month from now.