Oracle Analytics Cloud: Product Overview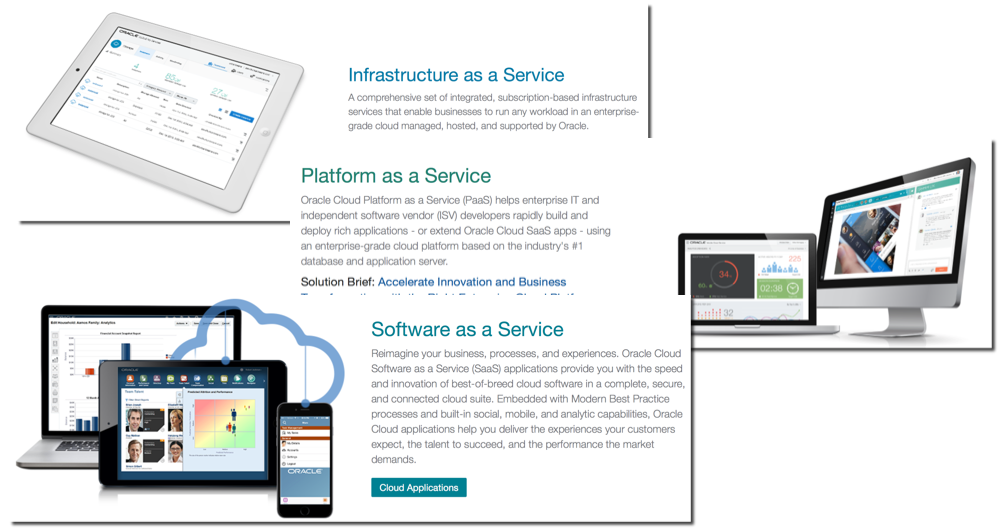 We at Rittman Mead are always helping our customer solving their problems, many times we heard them
being unsure about the sizing of their server
being worried about the upfront cost of the licensing
having recurring nightmares about patching
willing to try the cloud but couldn't find the right option to replace their on-premises system
This is their lucky day: Oracle officially launched Oracle Analytics Cloud (OAC), a new PaaS (Platform as a Service) providing a complete and elastic Business Intelligence platform in the cloud, customizable and managed by you but all on the Oracle Cloud!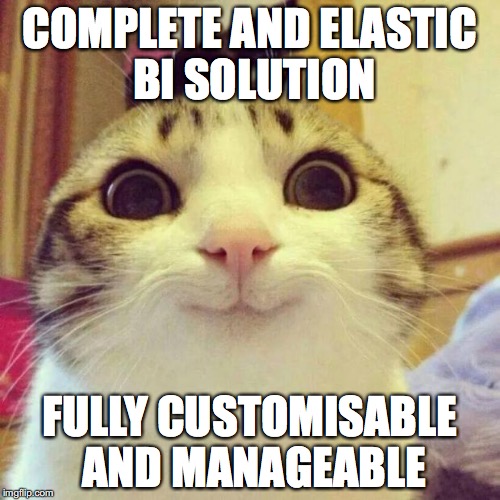 If you haven't been on a remote island you may have noticed that in recent years Oracle's main focus has been around the Cloud. Several products have been launched covering a vast spectrum of functionalities: Data Management, Application Development, Business Analytics and Security are only some of the areas covered by the Software/Platform/Infrastructure as a Service offering.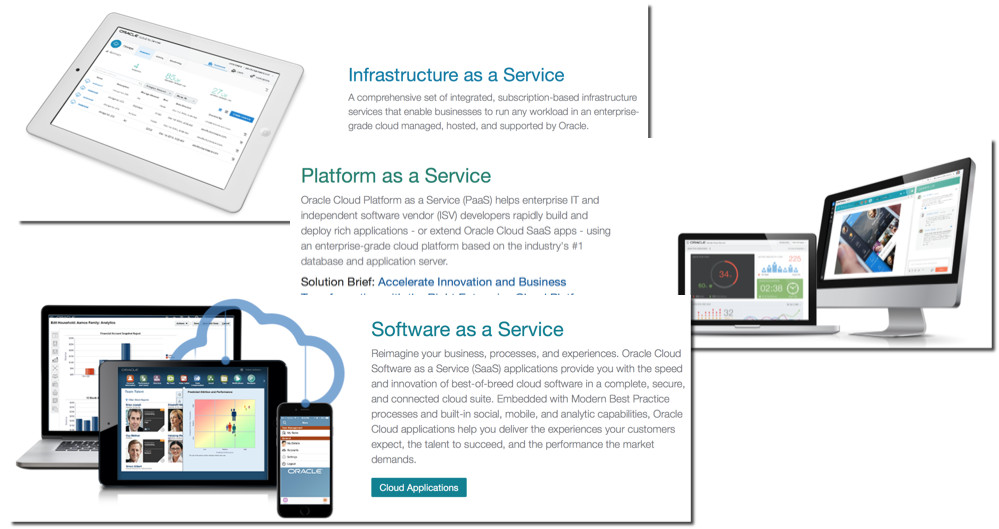 In the Business Analytics area, we at Rittman Mead started thinking long time ago on how to host Oracle's BI on-premises (OBIEE) in the Cloud and worked closely with Oracle since the beta phase of their first PaaS product: BI Cloud Service (BICS). Effectively we put our hands on all the cloud products in the BA family like Big Data Discovery (both on premises and cloud), Data Visualization Cloud Service, Big Data Preparation Service.
Business Intelligence Cloud Products
Until few weeks ago Oracle's main Business Analytics cloud products were BI Cloud Service (BICS) and Data Visualization Cloud Service (DVCS). As mentioned in our blog both tools aimed initially at departmental use-cases: the simplicity of the data model interface and the lack of admin configuration options stopped them from being a compelling story for hosting a full enterprise Business Intelligence solution.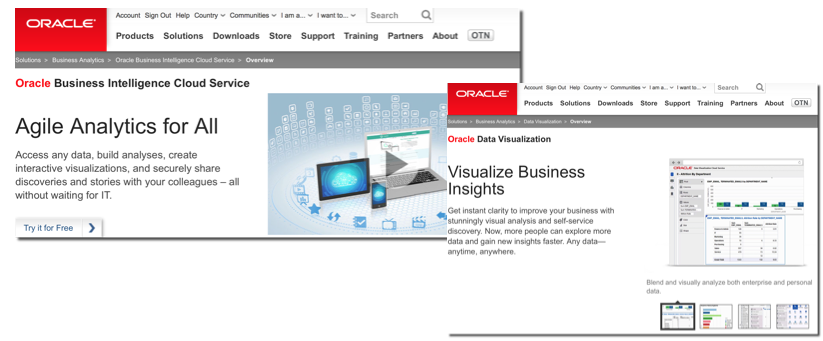 New features like BICS Data Sync, Remote Data Connector and RPD lift and shift addressed almost all the limitations but the lack of detailed admin/maintenance capabilities represent a stopper for moving complex environments in the cloud. Still BICS and DVCS are perfect for their aim: business users analysing sets of data without needing to wait the IT to provision a server or to care about upfront licensing costs.
Oracle Analytics Cloud
Oracle Analytics Cloud extends the watermark in every direction by providing a product that is:
Complete functionality: most of the tools, procedures and options provided on-premises are now available in OAC.
Combining all the offering of BICS, DV, BIEE and Essbase: OAC includes the features of Oracle's top BI products.
Licensing Tailored: the many options available (discussed in a later post) can be chosen depending on analytical needs, timeframe of service, required performances
Easily Scalable: do you want to expand your BI solution to the double of the users without loosing performances? Just buy some more horsepower!
Fully Accessible: SSH connection available to the server makes it easy to change settings as needed, REST API and Clients are provided for all lifecycle operations
Customizable: settings, images, networking, VPN all settings are available
Scriptable: settings like scaling, instance creation and deletion, start and stop can be easily scripted via the REST-APIs
Fully Customer Managed: Oracle provides the automation to backup and patch but the customer decides when to run them.
What's The Difference?
So what's the difference between Oracle Analytics Cloud and the "old" DVCS and BICS? How is OACS going to change Oracle's BI offer in the cloud?
The great deal of using OACS is control: BICS/DVC limiting factors around admin options and development are solved providing a tool capable of hosting a full enterprise BI solution. Even if the platform is managed by Oracle SSH access is provided meaning that instance configurations can be changed. No more upfront server sizing decisions, now the size of the instance is decided during creation time and can be changed later in the process if the demand changes.
The REST-APIs will enable the scripting of the full lifecycle of the instance, providing a way to automate the BI enterprise workflow even in complex environments where concurrent development is needed. Patching and Backups are not a problem anymore with the automated processes provided.
Direct RPD online editing is available with the Admin tool. The old BICS Data Modeler is still there for simple models, but Admin Tool can be used in case of complex RPDs.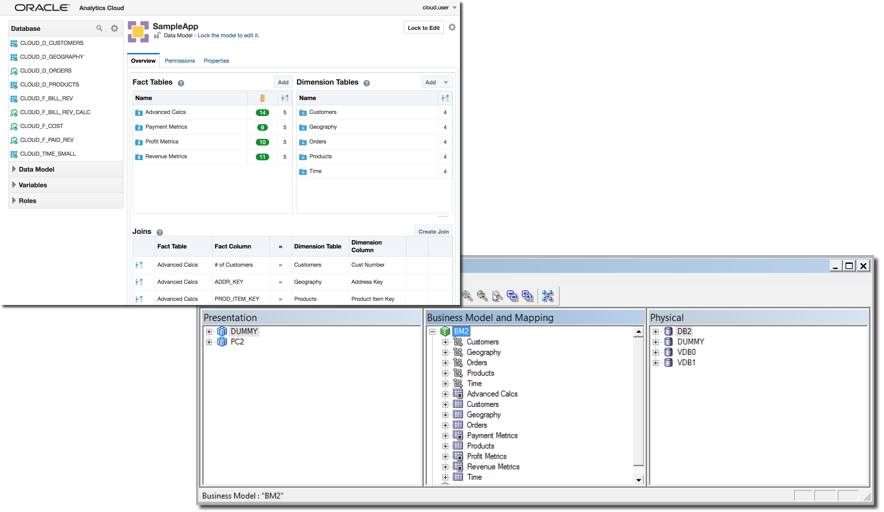 The front-end is like the BICS and OBIEE 12c one, some new visualization have been added to Visual Analyzer in line with the new additions to Data Visualization Desktop: Parallel Coordinates, Chord, Network, Sankey diagrams are now available.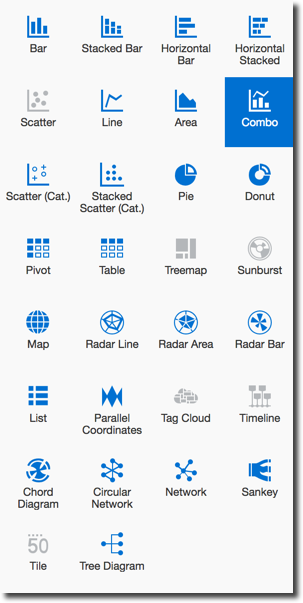 A new console is now available in Visual Analyzer allowing settings like Mail or Deliveries that before were only accessible via Weblogic Console, Enterprise Manager or config files.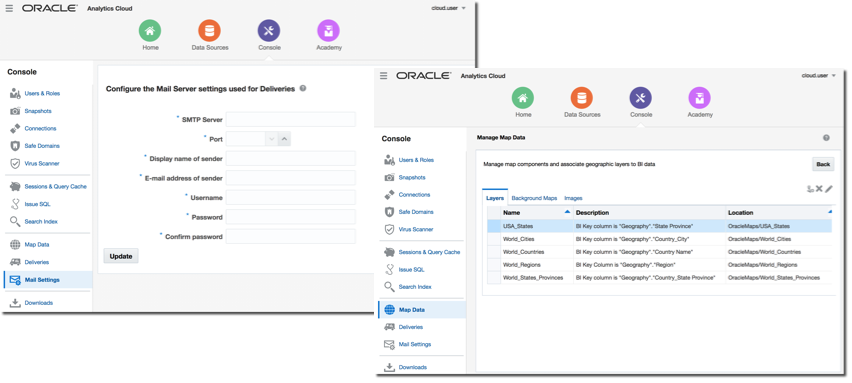 Finally Essbase is now available in the cloud too with a new web interface!
Summarizing, if you wanted to go Cloud, but were worried about missing options, now Oracle Analytics Cloud provides all you need to host a full Enterprise BI solution.
In the next few days I'll be analysing various aspects of Oracle Analytics Cloud Suite, so keep in touch!
If you need assistance in checking if Oracle Analytics Cloud suits your needs or in planning your migration to the cloud don't hesitate to contact us